Hi friends! Since we have this townhouse in Nashville I'm having to shop for new seasonal decorations. I found some easy fall decor form Walmart, and I was able to revamp the little entry way area in my home for only $75. I feel like I got a lot of bang for my buck. You can watch it all come together in this REEL.
*this is not a sponsored post
The wreath is definitely the star of the show. I hung it on the mirror with this wreath hanger. I use these on my front door too, and they work great. I did the entire space in neutral greens and creams, and I love how it turned out.
I had actually seen this cute wooden bowl in the store. You can't beat the quality or price. It will be good for so many uses. I ordered this little bag of mini pumpkins to fill it for fall, but when Christmas comes, I can put ornaments or greenery or something else Christmasy in it. When it's not being used for seasonal decor, it will be cute to hold bread on the table or buffet.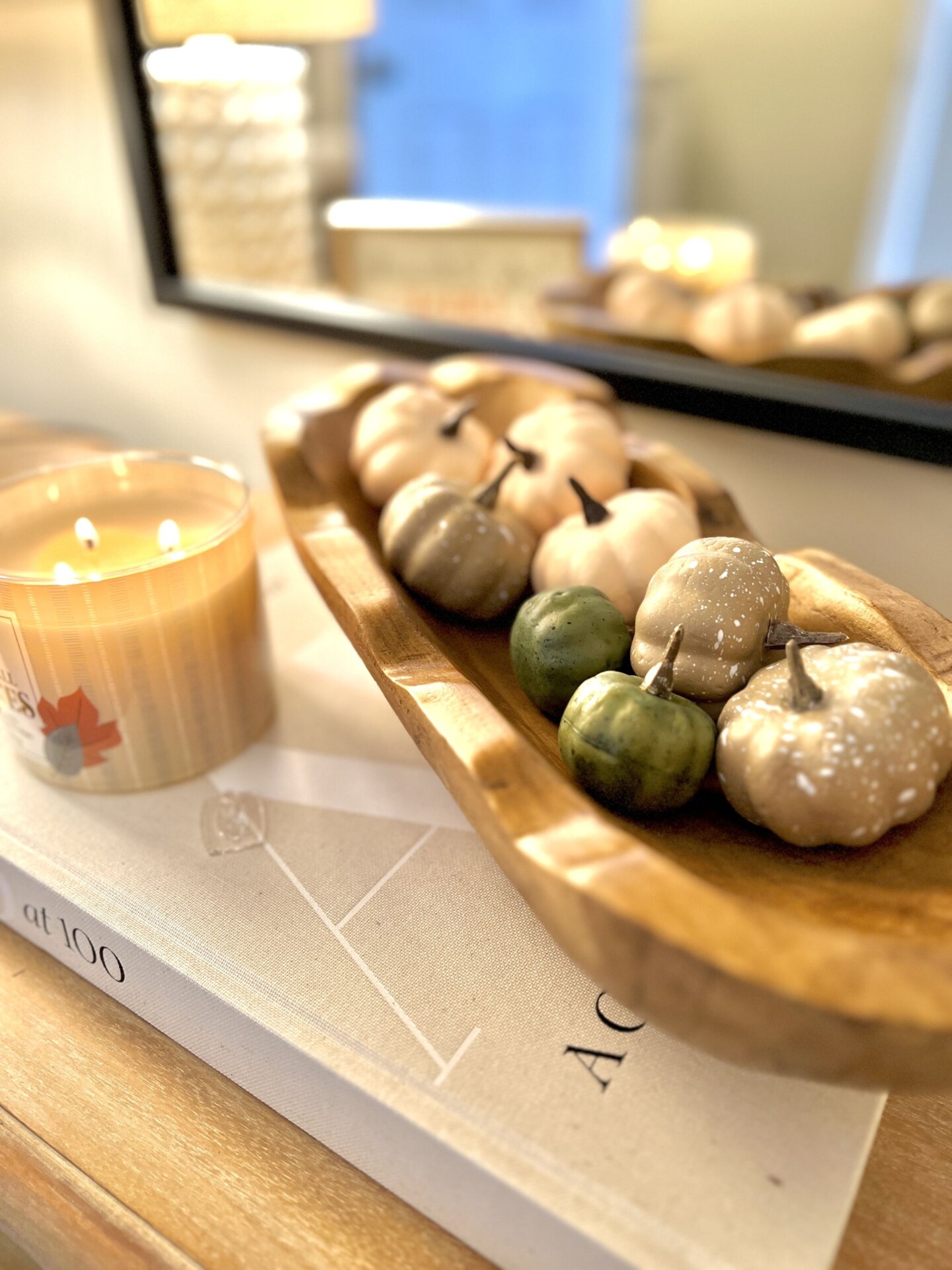 Since I was going with the neutral creams and greens, this little sign was perfect. It's also reversible. (and I just noticed the command hook laying there…LOL)
You have got to get this candle!!! It smells AH-MAZING and it's just under $7. I've been burning it pretty much non-stop since it came.
The last thing I got was the cute plaid green and cream blanket. It is super soft, and looks nice draped over the edge of a basket, or on the arm of a chair of sofa.
Have you checked out the home decor at Walmart recently? I really love some of the dinnerware sets they have. I wish I had a place to store these, because I'd get them.
SHOP THIS EASY FALL DECOR FROM WALMART
I hope you'll follow along on Instagram. I share on there daily and you can see more of my daily life in stories. You can also me on Facebook and Pinterest, and be sure to sign up to receive my newsletters that come out whenever there's a new blog post. Just scroll to the bottom and put your email in. I'll also be sending out special editions through the holidays with sale alerts and gift guides.