Hi friends! Happy Labor Day! The best sales are going on, and I felt it my duty to make sure I shared the best of the best sales with you! These brands are all brands I've share numerous times, but that just tells you that I really love them.
colleen rothschild
These are some of my favorites and best sellers. The cleansing balm is so good for taking off your makeup, and very gentle on our skin. I love ALL the hair products. I use the Vit C and Hyaluronic Acid every day when I get out of the shower. Put hyaluronic acid on while your skin is still damp for maximum benefits. The new Illuminating Tinted Eye Cream brightens the under eye giving a little glow.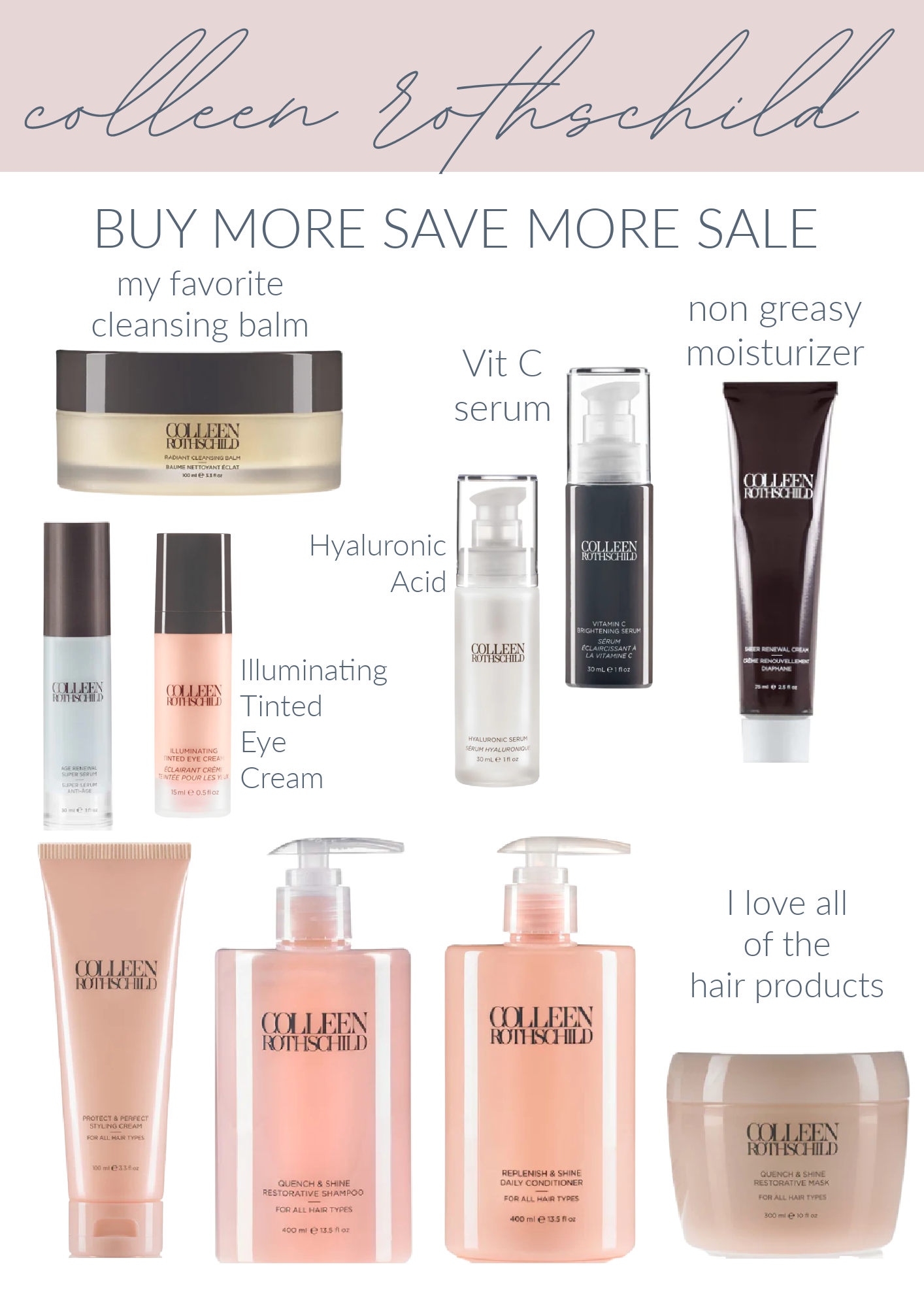 Print Fresh
I wear a PrintFresh robe every single day when I get out of the shower and I'm doing my hair and makeup. I also love the pajamas and sleep in them most nights. (Don't tell Soma 😉…I still love them too, but I do really love the PF jammies) Some of the prints are 50% – 70% off with the extra 20% off code BYESUMMER.
Avara
Avara is having a Labor Day sale on sale with an extra 50% off sale prices. All of the pieces I have on in these photos are included, plus a really big selection of other pieces. Great time to grab some for early fall or next summer.
Summersalt
I've been wearing Summersalt swimsuits and coverups all summer and loving them. I had seen them and thought they were super cute. They run great sales, and that includes the 30% off swim and coverups that's going on right now.
In swimsuits I normally size up one to an 8, but in this brand, I don't. I did for my first suit and it was too big. The black and white suit is a 6, and it's still big in the top. That suit best suits someone with a larger top and smaller bottom.
Gibsonlook
You already know I love a lot of Gibsonlook pieces, and they are having a great end of summer sale with 40%-60% off. All of these are included plus a biggggg variety of others I've shared.
City Beauty
I've preached City Lips from City Beauty for quite some time and shared how much it has helped with the lines over my upper lip. They have a lot of good products, and a good sale for Labor Day. 30% off site wide with code LDAY30.
J Crew Factory
Up to 70% off site wide. So many cute pieces for now that will transition to fall. I adore these gauze tops, and the white button up jeans. I think button fly jeans are very flattering and help flatten your tummy. [YAY]
I hope you have a wonderful day, your weather is great, and you score some deals on things you'll really enjoy from some of the best sales.
I hope you'll follow along on Instagram. I share on there daily and you can see more of my daily life in stories. You can also me on Facebook and Pinterest, and I'd love for you to sign up to receive my newsletters that come out whenever there's a new blog post. Just scroll to the bottom and put your email in.