Hi friends and Happy Wednesday!!! This week seems to be moving at a fast pace. Maybe it's where I'm getting back into the groove. I made a trip over to the new J.Crew Factory store the other day to do a J.Crew Factory on. There are some cute, cute pieces in store and online and as luck would have it, I think most of them are on sale. J.Crew Factory is like Loft in that there is almost always a sale. We do love a sale. Don't we?
gauze & denim
One of the main reasons I wanted to go into the store was to see this adorable top. It's a gauze that has a super soft swaddle blanket feel. If that description doesn't make you want one, I don't know what will. HA!
The jeans are a nice straight leg with a raw hem, so you could cut them if you're around my height and want them cropped a bit. They run TTS, but if you go between sizes, I'd say size down.
mixed media tee
This shirt is just darling! D A R L I N G, I tell you! The body is a typical knit tee material and the ruffles are a poplin. If you have an aversion to a regular old tee (like me) then this could be the answer.
basics are best
These are truly closet basics. A pair of navy pants, especially for those of you who work outside the home are great to have in your line up. These have a normal front and elastic back. They're comfortable without having a "granny" feel. HA!
The sleeveless white shirt is another piece that never seems to go out of style and works with so many other items in your closet from cardigans, to pullovers to blazers. Easy to layer when the temperatures are still warm.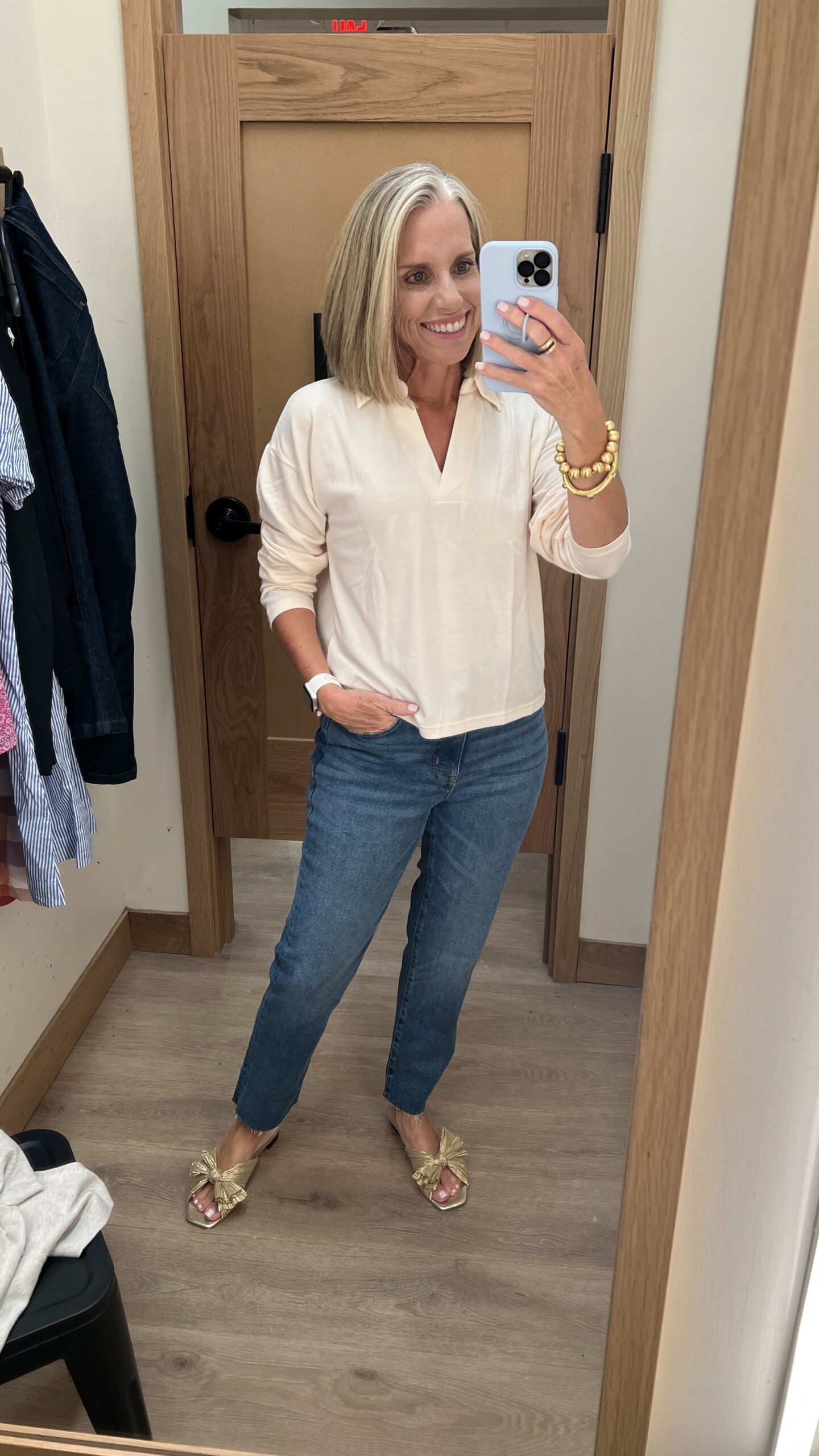 another workwear look
This sweater is soooo goooood. It's super soft and I love the style. I have on an XS and the fit is great. This is a good one because it can be workwear or you could just as easily put it with a pair of jeans or joggers and fun sneakers.
denim and white
Do I even need to say it? This is a classic look. TIMELESS. If you're uninspired, then grab a white shirt and a good pair of jeans. You are good to go.
darling dress
I absolutely love this little dress so much. If I didn't have an abundance of dresses already hanging in my closet, I would totally get it. Everything about it is perfect in my book.
another cutie dress
This is one of those times where you buy a dress at the end of the season and you'll have it for next summer. You can also wear it as we go into fall with the cute colors. Add a denim jacket or pull on a cardigan to give the illusion of a plaid skirt. Add a pair of booties to really make it transition.
SHOP THIS J.CREW FACTORY TRY ON