Hi friends!!! Now that I'm back and I've caught my breath after we celebrated Katie and Sam, for our weekly roundup, it's wedding recap day. The weather was great…hot, but great. Of course what do you expect when you plan a wedding, in the south, for the end of July? HA!
I want to share a snapshot of the entire weekend without boring you to tears, I think that as you watch this weekend unfold, you'll find that this celebration was beautiful, but not overdone. Katie is not a fussy girl by any means, but at the same time she had a vision for her wedding day. I would call it understated elegance with a Boho vibe.
Let's start with the Bridesmaids Brunch we had Saturday morning to kick off the wedding weekend. I hosted this with one of my dearest friends at her house and it was absolutely so sweet and lovely. Katie decided on the menu with a list of her favorites. We served:
-Quiche
-Grape Salad
-Southern Ham Rolls
-Parmesan Thyme Crackers
-Fruit Tea
I did a personalized toiletry bag I had made on Etsy for each of the girls and filled them with beauty products from some of my favorite brands. You can check out this Reel to see all the details.
Sam's family hosted the rehearsal dinner at their church and did such a beautiful job. Everything was wonderful from food to flowers. Our daughter in law, Erin put together the sweetest slideshow of Katie and Sam from birth to present which caused all eyes to fill with tears. There is nothing like watching your babies grow up right before your eyes, literally and metaphorically.
Now for the big day! The wedding took place in Spring Hill, TN at the Venue at Birchwood. It is DARLING! Katie and I fell in love with it the minute we saw it. There is a stone chapel attached by a beautiful breezeway and patio that lead to a gorgeous "barn" style reception area.
Katie made a stunning bride. When we shared a first look, I don't think either of us expected we'd end up in tears, yet we sure did. Her dress had a Boho feel and we both loved it. I LOVED my dress as well. I felt great in it, and it was very comfortable. It's still in stock if you are shopping for a MOB/MOG dress.
I'm not gonna' lie…these three cutie pies were the stars of the day. They are cousins and oh my goodness I wanted to scoop them up and bring them home with me. Katie has babysat for them since the older two were babies. They're not only cute, but funny, loving and just plain fun. They danced til the bitter end and were generally the life of the party. [The dresses and shoes came from one of my friends children's stores here in town. The Little Cottage Children's Shoppe. If you order from them be sure to tell them I told you about them]
A girl and her daddy!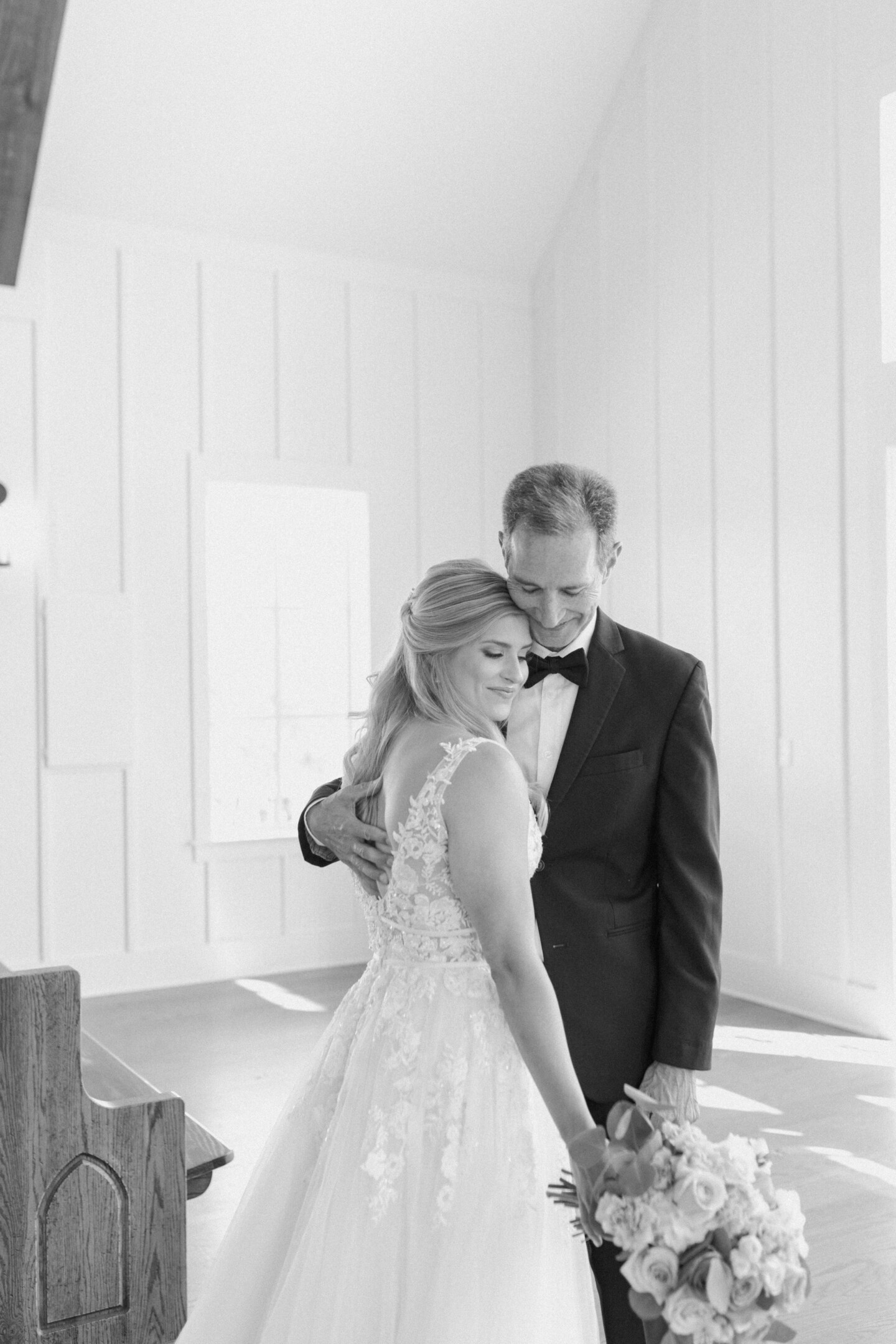 I love this photo of these two.
Such a sweet group of girls. Three of them are friends from PA school, Erin (our daughter in law), Katie's college roommate (who's mom and I lived next door to each other in the dorm) and Sam's sister.
How Katie and Sam got together…
The 2nd guy to the left of Sam and the 2nd girl to the right of Katie (the roommate) are married. They introduced Katie and Sam when they were still dating. So fun to see them all be friends now, and Katie's PA group has also adopted them. I love how the groups of friends mesh.
Kent and I are very blessed to have these four in our lives. We don't take for granted that we love both of our kids mates, and they love us back. I know not every family is that lucky.
These photos were from a "sneak peak" the photographer sent. I can't wait to see ALLLL the photos.
I hope you've had a great week and will have a wonderful weekend.
I hope you'll follow along on Instagram. I share on there daily and you can see more of my daily life in stories. You can also me on Facebook and Pinterest, and I'd love for you to sign up to receive my newsletters that come out whenever there's a new blog post. Just scroll to the bottom and put your email in.