Hi friends! I was thinking this week about some of my recent Amazon purchases and thought a 10 favorite Amazon finds post was in order. These are all products I've purchased, and find myself telling friends about. Since that's what we are, I needed to tell you. That's what friends do, right?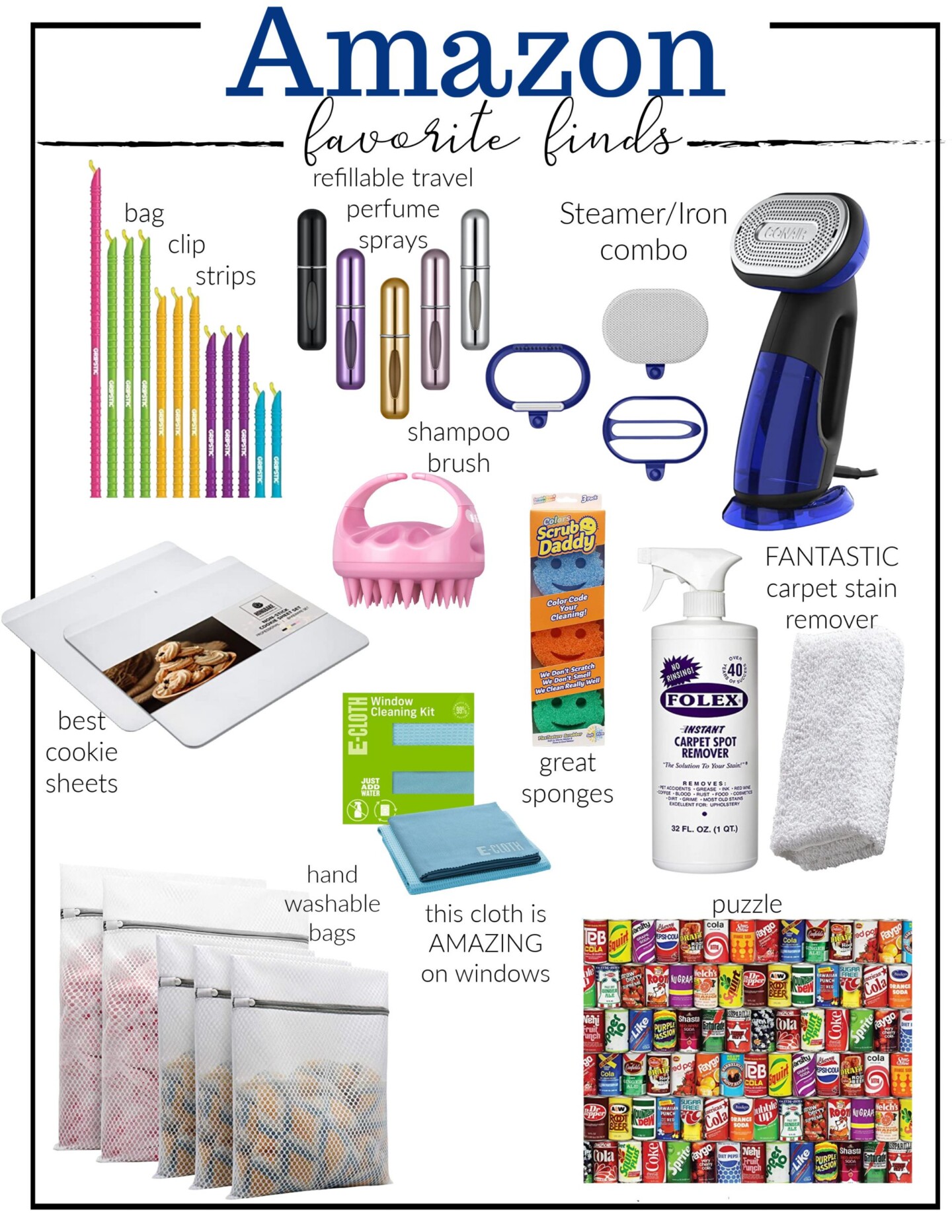 GRIP STICK – I remember seeing these going around a while back, but my friend had them and showed me, and I immediately ordered some. They are so great for sealing bags and keeping things fresh.
TRAVEL ATOMIZER – Perfume bottles are extra weight I don't want in my suitcase. These are so handy. I used one this past weekend when I traveled. They're super easy to fill and refill. I'm going to start keeping one in my purse too, so when I want to freshen up or I forget to put on perfume, I'll be prepared.
STEAMER IRON COMBO – I have a steamer that's been great and it's perfect for travel, but the feature that this can also be an iron is what got me. I like that I can use it on my linen duvet cover to get wrinkles out without dripping water all over the place.
INSULATED BAKING SHEETS – These were recommended by a cookie maker I know. You may remember I've shared some classes I've taken for decorated sugar cookies. They really do help cookies to bake evenly. Love that.
HAIR SHAMPOO BRUSH – I put these in the girls stockings and got one for myself. These are silicone tips so they don't hurt your head when your use it. It works great for helping to get all those products out of our hair.
E-CLOTH – OH BOY! This thing is GREAT!!! You need this! It cleans glass doors and windows like magic. I'm going to try it on my mirrors. I've heard they work great for those too.
SCRUB DADDY – These are great sponges. You can color code your cleaning. LOL. They are firm when dry, but flexible when wet. They're super popular.
FOLEX – THIS is another FABULOUS find. A friend gave it to me and boy has it already saved the day several times. I dropped a big blob of tanning mousse on the light colored rug in my bathroom and it came right out. You can also use it on furniture. You need to have this on hand, so when you need it, you have it.
HAND WASH BAGS – I've used lingerie bags in the past. I wash the majority of my clothing on gentle and hang to dry. I've started putting my workout bras each in a bag to try and keep the pads in (because that drives me NUTS!) I put several pair of panties in one of the big bags or put sweaters in a big bag.
JIGSAW PUZZLE – We love puzzles when it's cold. This one just looked fun, so I ordered it for the next time we want to do one. I think it will be challenging, but manageable and easy for several people to work on different areas.
Do you have any of these 10 favorite Amazon finds already? Fill your cart and thank me later. 😉 Just don't tell your husband it was me that instructed you to buy them. HA!
If you're interested in some other Amazon posts you can check these out.
Four Popular Amazon Sweaters
More Amazon Finds You Need
Most Popular Amazon Puffer Jackets
Amazon Travel Must Haves