Hi friends! I asked a question on Instagram this week, and that gave me the idea for this random gift ideas post. Before we get to that though, guess what I did? I put up my Christmas tree. It's not decorated, but it's up. I'll decorate it this weekend. When you do what I do as a content creator, you need to decorate earlier than usual. I use the Christmas atmosphere for a prop in styling holiday photo shoots. I also really just love the glow from a Christmas tree. Do you?
Cute winter hats for her
Someone asked for cute winter hats on Instagram, and here are some I found. The teddy bear hat is so cute, and I'm sure it would be very warm. There are so many fun pom pom beanies available, or the every stylish felt hat, but the sherpa baseball hat has me very tempted. I think it's so darling.
Shop cute winter hats
Colleen Rothschild Sale Gifts for her
It is NO SECRET I'm a huge fan of Colleen Rothschild. I have quite a collection of her products. I love many of the skincare products and all of the hair products. She just introduced a new "The Eyes Have It" kit. I used the mascara and the micellar water today for the first time and they were great. The mascara has a very thick brush and it coats your lashes beautifully. The rest of the pieces in the kit include a liquid eyeliner, pencil eyeliner and sharpener and neoprene bag. The items in the graphic below are on sale, and everything else on the website is 20% off.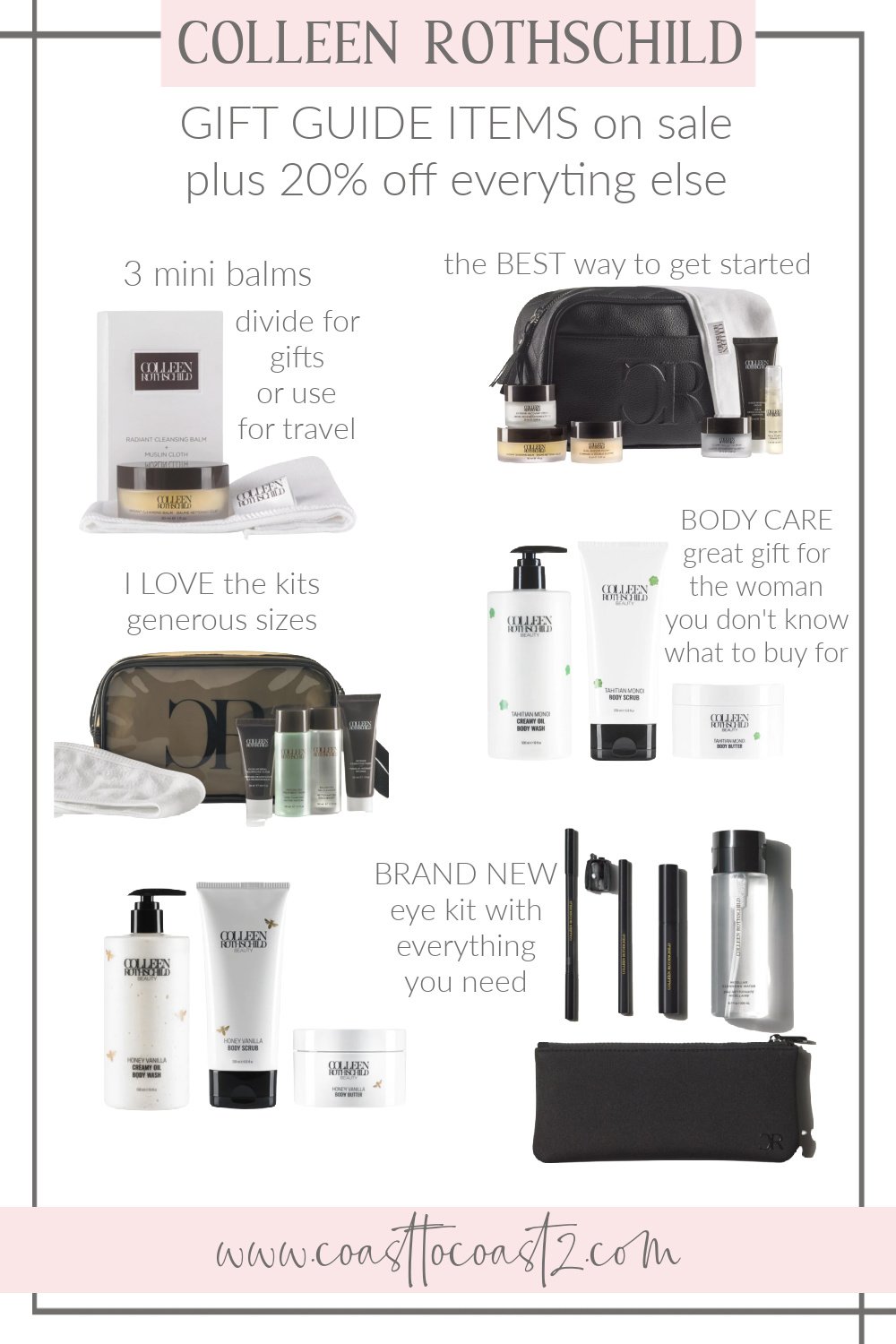 Shop the sale graphic
Some of my personal favorite CR products
Small Plug In Heater
Yesterday I came across these small plug in heaters and I thought they were GENIUS. My parents have little square counter heaters they use in the bathroom in winter to keep it nice and warm. These would be so good for the bathroom, under your desk, in a small office, next to your favorite chair or anywhere you'd like a little extra warmth.
DYSON cordless vacuum
I tell everyone how GREAT these Dyson cordless vacuums are. This is a great deal on a great gift. In case you didn't catch that, I'm saying it's on sale. It works well on hardwood, tile, carpet and low pile rugs (just turn the suction down). Seriously, I've had quite a few different cordless vacs through the years, and this one is HANDS DOWN THE BEST.
AMAZON Gift Wrap Supplies
Once you buy all the great gifts, you've got to wrap them. Here are all the supplies you need. In our house, double sided tape is a must. If you're not using it, you are missing out because your packages will look professionally wrapped.
WRAP ORGANIZER || PLAID PAPER SET || GIFT BAGS || TAGS || REVERSIBLE PAPER
ROLLER BUDDY CLIPS || VELVET RIBBON || TWINE || PAPER CUTTERS || DOUBLE SIDED TAPE || BAGS
WEEKEND SALE ALERTS
VICTORIA EMERSON – $15 SITEWIDE
LOFT – 44% + 11% OFF PLUS FREE SHIPPING…ENDS TONIGHT
SOMA – 25% OFF SITEWIDE
TARGET – 30% OFF CLOTHING & SHOES WITH TARGET CIRCLE
ANTHROPOLGIE – 30% OFF ALL SALE
NORDSTROM – EXTRA 25% OFF SELECTED CLEARANCE (there are some GREAT deals)

I hope these random gift ideas for her are helpful. Maybe they'll be more helpful for yourself. LOL
Don't forget to follow me on Instagram, Facebook, and Pinterest. You can also sign up to receive blog posts by email whenever a new one is published. Just scroll to the top and put your email in on the right.