Hi friends!!! We have had the most glorious fall weather. Today I thought we could look at some fall outfit ideas in the form of what I've worn lately. We've had warm days and cool days, and my outfits reflect that.
*There are quite a few discount codes within this post too…so if you're interested in an item, be sure to read and look for the codes. 😉
Target sweater & Chico's jeans
I took Katie and Erin to the Parade of Homes and this is what I wore. It was a really warm day, so the short sleeve sweater was perfect. This sweater always surprises people when I tell them it's from T A R G E T! It looks more J Crew. It's super soft and comfy, so I highly recommend grabbing one. OH…and THIS CLOSET…this is the stuff dreams are made of. Totally a content creators goal.
The jeans are boyfriend jeans from Chico's and I have really gotten a lot of wear out of them. The bag is the perfect size, and you can use the code COASTTOCOAST15 on your purchase. The strap I have on it comes with it and you can also choose a fun wider strap as part of the package. Of course there are a ton of straps available for purchase including a really great chain that I use all the time.
Avara Sweater
This AVARA sweater is another favorite for fall. I love the softness and it's a lightweight, so it's perfect for warmer fall days. It's also great for layering.
The white sneakers are just so cute. The thick laces add a little something extra and they come in wide and narrow. Shoes is those two widths can be harder to find. We have a store here in the mall called Marmi that carries higher end, shoes in a variety of widths. You can shop them online here.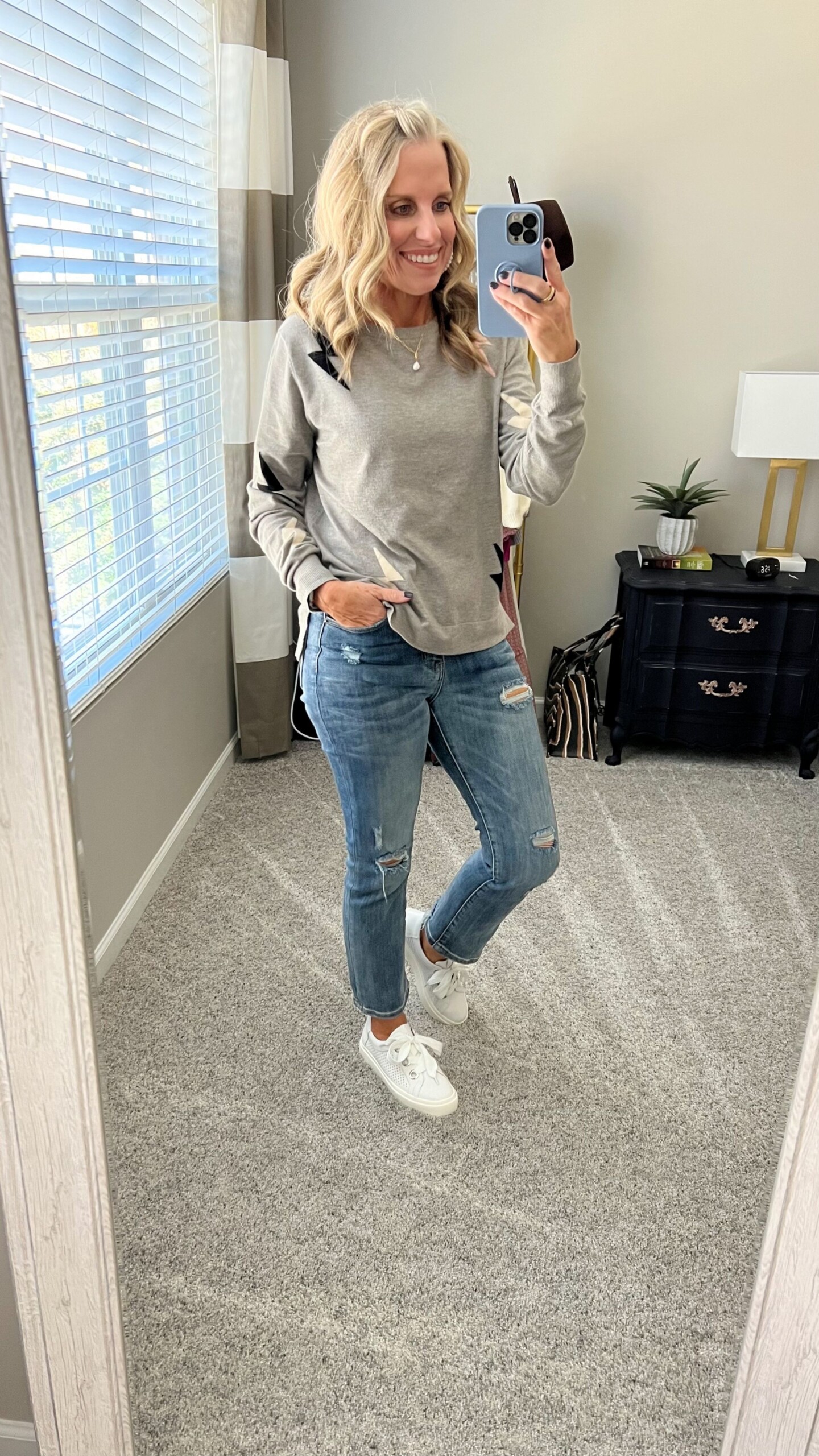 Gibsonlook
This top is from Gibsonlook, and it's yet again so soft. Are you noticing a theme? You know I am a huge fan of all the soft fabrics. Are you? You can use my code LISA10 on the entire Gibson site.
These booties are fantastic. They are such a nice leather from a new to me brand. Do you like the smell of leather, because I do, and these smelled so good when I pulled them out of the box. I find myself reaching for them A LOT. I have a 20% off code for this retailer too. Use COASTTOCOAST220
Annnnd, here are a couple more Gibsonlook pieces. The top has a flutter sleeve and the most beautiful fall print. Paired with this double breasted blazer, it makes for a great fall look. These jeans are J Crew last year, but I found some very similar ones this year to link. You'll notice I'm wearing the booties again,
Johnny Was
I've been lucky to score a few Johnny Was pieces recently by working with Dillards. This shirt dress, is a silky feeling fabric and can be worn so many ways. I wore it to church last Sunday with my faux leather leggings. You could also wear it belted with tall black boots or over jeans and a white shirt, tank or tee as a kimono.
Spanx Air Essentials
The next two outfits both feature the Spanx Air Essentials line, and when I tell you the softness and coziness can't fully be described in words, you'll just have to trust me, Spanx has given me a discount code. LISAXSPANX for 10% off.
SHOP THESE FALL OUTFIT IDEAS [show_shopthepost_widget id="4876259″]
Before you go, I wanted to let you know Soma is starting a 3/$99 bra sale today. It's a great time to refresh your bra drawer. Over time they stretch out, get pilled and breakdown. This is a good time to replace, or grab some backups. These also make great gifts for your girls…get it, "your girls". HA!