Hi friends and a big happy Friday to you! I can't believe this is the last day of September. This week I got to spend several days at a Content Creator Retreat with some old and new blogger friends. It happened to be here in Nashville, and we had a blast. Today I've got a Nashville recap of food, fun & friends.
If you don't know these ladies, you are missing out. They are all long time bloggers and such sweet, fun, smart people. I've known all of them via the internet for quite some time, but it was so much fun to meet them in person. The only one I'd had the pleasure of meeting IRL up until now was Cyndi. I've been reading her blog for years…she was actually probably the first blog I read, and I feel pretty sure I found Jo-Lynne through her.
Our first night we had dinner at a restaurant called HUSK. I got to go to several restaurants I've never been to during this retreat. HUSK has a menu that changes daily, and it's pretty much farm to table, southern cuisine.
I'll do a shoppable widget below the pictures with links to my outfits.
We had lunch at Hampton Social. A great place for photos and fun atmosphere. The food was good too.😉
Took a class at Goo-Goo Cluster. Did you know Goo-Goo Clusters were America's first combination candy bar? These little nuggets are DE-LISH!!!
If you love live music…especially country music, then an evening on lower Broadway is just the ticket. We found a bar with a great band and enjoyed listening for quite a while.
JENNIFER || JO-LYNNE || CYNDI || ME || JO-LYNNE || TANIA || DAWN
We spent an afternoon in the area called 12 South. Had lunch, took advantage of murals and of course we visited Five Daughters Donuts. A must!
AND we took a line dancing class at Urban Cowboy. That was a lot of fun. Now I'm ready for the next wedding we get invited to, as long as it's not too terribly long of a wait. I'm afraid I'll forget.
Oh, did I mention these classes are taught by the cutest cowboys? HA! This guy was sweet as could be and so good with this group of midlifers.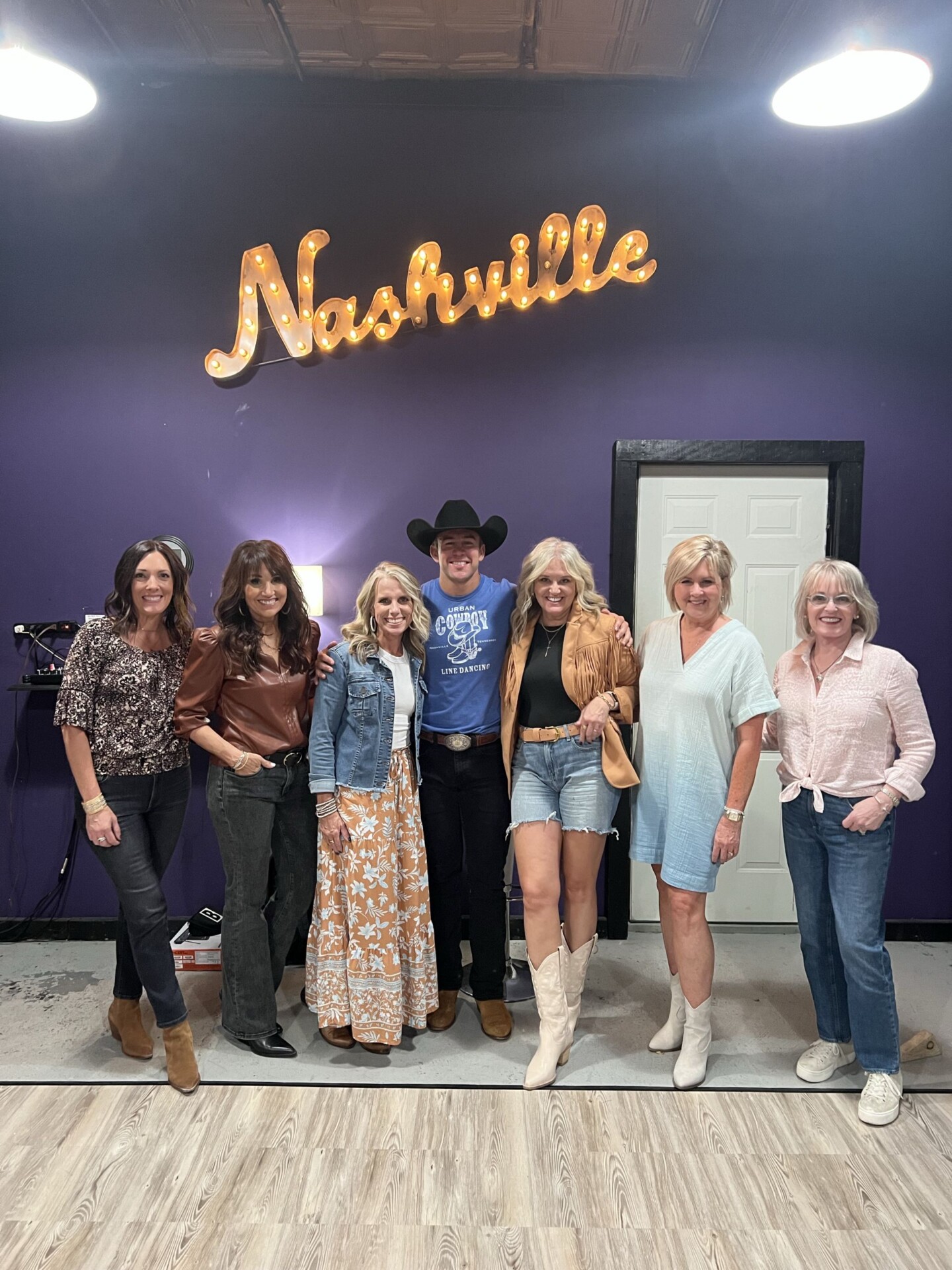 Go give all of these ladies a follow on their blogs and Instagram. You won't be sorry. Hope you enjoyed the Nashville recap of food, fun & friends.
Follow all of these friends on Instagram.
TANIA || DAWN || CYNDI || JO-LYNNE || JENNIFER || ME
Y'all know I love Victoria Emerson bracelets. There is a sale, and Jo-Lynne released her own collection last week. I got lucky and received a few pieces. They are beautiful and included in the sale. This is a great time to grab some Christmas, birthday or girlfriend presents.
Don't forget to follow me on Instagram, Facebook, and Pinterest. You can also sign up to receive blog posts by email whenever a new one is published. Just scroll to the top and put your email in on the right.