*This is not a sponsored post.
Hi friends! You probably know I travel a fair amount, but I don't think I've shared my favorite travel bags in a while. For several years I used a Barrington tote to carry on the plane with my computer and miscellaneous travel things I would need, but last year I shifted to Vera Bradley pieces. I received a couple of pieces before my trip to Utah at the end of last summer, and started using one their totes in black microfiber and loved it.
Then on one of my trips I decided to try the matching backpack and I've been carrying on of these ever since. There are so many pockets and compartments that it's easy to keep all of my things tidy and organized, and for me this is a priority. Type A personality here.
I've been working with Vera Bradley the last few months and received several new pieces, one of which is this beautiful green backpack. I've taken it on my last two trips. Just like the black, it has lots of pockets and compartments. There is a designated zipper compartment just for my laptop, and since I never leave home without it, I love that.
There is also a section large enough to hold my crossbody purse that I travel with. I just started sticking it in the backpack on one of my most recent trips, and it works so well. One less thing to carry and stick under the seat, plus it's not on the nasty floor.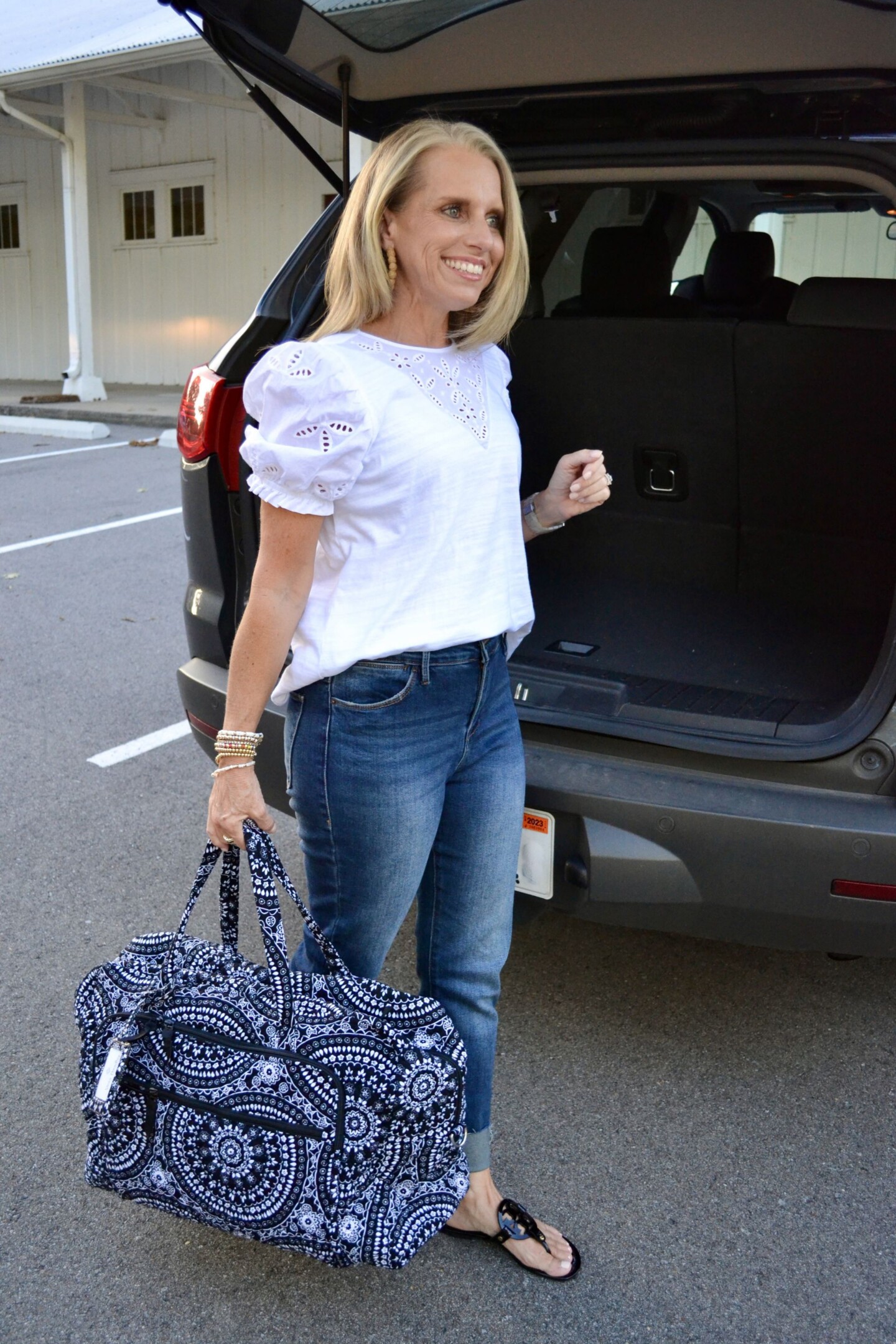 I've been a fan of Vera Bradley for years, but felt like the prints weren't really my style. That's why I'm loving the solids they've introduced. They are more 'sophisticated' looking and match my style better. They have also introduced some prints that are less ornate, and I'm loving those too.
The weekender bags are perfect for just that…getting away on a short trip. These also have lots of pockets and compartments for keeping everything tidy and organized.
You can see from the pictures that Vera Bradley is really expanding their offerings, but we'll chat more about that in another post.
I have a code you can use on the Vera Bradley site. LISAR10 will get you 10% off, and you can combine it with sale prices. I love that they'll allow you stack the discounts.
If you haven't checked the Vera Bradley site in a while, you should. You might find just what you're looking for, and they might become your favorite travel bags too.
SHOP MY FAVORITE VERA BRADLEY TRAVEL PIECES
Don't forget to follow me on Instagram, Facebook, and Pinterest. You can also sign up to receive blog posts by email whenever a new one is published. Just scroll to the top and put your email in on the right.