Hi friends!!! Happy Friday, or as I like to call it, the day before vacation. Yahoooo! We leave for the beach tomorrow, but not before I share my current hair care products with you. This week we chatted about all things hair on our weekly Chit Chat Chic live. If you aren't familiar with what I'm talking about, let me fill you in.
My fellow Chit Chat Chic girls and I have a live every Wednesday at 7:00 CST on Instagram. We rotate who "hosts" and whoever's week it is, goes live on her page. We discuss all kinds of things. Fashion, beauty, travel, exercise, television shows…you name it. We would love to have you join us. We have an Instagram account called Chit Chat Chic that you can follow here, and if you aren't following me, I'd love if you did here.
Theses are the hair products I use daily. Depending on the styling I do. I also realized I forgot to put my curling iron on here, but I'll list it below too.
CURLING IRON – I use a 1″ curling iron to curl my hair. I have one by Hot Tools, but I really want to get this one.
PADDLE HAIR BRUSH – I've been using this paddle hair brush for years and I love it. It's great for blow drying or just brushing.
VELCRO ROLLERS – I use these after I use the flat iron. I do a section and put a roller in it until the hair cools and it helps with a little volume.
ALLIGATOR CLIPS – I use these to hold my hair in sections when drying, curling or using the flat iron.
DRYING BRUSH – This is a game changer. I dry my hair most of the way with my regular dryer and then section it and finish with this. It smooths and adds volumes at one time.
T3 HAIR DRYER – I love this hair dryer. I really think it dries my hair faster, and it's supposed to be better for your hair.
VOLOOM TOOL – This little tool is a miracle worker too. I use it on the under layers of my hair to add volume and it really works. I was skeptical when I got it, but I use it almost every day.
RUSK BLOFOAM – I always use some kind of product to add volume to my hair. I have thick hair and it's heavy, so I do whatever I can to add a little oomph.
LIVING PROOF DRY SHAMPOO – This is my favorite dry shampoo. It freshens up my hair between washes.
LIVING PROOF FULL DRY VOLUME TEXTURE SPRAY – That's a mouthful, but I spray this on the under layers of my hair and it helps to hold the volume I work so hard to get with all the other products. This is the last product I use before the final step of hairspray.
FLAT IRON – I have a T3 flat iron, but I also have this GHD flat iron, and it's my favorite. It literally heats up in seconds and works amazing.
These are two of my favorite hair care lines of shampoo, conditioners and styling products.
The COLLEEN ROTHSCHILD line is one of my favorite brands, and I use all of her hair products. They leave my hair soft and shiny.
The HAIR BIOLOGY brand is another one of my favorites. I keep both of these in my shower and alternate between them. The Thickening Treatment is also good for adding volume.
The SILVER SHAMPOO is good for blondes when your hair gets brassy. The MILKSHAKE Silver Shine Shampoo was mentioned by several of our viewers Wednesday night as a good purple shampoo.
SHOP MY CURRENT HAIR CARE PRODUCTS [show_shopthepost_widget id="4824714″]
I woke up to an email from T3 about a HUGE sale on three of their best sellers. Are you ready for this?! $59.99 each. Stop it! If you only buy one, get the hair dryer, but I'd buy two…LOL I'm thinking I'll grab the curling iron. It's a 1.25″. I use a 1″ currently, but with my hair being longer, I've been considering upping my barrel.
AND don't shoot the messenger…but these would make FABULOUS Christmas gifts!!!!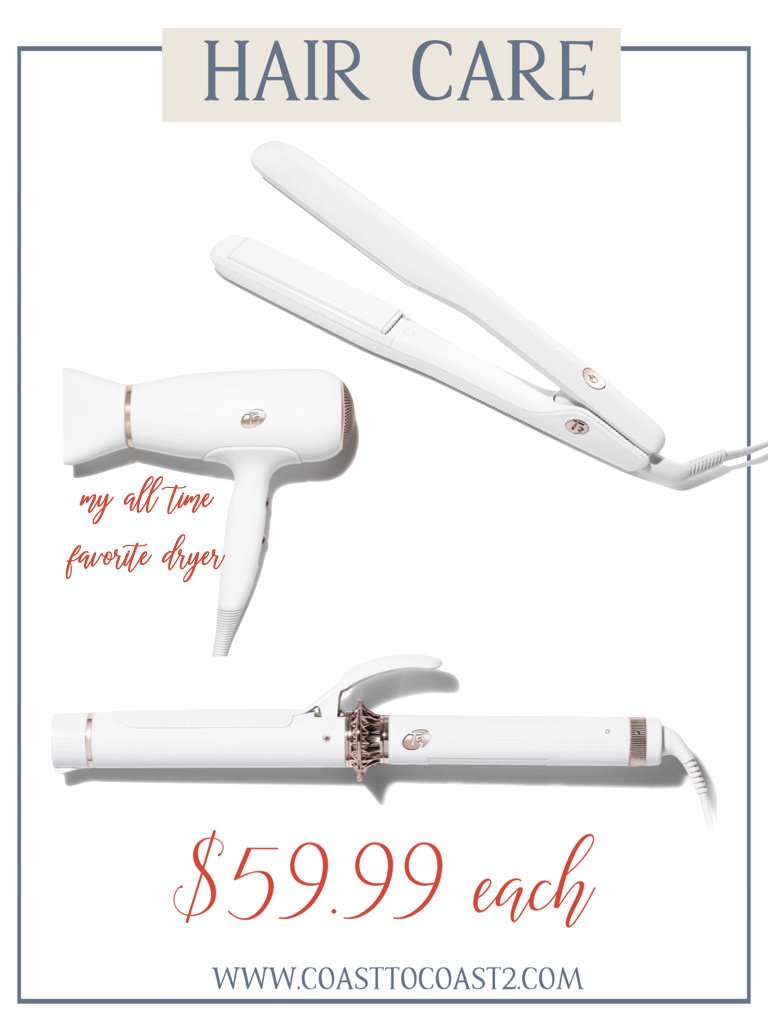 [show_shopthepost_widget id="4824869″]