Hi friends! It's June and that means it's the month we celebrate all the father's in our lives. Sometimes dad's can be a real challenge, but I've got some Father's Day gift ideas to help you out. Whether the dad in your life is an "athlete", "sporty dad" or "techie", I've got some great ideas in various price ranges. If I don't have something you like, a couple of my Chit Chat Chic friends are sharing their Father's Day gift ideas today too.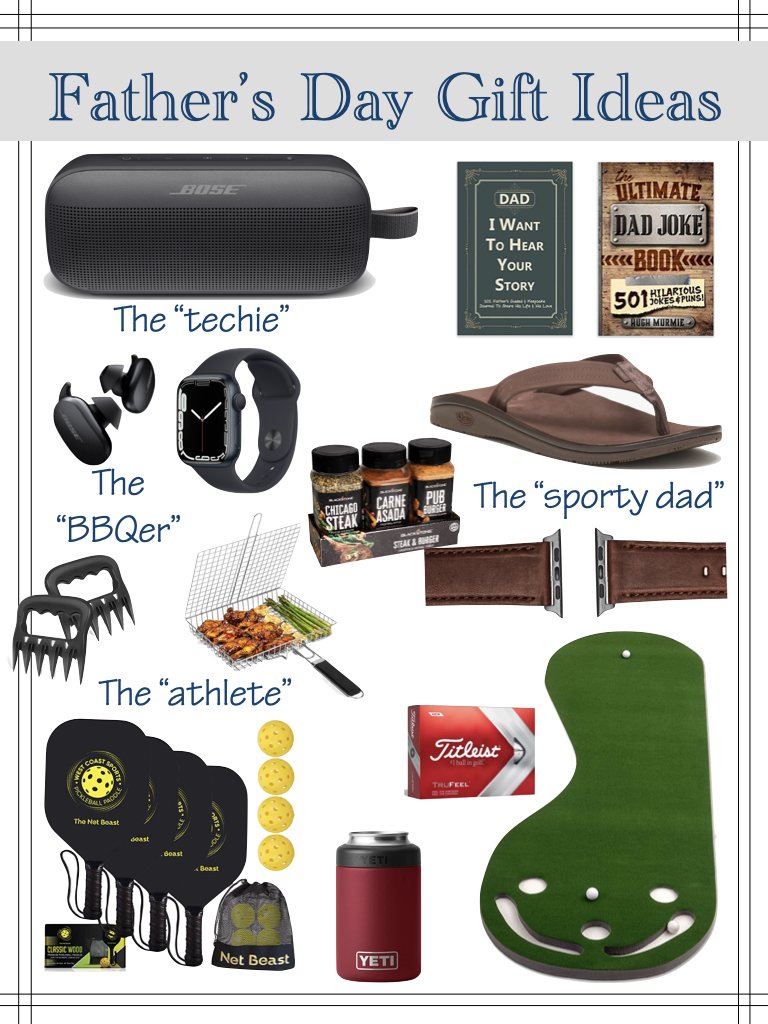 BOSE PORTABLE SPEAKER || BOSE EARBUDS || APPLE WATCH || I WANT TO HEAR YOUR STORY
DAD JOKES || FLIP FLOPS || WATCH BAND || MEAT CLAWS || GRILL BASKET || SEASONING KIT
PICKLE BALL || YETI CAN COOLER || GOLF BALLS || PUTTING GREEN
Let's start with the "TECHIE"
BOSE PORTABLE SPEAKER – These speakers are perfect for boats, golf bags, the beach or even the office. Bose is known for their sound quality, and these are a great idea. 
BOSE EARBUDS – My husband (who can't hear thunder) is a sound snob when it comes to earbuds. LOL He LOVES his BOSE earbuds and swears the sound is better than any others he's tried. (including my Airpods)
APPLE WATCH – This is what I gave Kent last year for Father's Day. He can use it when he runs to track his distance, speed, etc…and it has his music on it through his phone. He, Katie and I all have Apple watches and we love them. I had no idea how much I would rely on mine until I got it. You can receive texts, phone calls and emails on it, and that makes life so easy.
BOOKS –
I had to throw in a couple of books.
DADS STORY – I think this is just such a great idea. I've shared it before. This book has prompts for dads to fill in that will leave information and stories kids will enjoy for years to come. Kent's dad actually wrote his life story years ago, and Kent really enjoyed learning about his dad after he was no longer around to answer the questions he had. 
DAD JOKES – Again, Kent loves a good dad joke and the kids love giving him a good eye roll. I think there are a lot of dads out there who have a corny sense of humor and would enjoy this. 
The BBQer"
MEAT CLAWS – These just sound manly. HA! They are great for shredding pork or chicken that has been made for BBQ. 
GRILL BASKET – This makes grilling so easy. Pop everything in, and then you can turn it all at once and nothing falls through the cracks. Easy peasy
SEASONING KIT – This is kinda like giving dad jewelry or accessories if he's a griller. It's amazing to me how many men really are into grilling and love to experiment. My brother falls into this category and sends me Snapchats of all the deliciousness he makes. 
The "SPORTY" DAD
CHACO FLIP FLOPS – My kids love their Chacos and wear them constantly. I just found these flip flops and think they'd be a great idea. Kent wears flip flops every day all summer long, and this will look great with casual shorts looks. 
LEATHER WATCH BAND – Apple watches have lots of options when it comes to bands, and I think this one would look really nice for a man to wear to work, church, or dressier occasions.
The "ATHLETE"
PICKLE BALL – seems to have swept the nation…or at least where I live. I feel like everyone I know is trying it…and I'd like to too. This set is all you need for doubles. Just find a net, and you're good to go
GOLF BALLS – If dad is a golfer, then of course golf balls are always going to be a good idea. 
PUTTING GREEN – This could be used anywhere. Now so many men are working from home, this would be a nice little break in the day. Get up, stretch their legs and hit a few balls. 
YETI CAN COOLER – This is something Katie gave her dad last year and it's literally one of his favorite gifts ever. He loves to drink sparkling water, and keeps a can in this all day most days. We even got a second one to keep in Nashville and we take it to the beach. 
SHOP FATHER'S DAY GIFT IDEAS HERE [show_boutique_widget id="1142231″]
Okay, I have to know if any of this fit the bill for your dad? Tell me what you're gifting in the comments. I'm always looking for new ideas.
Check out D'Arcy and Cindy's blogs for their gift ideas too.