Hey friends! Surprise! It's been a while since I've shared some favorites, so today is Friday Favorites & sale alerts. There are quite a few sales going on that are so good, I can't risk letting you miss them. I've also got a few new "favorites" to share.
Let's start with some favorites…
If you're still looking for a festive dessert for Easter, I made these two weeks ago to take to a friends for dinner. They were so delicious. I actually made the brownie bites (using Ghirardelli brownie mix – THE BEST), then I used premade vanilla frosting that I colored green (added about an extra 1/2 – 1 cup of powdered sugar to stiffen up) and topped with Cadbury eggs. Easy peasy, and a great presentation.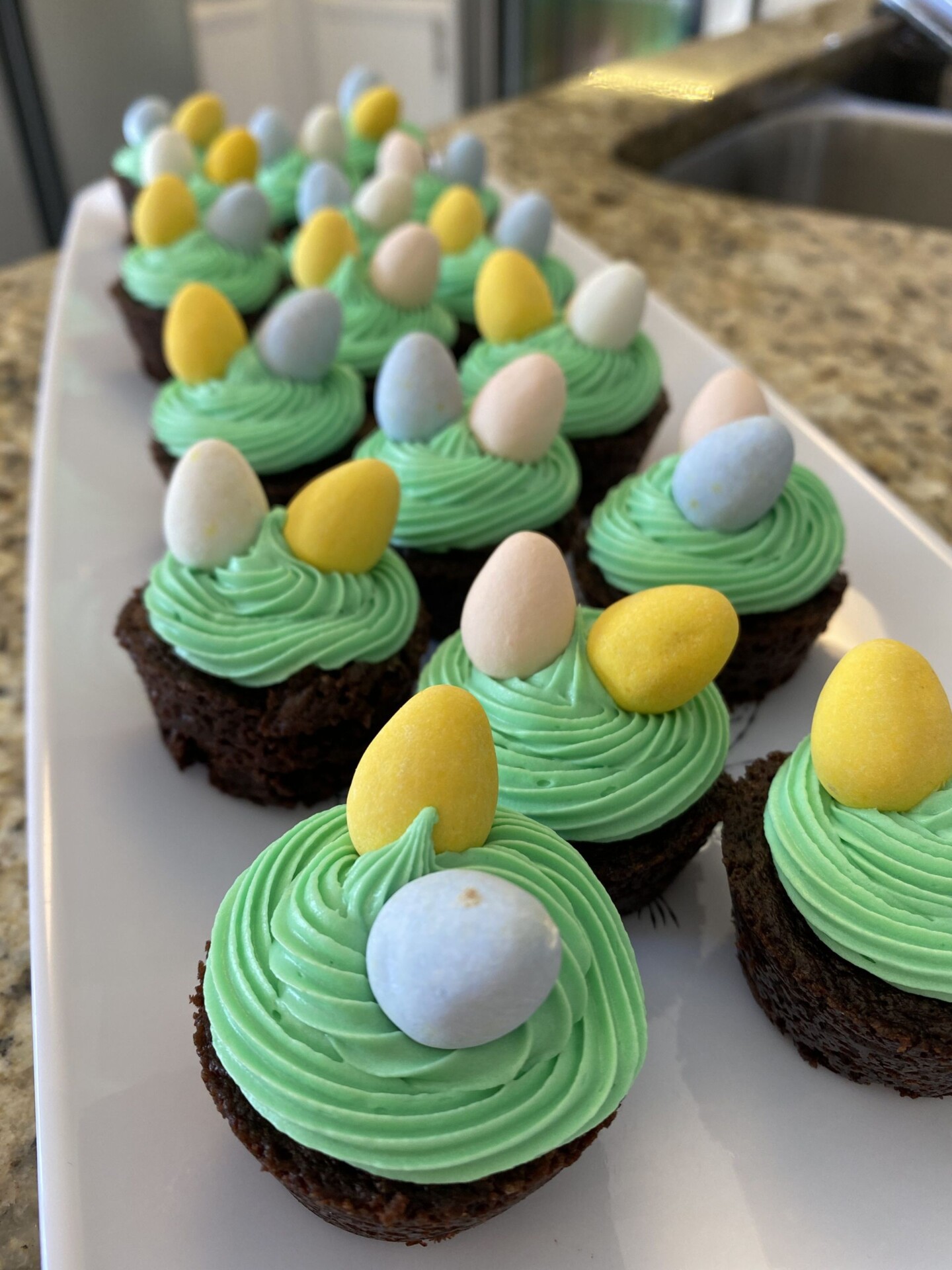 It's that time of year when we start pulling out sandals, wearing dresses without boots, and maybe even shorts. I've gotten a lot of questions on Instagram about what I use to get my faux glow. Hands down my favorite tanning product is the Loving Tan. Seriously…it's the BEST. No weird smell, goes on colored so you can see where you're putting it, develops quickly and the color is incredibly natural. I like to use the Tula body exfoliator and body cream before I apply, and I use a mitt for easy and even application. You can use my code COASTTOCOAST for 15% off on the TULA site for first time orders.
If you want to be tan for Easter, order the Loving Tan for pick up.
A couple of weeks ago I got to go to an Influencer event at Dillard's and was lucky to bring home some fun new beauty products. I've been a fan of Lancomé fragrance for years and years. I got this new Lancomé La vie est belle Eau de Parfum Spray, and it's smells lovely. I also received this great Anastasia highlighter pallette. I've been using it on my eyes as a highlighter on under my brows, and it's great.
I've been wanting a pretty pink tulip wreath for a while. I found this one at TJMaxx, but we all know that was just luck. TJMaxx is like playing the lottery. Sometimes you win, sometimes you don't. I did find one very similar at Amazon if you've been looking for one too.
T3 makes great hair tools. My T3 dryer is by far my favorite dryer. It truly does dry my hair faster…and I've used some good dryers growing up in the house of a hair dresser.
I want to try the brush dryer. I've heard great things about it.
And the last favorite for the week is the Colleen Rothschild Easter sale. You know I'm a HUGE fan of her beauty products, and several of my personal favorites are included in the sale.
The sunscreen is really good. Not at all greasy, and that makes it a 100 in my book.
The Mandelic Acid Radiance Serum is a daily treatment that promotes cellular turnover, which addresses photo-aging, fine lines, acne, dark spots and overall skin texture (taken from website to make sure I covered it all😉)
The Sheer Renewal Cream is the only moisturizer I've ever been able to use during the day. It's lightweight and absorbs quickly without making me oily.
Soma is also having a good sale, and two of my favorites are on sale. The Enbliss bralette (which is now the only bra I wear 99% of the time) is on sale for $25, and the Vanishing Edge panties are 5/$35. I get so many messages from women who have bought the bralette and LOVE it, just like I do. Great gift idea for daughters!
Okay friends, that's it for Friday Favorites and sale alerts. What are you shopping for these days?