Hi friends and happy Friday! We have had the most glorious week here in Nashville weather wise, and I am so loving it. Come on S P R I N G !!! Today is the last post with info from our Galentine's trip, and I'm sharing how to pamper yourself on vacation. We were so lucky to be hosted by the most wonderful spa, Bumble Lane in Baton Rouge for facials. We also worked with one of my favorite skin care companies. I bet you might even be able to guess which one without me saying.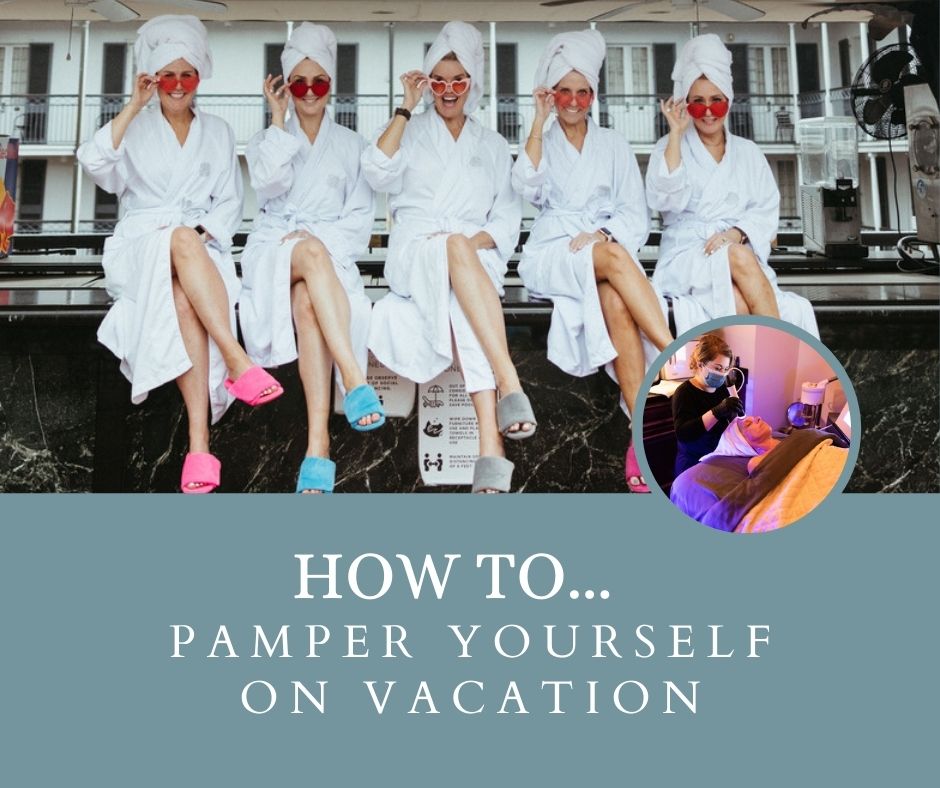 Before I tell you all about my facial, let me ask…have you ever had a facial? This was only my second one, and I'm already dreaming about the next one.
I received a GENEO hydrate facial and it was a little slice of heaven. When it was finished my skin looked so good, and the best news is the results will last for several weeks. This facial is similar to a hydra-facial, but with a little more oomph. Who doesn't love oomph? HA! The GENEO facial hydrates the skin and delivers nutrients. The 3 key benefits are OXYGENATION, EXFOLIATION & NOURISHMENT. Sounds good, right?
I'm not going to get down into the nitty gritty of ingredients, etc…but I can tell you I was talking with the esthetician who did mine and asking about skincare. She said the two most important products to be using are Vitamin C and Hyaluronic Acid. So if you haven't started using these yet, I'd highly recommend adding them to your routine. I use both of these daily, so I was happy when she said that.
The staff at Bumble Lane were wonderful. This is our [new] friend Jennie and she is one of the estheticians. She's sweet as pie and if you decide to visit, tell her we sent you. She's so knowledgable and made us feel so welcome.
We were also give the sweetest goodie bags. Do you ever outgrow the love of a goodie bag. NO! There were nice big sample sized products from one of the skincare lines they carry and two perfume samples. Let me just say that we have been talking to each other nonstop about these fragrance samples. The perfume is called Bond No. 9 Nolita and we received a little body cream that is also Bond No. 9, but the fragrance name is Madison Square Park. They both smell great and are on the pricey side, but if you are looking for a splurge, these are G O O D !!!
You can shop the products from our goodie bags here. [show_boutique_widget id="1126269″]
You don't have to be on vacation to pamper yourself. You can do it daily with good skincare. We were also lucky to receive products from Colleen Rothschild. I think I was the only one of the Chit Chat Chic girls that have much experience with this brand, and you know how much I love it.
The Mandelic Acid and Micro Mineral Resurfacing Scrub are two of my favorite products.
Mandelic Acid is gentle enough for everyday use. The benefits are:
Refines skin texture and tone
Reduces the appearance of fine lines and wrinkles
Helps unclog pores and remove blackheads
Inhibits dark spots and helps uneven skin tone
The Micro-Mineral Resurfacing Scrub refines texture, helps reduce clogged pores and brightens dull complexions by buffing away dead skin cells using the power of ultra-fine crystals and is an effective supplement or at-home alternative to professional microdermabrasion treatments
The Vitamin C and Age Renewal Super Serum are two more of my favorite products that I use daily. If you want to read more about my experience with Colleen Rothschild, you can check out this blog article.
Here are some of my other favorite Colleen Rothschild products. As luck would have it, she's having a STOCK UP FOR SPRING sale that's buy more, save more. Anytime you want a discount though, you can use COASTTOCOAST20 for 20% off.
[show_shopthepost_widget id="4713976″]
If you aren't using good skincare and are a midlife woman, I'd really like to encourage you to find a brand you like and start a routine. You also might want to ask for a facial as a gift sometime. Mother's Day will be here before you know it, and a facial would be a really nice treat, or you can pamper yourself on vacation.
Of course you have probably already guessed the CCC girls are all sharing their take on how to pamper yourself on vacation today too, so stop by their blo