Hi friends! Well in case you're new, let me bring you up to speed. I recently took a Galentine's trip with some girlfriends to New Orleans, and now we are doing a series of posts from that trip. Today I'm sharing part 1 of what I wore in New Orleans. Last week I posted about where to stay and eat. If you missed that post, click here.
*Most of these photos were taken by our fabulous photographer Shey Allen. Shey is Cammi's daughter. and she travels all over the world to do photography, She's so fun to have with us and makes looking good feel easy. Go follow her on Instagram @sheyallenfilms *
We are lucky to work with a lot of wonderful brands who helped to sponsor our trip by sending us some fun pieces of clothing to share with you. You probably know by now that I am a huge fan of Social Threads. I have numerous crossbody bags from them. I love that they hold the perfect amount and have changeable straps and you will find me carrying one most days of the week.
They also carry Risen jeans that sell out every.single.time. We are all wearing the same style in the group shot below, which I love because you can see different body types in the same style. I think most of us are also wearing the same size (27). Tip: Michelle is only 5′ tall, so they were too long for her. She cut them off, and they look great.
My top is also from Social Threads. It's a Z-Supply lightweight sweatshirt. It's got cute details like the sleeves and a straight bottom, so it's elevated casual. (for size reference, I'm in a small)
SHOP MY LOOK [show_shopthepost_widget id="4710724″]
SHOP OUR BAGS [show_shopthepost_widget id="4710724″]
This is old news…I love Print Fresh. I've shared them numerous times and I get equally giddy every time a delivery arrives. I have 4 robes, and 4 sets of PJs and I love them all…but I will tell you that this new Good Dog print is SUPER CUTE. I've been wearing them A LOT.
I had no idea when I received my first set from Print Fresh I would love wearing 100% cotton jammies and robes so much, but I do. They're really comfortable, and I especially like the robes when I get out of the shower and I'm getting ready. I tend to get hot when I'm drying my hair, so they are the perfect weight for that and for the warmer months.
If you want to fall in love with Print Fresh like I have, you can use my code COASTTOCOAST2 for 15% off. These would make a really special Mother's Day gift or graduation gift. Just a thougth😉🌸💡
SHOP PRINT FRESH LOOKS [show_shopthepost_widget id="4710732″]
Another brand I love wearing and working with is Avara. This is an online boutique, and they have some of the cutest pieces. I've shared quite a few with you here on the blog, and on Instagram. This dress is dreamy, and so perfect for the upcoming warmer months. Check out the twirl factor. I think the little girl in every woman enjoys a good twirl.
I have a 15% discount code for you. Browse the site and use COAST15 at checkout.
SHOP MY LOOK [show_shopthepost_widget id="4710792″]
It's time to start thinking about Easter, Mother's Day, graduations and weddings. This dress would be perfect for any one of those events, and chances are you won't pass someone else wearing it.
The denim jacket is absolutely precious. Look at the puff sleeves. It's also a little cropped (except on a short waisted girl like myself) which works well with dresses and the higher waist style pants that are so in. I also love the lighter denim wash for spring and summer. But trust me when I say the sleeves are attention getters.💙
SHOP ALL OUR AVARA PIECES HERE [show_shopthepost_widget id="4710743″]
I have already worn this next look a couple of times in the last week. Yes, I love it that much. This is from Evy's Tree, another online boutique. This is my new favorite white blouse. I love the Tencel fabric and longer length. It works perfectly with leggings, but also can be tucked in for work wear. This one is
G O O D!!!
*I have a discount code for the Evy's Tree site. Use COAST20 for 20% off your purchase through 3/7 10 AM PST.*
The long cardigan is equally as good. It's more of almost a sweatshirt material, so it's super comfy. I don't think you can ever have to much leopard, so I was tickled with this.
I was equally as happy with this denim shirt. It's nice and soft so the fabric flows and the buttons aren't buttons, they're snaps. Love it. Oh, and did I mention it's on sale for $29? The green jacket is an Evy's Tree piece too, and I was so happy I had it with me the last day because it was down right chilly. This jacket looks cute with everything from leggings to jeans to dresses and it's 50% off.
These cute cropped wide leg pants are from SPANX. Yay! They are going to be so great this spring.
Now let's talk White House Black Market. I got these flare leg black jeans that fit like a dream and are equally as comfortable. I got the curvy fit because…curves, and I should have probably sized down, but they still fit. The booties are calf hair and such a fun way to make a statement. The sweater is super soft and cozy, and also good for layering. I think 4 of us got this adorable little bag. It can be a clutch or a little crossbody. I carried it to the wedding last weekend, and it was perfect for my lipstick, glasses and phone.
SHOP MY LOOK [show_shopthepost_widget id="4710758″]
SHOP OUR LOOKS [show_shopthepost_widget id="4710763″]
Another brand I love is Cabana Life. I've shared them the past couple of summers. They have the prettiest colors and prints and all of their clothing has built in UPF. I love that. Cabana Life is also a woman owned business and I love that too. If you haven't tried their swimsuits yet, I highly recommend them. I got a couple last summer and they were my favorites on vacation.
This dress is darling. I love the smocked waist. No surprise there, you know I love all things smocked.
SHOP THIS LOOK [show_shopthepost_widget id="4710765″]
This next photo was one of my favorites from the entire trip. We had the best time with this. Vionic sent us all these slippers, and we loved them. I don't like to walk on hotel floors without shoes. #gross How about you? I wore these in New Orleans a lot and I've been wearing then with my Print Fresh robe and pjs and they look adorable. If you don't know, Vionic is know for supportive shoes. They have great arch support. [Warning, when we first put on the slippers we all were a little worried because they were so hard in the arch, but after not long at all, it softened up the perfect amount and provided great support.] These slippers are also velcro so you can adjust the width to the exact fit for your foot. They also come in 7 colors. We got four of them.
These booties are also from Vionic. They are, get this…waterproof. That means they are perfect for winter here in the south where it could rain, sleet or snow on any given winter day.
P.S. I love the washed black of these jeans. They are from Avara and I sized up. I think I could have gone with my normal 28, but I'm not mad about the extra room. 😉 Don't forget to use my code COAST15 for 15% off your Avara purchase.
SHOP MY VIONIC SHOES [show_shopthepost_widget id="4710791″]
If you followed our trip back in the summer to Park City, you know we worked with Soma for that one, and of course we were thrilled to share their pajamas again. If you look in pajama drawer you will find a lot of Soma Cool Nights pajamas. I have 3 brands of pjs I love to wear, and two of them are in this post.
The Cool Nights pjs are a dream (get it, a dream🤣) for those of us in our middle years. The keep you nice and cool. I'm not sure what the pixie dust is they put in the fabric, but I'm here to tell you it works it's magic.
Speaking of the middle years. These are the best. I mean think about it…what's the best part of an Oreo? The middle. What's the best part of a Tootsie Pop? The middle. The best part of an ice cream sandwich? The middle. You see where I'm going with this? The middle years are great! We have knowledge and wisdom and enough runway left to use it. So embrace midlife my friends and rock the middle years!
SHOP OUR PJS [show_shopthepost_widget id="4710783″]
You know I love all things SPANX! These flare jeans are marvelous. They make you look long and lean. This jacket is from White House Black Market, but it sold out so fast. Not surprising, because it's so cute.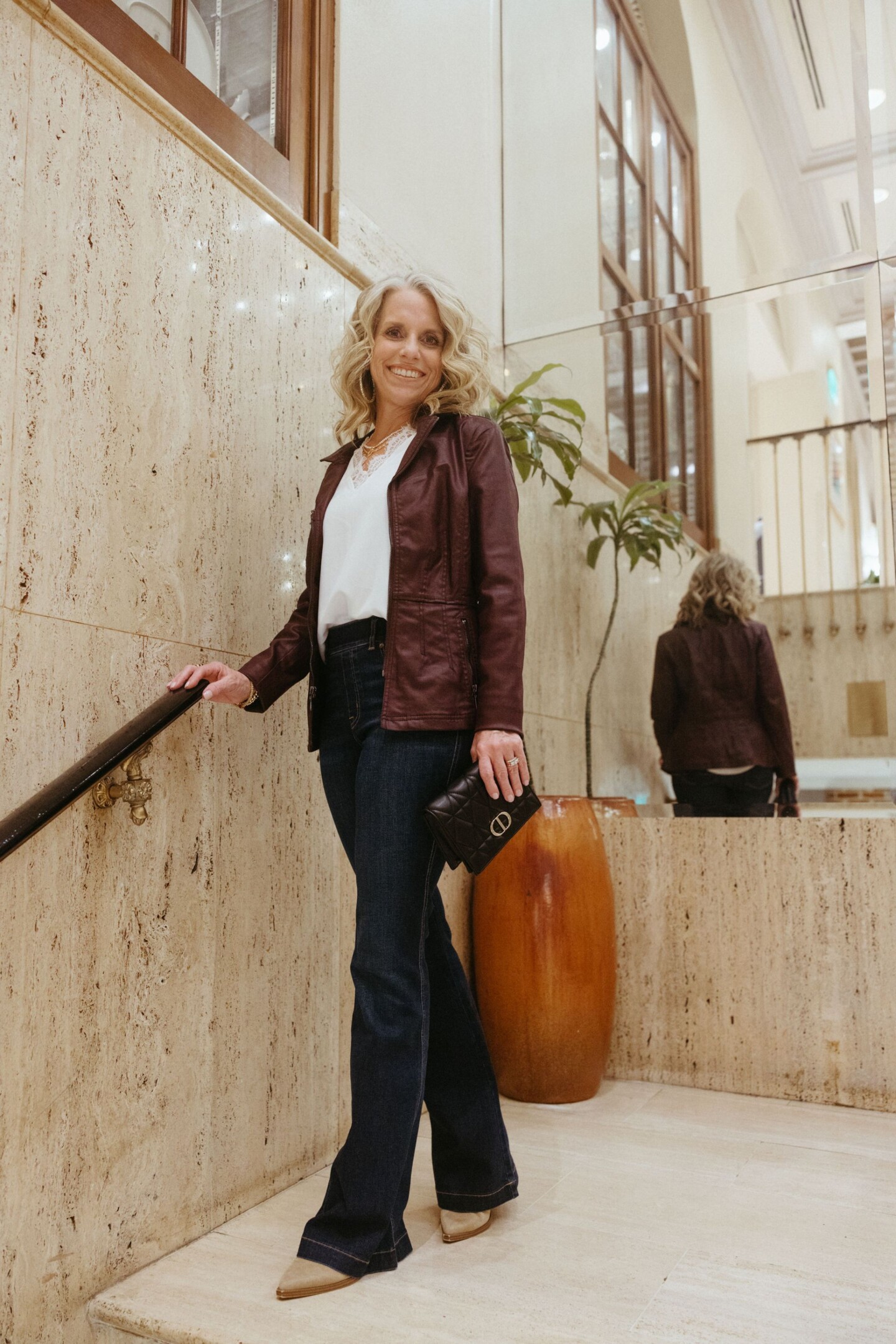 SHOP THIS LOOK [show_shopthepost_widget id="4710836″]
This last brand was new to me. We got to go to Mignon Faget on Magazine Street. Oo-la-la! They have a lot of beautiful pieces that are parts of collections. The Renaissance, Sea, Connection, Banana Leaf, Knots & Bows are just a few. We each received a beautiful bangle and enjoyed shopping the jewelry as well as housewares they had in this cute shop.
The outside of all the stores were decorated for Mardi Gras and they were called House Floats. This came from the last couple years when they were unable to have the typical Mardi Gras parades with floats, so the stores decided it would be fun to decorate for people to look at as they drove by. Even though Mardi Gras is back in full force, they liked it so much, they are continuing.
SHOP OUR BRACELETS AND OTHER PIECES [show_shopthepost_widget id="4710788″]
So which of these "What I wore in New Orleans" looks is your favorite? For me it's kind of like picking my favorite child…I can't do it. HA!
These girlies are sharing what they wore in New Orleans on their blogs today too, so make sure you stop by and check them all out. I always love seeing how we each share things differently and of course we all had different outfits.