Hi friends and happy Friday! I'm sitting here shaking my head in utter disbelief that Thanksgiving is next week. NEXT WEEK! I've got some new things to share with you for Friday's favorite finds. I "think" these are all new. You know I can't remember what I shared and haven't. I'm doing good if I can remember whether or not I put on my deodorant everyday. #truestory I actually have it in my car and Kent's so that when we're on way some place and I realize I forgot, I can fix that. #anyoneelse
I've been using this Paula's Choice Lip Booster for a few weeks. In the winter I need to keep something on my lips, and it feels like as I'm getting older, it's happening other times other than winter. This is a nice moisturizing lip product that I keep on the table by my corner of the couch and apply repeatedly during the day. I love that it has hyaluronic acid + peptides. Continued use of this is supposed to help with lip lines, so between this and my City Lips products I'm using, I figure it won't be long til' I look 25 again. LOL But seriously, I'll do whatever I can to help with the lines over my lip.
Here's what the website says are the benefits of this Lip Booster.
Restores suppleness & prevents moisture loss
Visibly improves lines & flaking
Supports smoother, fuller-looking lips
Cooling applicator glides seamlessly
I've shared Trinny London products before, and I still use and love them. The BFF Rebalance just gives such a pretty finish. Yesterday when I put it on, I thought it would be perfect to use it and just a little mascara for a very minimal makeup day.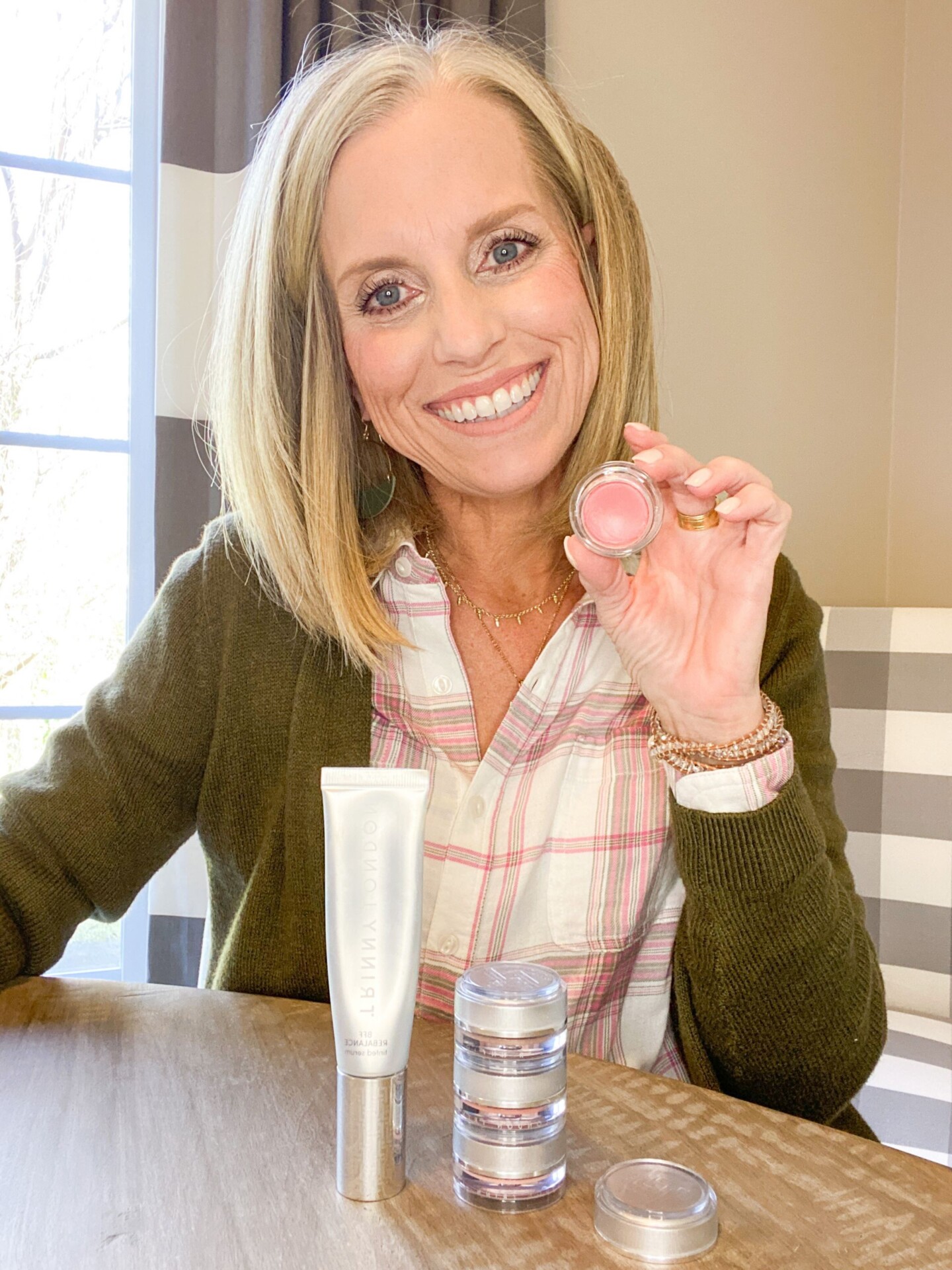 This is another duo I've been using in the morning when I go to walk. I ALWAYS wear a sunscreen to protect my skin. Now that we're really into fall and I've lost most of my summer sunkissed glow I've been adding a drop or two of these Tanologist drops into the DRMTLGY tinted sunscreen for the perfect healthy glow. I seriously love the way it makes me have just the right amount of color to look healthy and natural.
Okay, I just got this Iris jacket in from Peach athleisure and I wore it two days in a row to walk this week. I absolutely love the fabric and look at the adorable detail on the cuff (above). This is also available in black and hot pink, and I'm now dying to get the pink.
Have I shared my earring ladder with y'all? I think maybe I have, but I love it enough to share again AND Kendra Scott is having a sale, so there's that. (I think the sale might be just in store…womp-womp) This would make a great gift for your mom or sister (or special friend).
I also have been loving this clear glass and brass box. My Victoria Emerson bracelets look beautiful displayed in it. One of these boxes would be a great accent in any room. You could use it on a coffee table or other piece of furniture and put anything in it from keepsakes to dried flowers.
I've got to tell you about the deal on this fragrance. This is Katie's favorite and it was this time last year when I bought it for her and Erin. Well yesterday I ordered it again. It's 50% off and that's an even better deal than you can score at TJMaxx or Marshall's.
SHOP FRIDAY'S FAVORITE FINDS [show_shopthepost_widget id="4633692″]