Hi friends! I'm going rogue today and sharing a recipe. Make that re-sharing a recipe. I guess it's what you'd call a tradition at this point. I first shared the recipe for our family favorite Sweet Potato Casserole back in 2016. Well I'm pretty sure there a lot of new friends here, and you may have never seen it. This dish is a staple on our Thanksgiving, Christmas and Easter table. Honestly, those are the only times it makes an appearance. Maybe that's why holiday meals make you want to eat, and eat, and eat, since you only get certain dishes then.
The best part of this dish (in my opinion) is the topping. It's a delicious combination of brown sugar, butter, coconut, and pecans. You can leave out the nuts if your family aren't fans. For years, I really only ate the topping, but a few years ago I grew up and started eating the sweet potatoes too. HA! I've never been a huge sweet potato fan, but this dish has helped me to embrace them a little more.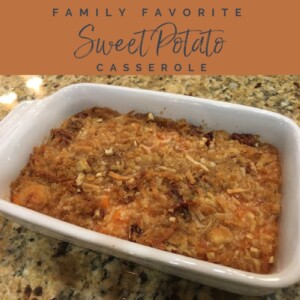 Sweet Potato Casserole
Ingredients
3

Cups

Mashed Sweet Potatoes

(I bake them until soft and then remove skin and mash)

1/2

Cup

Sugar

1/2

t

Salt

1/4

Cup

Melted Butter

1/2

t

Vanilla

2

Eggs

Beaten
Topping
1

Cup

Brown Sugar

1/3

Cup

AP Flour

1

Cup

Coconut

1/3

Stick

Melted Butter

2/3

Cup

Chopped Pecans
Instructions
Put mashed sweet potatoes in mixer and whip for 2-3 minutes.

Add remaining ingredients and whip another 2-3 minutes.

Combine topping ingredients

Cover casserole with topping

Bake at 350º for 30 minutes or until browned and bubbly.
If you don't have a sweet potato casserole recipe yet, maybe this one will fit the bill. Does your family have dishes that always appear at the holidays? I'd love for you to tell me what they are in the comments. Maybe I need to add them to our dinner table. I'm super excited to be back close enough where we can host my family for Thanksgiving again this year. When we lived in Virginia, I enjoyed hosting most of the holiday dinners the last years we were there, and I've really missed being able to do that.
For more details and hints about prepping ahead, check out the original post here and don't forget pin it on Pinterest.