This post is sponsored by Hair Biology. All opinions are my own.
Hi friends! Our hair changes as we get older…it's just biology. I am always trying to add volume to my hair. Are you? I've had thick hair my entire life and I never in my wildest dreams thought that would change, but guess what. Just like our bodies change as we age, so does our hair. Womp-womp. Thankfully there's a company that's addressing the issues of aging hair and now you can add volume to your hair with Hair Biology.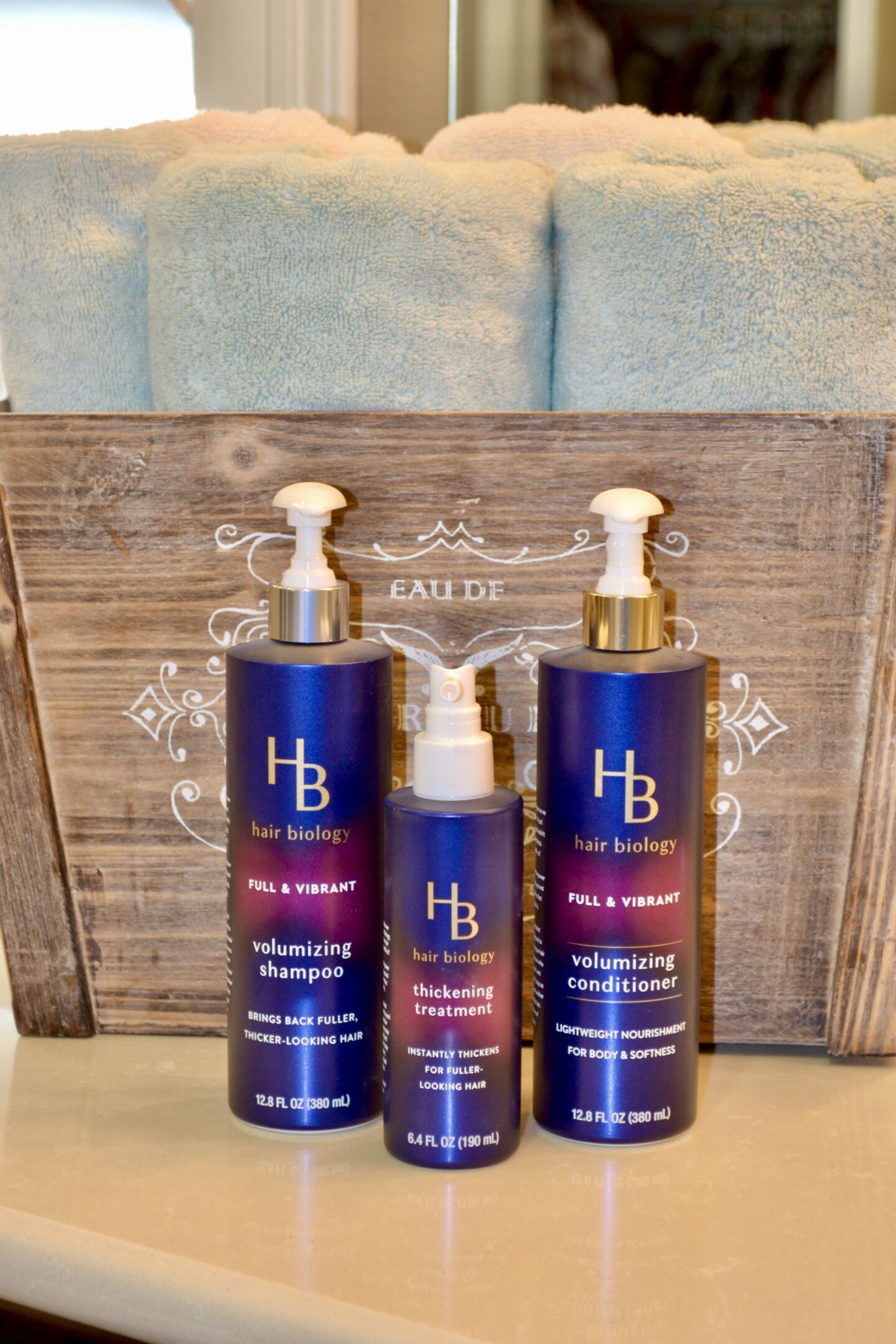 Hair Biology is addressing the need for products as we change into our "second act". I have always gotten compliments on my hair and felt good about it, and I don't want that to change as I get older. Hair Biology is a new brand and you can find it exclusively at Target. So not only are they making products just for us, they are making them readily available at a price point we can afford. I can totally get behind that.
I received the Full and Vibrant Collection to try and I've been really impressed with the results.
Hair Biology products are infused with Biotin. You've probably already heard about taking Biotin for stronger hair and nails, so making it a key ingredient in your hair care makes perfect sense. Biotin is known to improve the body's keratin infrastructure and support strong healthy hair growth. The Hair Biology collection is also free of parabens and dyes.
Where I first noticed my hair aging was along the temples. I can tell my hairline is receding. Not gonna' lie, I only thought that happened to men. I can also tell that I'm losing more hair than I did once upon a time, so adding a little extra volume to what I have is a must. Don't get me wrong, I still have plenty of hair, but I want to take care of it and keep it that way.
The Full & Vibrant Volumizing Shampoo weightlessly cleanses while adding volume. I actually noticed the shampoo wasn't heavy when I first pumped it onto my hand, and then when I applied it to my hair.
The Full & Vibrant Volumizing Conditioner lightly nourishes to bring back fullness and softness. Again, I immediately noticed this wasn't a really thick conditioner like many I've tried, so your hair isn't weighted down from it.
The first time I used Hair Biology I was really impressed. I grew up the daughter of a hair dresser, so I'm used to using good products. The Hair Biology shampoo and conditioner left my hair silky soft, shiny and smooth.
I love the Thickening Treatment. I could really tell a difference in the amount of volume my hair had, and my first thought was I need to tell my mom about this. Her hair has really thinned (and she never thought that would happen). I think this product will really help give her the added volume she's looking for too.
The Thickening Treatment may be used on wet or dry hair. Use about 15 pumps to cover the roots, focusing on problem areas. Massage into scalp with your fingertips. Use daily to maintain thickness overtime.
Not only can you add volume to your hair with Hair Biology, but they have developed a full line of products to address your specific hair needs. They also have a Silver & Glowing Collection for gray hair, a Soft & Hydrated Collection for dry, brittle hair, and the Vivid & Protected Collection for color treated hair. So no matter what your hair type, there's a Hair Biology product made to address it. Remember it's available exclusively at Target, so make sure you check it out online or in store.