Hey friends! Whew, what a week. I was confused about it day was every day. A holiday will do that to you. I thought for Friday Favorites we take a look at what went on this week at Coast to Coast.
We made a quick trip to Richmond for the weekend to attend the funeral of a long time family friend. This was in the church I attended from 2 weeks until we moved when I was 43. Yes, that's a lot history, and yes, there are a lot of people I love that go to church there. I had been wanting to go see my parents, and it just worked out we were able to make this work. I saw so many people that I so dearly love. From top left to bottom right: Friends from college (and one from childhood), another friend from growing up, my flower girl, friends from church and bunco, and of course my sweet mom and dad. It was a wonderful weekend filled with love and memories.
I ran out of coffee creamer this week, and so I was at Kroger when it opened one morning and found the Coconut Creme sugar free creamer. I've bought it one other time. I also found this deeeelicious coffee at TJMaxx this week. The two together are magical.
Y'all know two of my favorite things in this world are my coffee and of course C H O C O L A T E. Well this week I did a little collaboration with a chocolate company that makes these delicious little chocolates that have the same amount of caffeine as a half a cup of coffee. Have your coffee and eat too is what I say. You can use my code LISA25 and try it for yourself.
These are three of my current favorite Tula products. I've just recently started using the Prime of Your Life primer, and it gives a nice base for your makeup. (here's a description of all it does for you: A replenishing skincare-first treatment primer packed with peptides, collagen amino acids & hyaluronic acid to instantly smooth the look of wrinkles while helping to plump & firm the appearance of skin over time. Vitamins B & C brighten the look of skin while marine algae improves elasticity. A blend of prebiotics & probiotic extracts help to keep skin balanced. This fluffy cloud-like texture delivers an immediate velvety, soft focus finish for a smooth canvas.
I've been using the Brighten Up Smoothing Gel Primer for a while under my eyes, on my nose and upper lip. It literally gives the effect of a veil and smooths. LOVE that. (Brighter, smoother-looking skin is here with this yuzu-packed, silicone-free face priming gel. Non-comedogenic formula grips makeup without clogging pores—plus bursts onto skin, creating an instant cooling & refreshing sensation.
The Balanced Beauty gummy vitamins are for strong hair, nails & skin. They also have probiotics & superfoods in them, so they're just all around good for you. I take them in addition to my other pro/prebiotic I love. (Biotin and folic acid in this berry blend gummy vitamin support healthy skin & promote hair & nail growth, while probiotics & prebiotics help calm bloating by improving the natural balance of the digestive system.*)
You can use my code COASTTOCOAST for 15% off on the TULA website.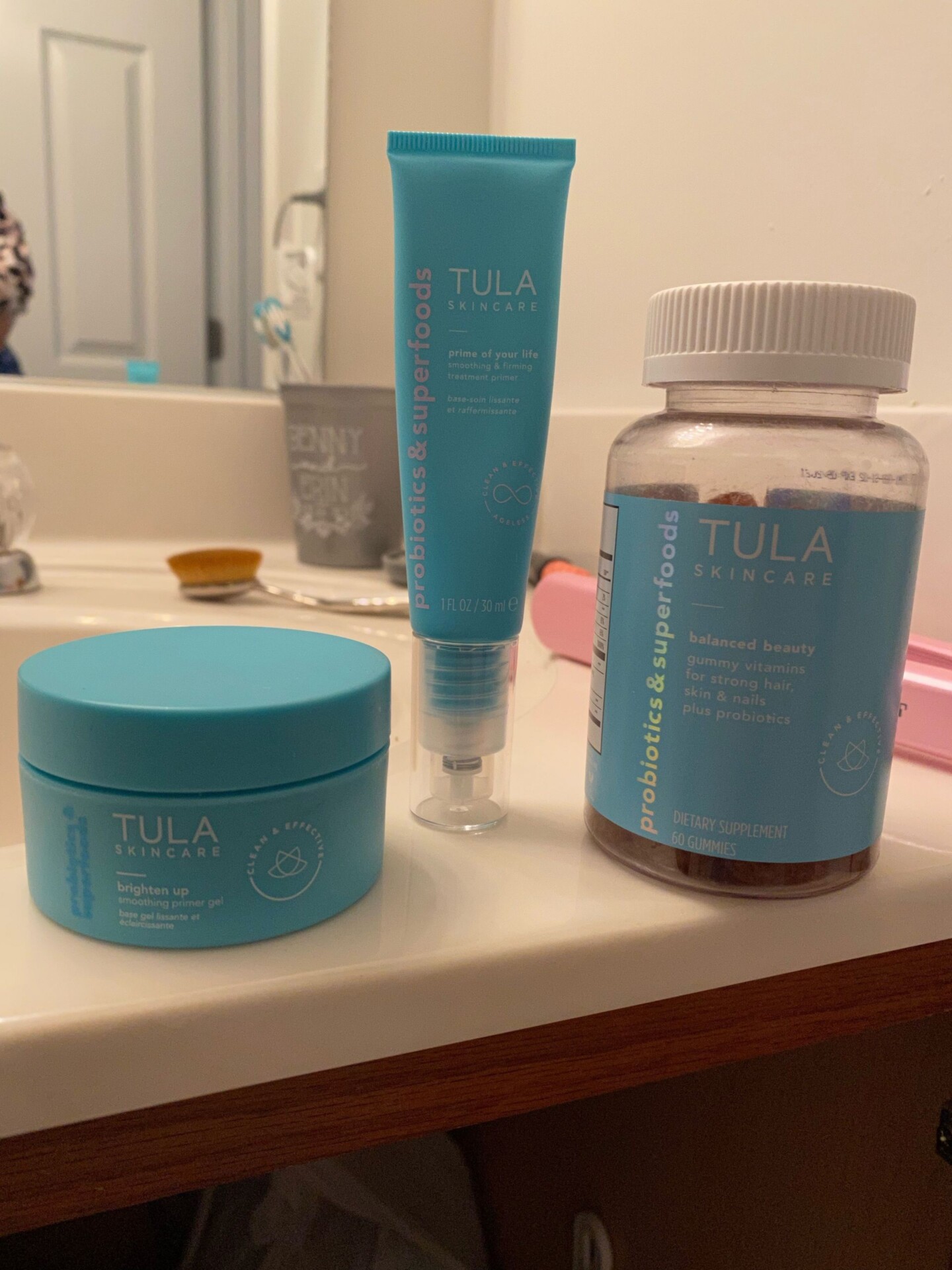 [show_shopthepost_widget id="4512111″]
If you've been watching my stories (Do I say that a lot? I know..I do.) you know Katie was super sick over the weekend. I hated that I'd been in town and left when she needed me. She had a killer sore throat that ended up needing steroids to combat the swelling. My friend got her these throat drops and she said they worked really well, so file that away for the future. 😉
I started painting my bathroom cabinets yesterday. I wanted to give them a face lift. I'm using a chalk paint by BEHR that Elizabeth and I had used on a piece of furniture. I've painted plenty of things with Annie Sloan chalk paint, but this is the first time I've bought BEHR. So far, so good.
[show_shopthepost_widget id="4512125″]
That's it for this week at Coast to Coast