Hey friends! Happy Monday! Well I'm guessing by now you've heard it's time for the yearly Nordstrom Anniversary Sale, and if I'm going to call myself any kind of "influencer" I have to at least acknowledge it. HA! So today I'm sharing my take on the Nordstrom Anniversary Sale. Here's the thing, I have a love/hate relationship with this sale. There's part of me that loves it, and the other part just hates it. I already feel like it's all we're hearing about, and can hear my own eyes rolling. HA! I started shopping this sale about 5 years ago, and to be perfectly honest it totally stresses me out. Having said that, it doesn't keep me from buying into it. (get it, buying into it…LOL)
Here's what I love about the sale. You know no one loves a good deal more than I do. Here's what I hate. I hate the way it gives me FOMO (FEAR OF MISSING OUT) and I have a hard time buying fall and winter items in the heat of summer. There's also the whole aspect of this being a "tiered" sale that you can't shop until your tier opens up, and if you're like me, by then a lot of things have already sold out. By the time it opens to the public, it feels like most of the good things are gone. Today is the first day and the day the big spenders, aka Icons can shop. FYI, I'm an Influencer #ohtheirony
Went I started going through the sale offerings this year, I was underwhelmed. There are a lot of things that are typically included that seem to be missing this year. #idontlikechange However, there are certain things that are a good deal, closet staples that will be great for the upcoming fall and winter seasons. I gathered up things from several categories that I personally own, try to buy or thought you might be interested in. I'm not going to bore you with a bunch of verbiage about them, but I will show you what caught my eye and below each collage there will be a shopping widget. The best way to shop the sale is to create a wishlist. That's what I've done. Once your day arrives to shop, you'll be able to add things right to your cart (if they are available.)
I would love for you to come back to my post and shop through my links. Whenever you shop through any of the links I have on my blog, I make a very small commission. There's no additional cost to you, and it means a lot to me. It allows me to keep my business afloat and I thank you for that.
Let's get to the my sale picks and start with a few clothing staples. The one thing I will note is that if you haven't tried the Spanx faux leather leggings and you've ever wanted to, this is the time to pull the trigger. You will never see them this cheap again until next years Anniversary Sale. I love these leggings. I was a little hesitant when I first purchased them, but I got over that and wear them all fall and winter long. #theyrefantastic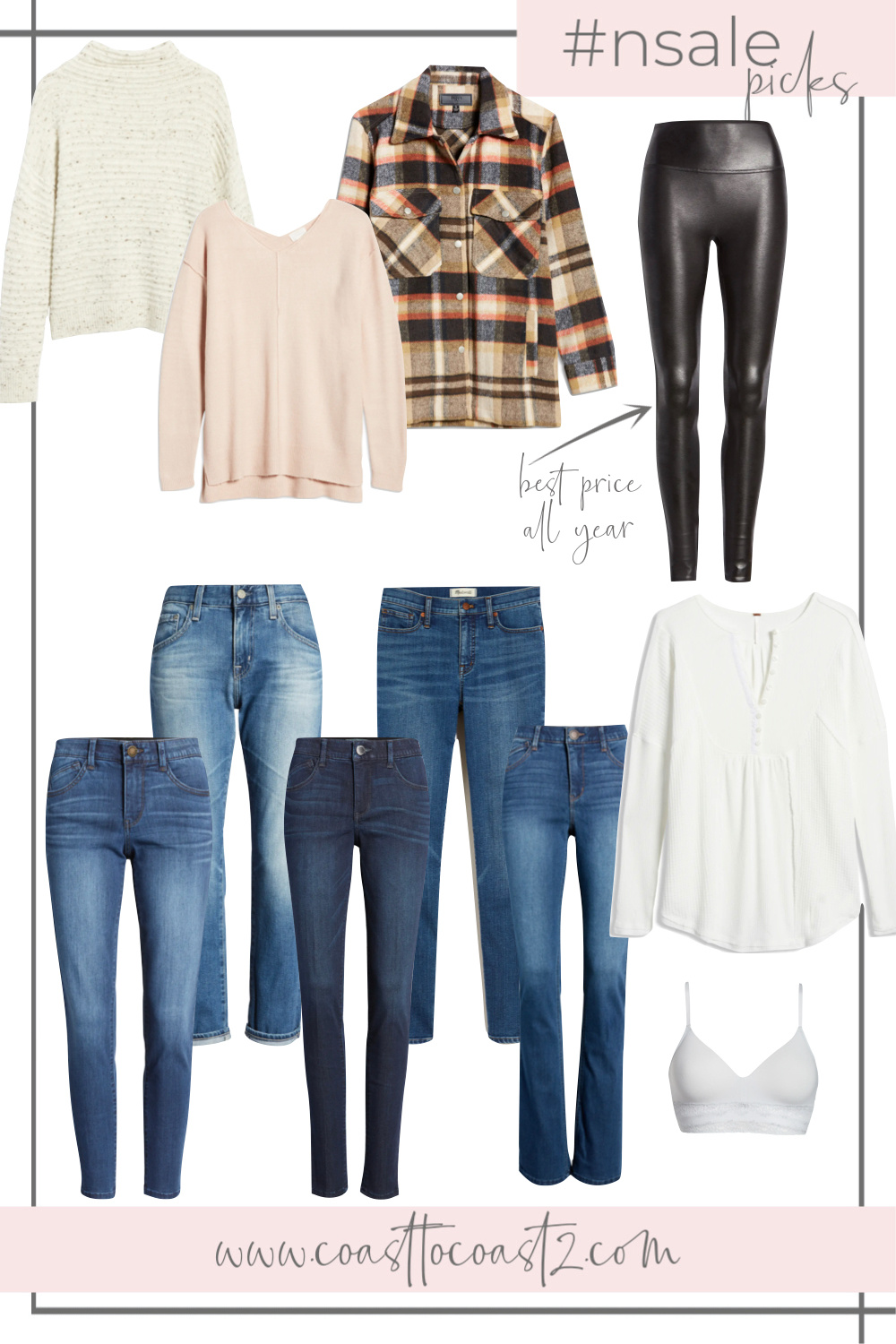 [show_shopthepost_widget id="4515579″]
[show_shopthepost_widget id="4515586″]
[show_shopthepost_widget id="4515636″]
[show_shopthepost_widget id="4515597″]
[show_shopthepost_widget id="4515610″]
Shoes are the biggest draw for me in this sale. Last year I scored a few of my favorites, and this year there are similar versions back. The pointy toe mules are on my list. They are extremely comfortable, and the big chain is such a cute detail. A pair of neutral booties are also a great item to pick up.
[show_shopthepost_widget id="4515614″]
So tell me if you are shopping the sale, and if so what are you shopping for?