Hi friends! I'm so excited to share the Colleen Rothschild Christmas in July Sale with you, and my personal journey with her products. This isn't the first time I've shared Colleen Rothschild's products with you and trust me, it won't be the last. Here's what you need to know about the Colleen Rothschild brand. It is based on Colleen's 20+ years in the beauty industry and the products are science-backed. BOOM! They are made to be mixed and matched to meet your skin care needs. The products are designed to give both short term and long term results. I started using some of her products last October, and I was immediately hooked. Over time, I'm continuing to try more and more. The Colleen Rothschild people sent me this box full of products and it was truly like Christmas in July for this girl. I may have even squealed.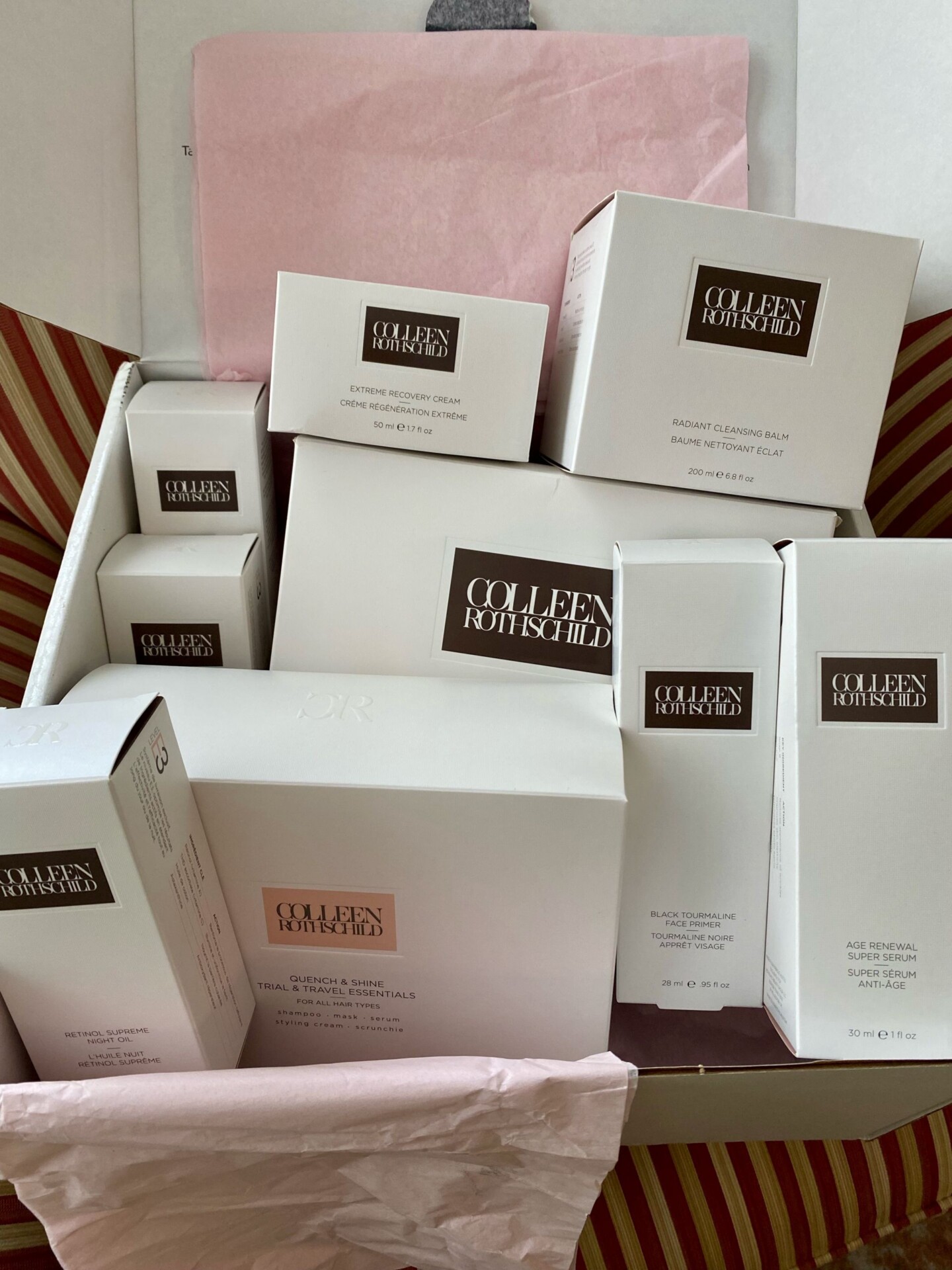 I became serious about my skincare around 6 years ago. I only wish I'd taken on this attitude earlier, but like they always say, better late than never…right?! If you are a younger girl (or an older girl like me 😉) and haven't embraced skin care yet, then listen up. We have to take care of our skin and use good products to keep our skin from telling our age.
[show_shopthepost_widget id="4518894″]
After seeing and hearing countless women share their experiences with the Colleen Rothschild products, I made the decision to try them for myself. I started my CR journey the way of lot of other women have, I ordered the Discovery Kit. I think this is the best way to try some of the most popular products and find out what you really like. The Discovery Kit has small sizes of 7 of the most popular products and they come in a nice travel bag…that I now use for my everyday makeup bag. It's the perfect size.
Here's what's included int the Discovery Kit:
I used the entire tube of Sheer Renewal Cream (which lasted for quite a while) and immediately ordered a full size. This is the first moisturizer I've ever been able to use during the day under my makeup. It's not greasy or heavy, which is perfect for anyone with combination or oily skin. I've already got a replacement tube cued up for when I empty this one. Heads up, the full size tube is metal. You can order a "key" to help roll it down and get all the product out. I did this and I'm so glad I did. It has made using it much easier than it would be if I didn't have that.
My other favorite product from the Discovery Kit is the Radiant Cleansing Balm. Y'all, I never thought I'd love a cleansing product they way I do this one. I've used traditional cleansers a sweet forever, and now I I almost exclusively use the cleansing balm. (I do plan to try the Balancing Gel Cleanser though…you can get an Exploration Collection kit with it and several other products, and that's likely what I'll do)
I was hearing repeatedly about the hair care products, so next up I ordered the Quench & Shine Travel Essentials. I was particularly interested in the Restorative Mask which is frequently sold out…so you know it's good. This kit comes with 4 nice size travel version of following, plus a microfiber scrunchie. Pro Tip: Make sure you hold on to these bottles/containers too refill for travel.
After using all of these several times I ordered full size versions of all of them during a sale. I have highlighted hair and use a lot of tools on it causing it to be terribly dry. The shampoo and mask leave it feeling so soft and well hydrated. The Styling Cream and Smooth & Shine Serum are a one, two punch when it comes to styling. They are somewhat magical and really smooth and protect my hair without leaving any kind of greasy residue. You can read more about these hair care products and the others I use here.
I was super excited to try this Age Renewal Super Serum. I am a H U G E fan of serums versus creams. Serums absorb quickly and aren't heavy. I also got to try one of the newer products, the Black Tourmaline Face Primer and I've gotta' say I really liked it. Again, there was no greasy residue and my face felt smooth and ready for the next step in my makeup routine.
The Colleen Rothschild site runs frequent sales like this Christmas in July Sale, and they are the perfect time to stock up on the products you love. The Christmas in July Sale has 50% off select items and 20% off the rest of the site. Listed below are the items that are 50% off, which includes the kits. Again, this is a great way to try the products, and Colleen is generous with the small sizes so you can really get a feel for them.
[show_shopthepost_widget id="4518961″]
A huge thank you to LTK and Colleen Rothschild for sponsoring this post. All thoughts and opinions are my own.
SHOP CHRISTMAS IN JULY BELOW [show_boutique_widget id="1075404″]
📌 PIN ME 📌