Hey friends! Well first I have to thank y'all for all the kind words about Katie's post Monday. She was so sweet to do that for us. While it wasn't necessarily good news, we can at least feel vindicated that it's not necessarily in our control. Today is another post where my Chit Chat Chic girls and I are all blogging about the same thing, which is my top 5 right now. As if that isn't enough, it's Wednesday which also means it's our Style Six link up. This is a great way to find new blogs to read and follow. Just look at the thumbnails at the end, and see what catches your eye, click and read away. If you are a blogger, we'd love for you to link up with us every Wednesday and share your fashion posts from the week.
For sure one of my favorites now and for quite some time is my Loving Tan tanning mousse. I kissed a lot of frogs (so to speak) before finding my prince in the form of self tanner. Loving Tan, how do I love thee…let me count the ways.
*Has color so you can see where it's been applied
*Gives beautiful color that develops quickly
*No weird smell
*Lasts almost a week
*One bottle goes a long way
Click the images below to shop
[show_shopthepost_widget id="4466479″]

This sunny eyelet top is for sure in the top 5. The color is nothing short of wearing sunshine. If dandelion isn't your color though, it comes in white, black, pink and a beautiful aqua. They are all on sale.?? It has a built in removable cami, the oh so on trend puff sleeves, and is very fun and feminine. You can wear it out or in, and it looks cute both ways. Eyelet is everywhere right now, so here are some really cute options for you.
[show_shopthepost_widget id="4466296″]
[show_shopthepost_widget id="4466298″]
If you follow on Instagram you already know about this, but I think there are a lot of you who may not. This fun loving group and myself have started having a little Chit Chat on Instagram every Wednesday afternoon at 4 PST. We are loving discussing different topics and having y'all chime in with questions and ideas of things you'd like to hear us discuss. Today is our 5th "episode", so join us live on Instagram this afternoon. All you need to do is look for one of our 'story' circles, and it will say 'LIVE'. Just click it to watch and join in. If you've missed any of them, you can find most of them on our timelines. I think we've finally got it all figured out, so we're saving them so you can go back and watch.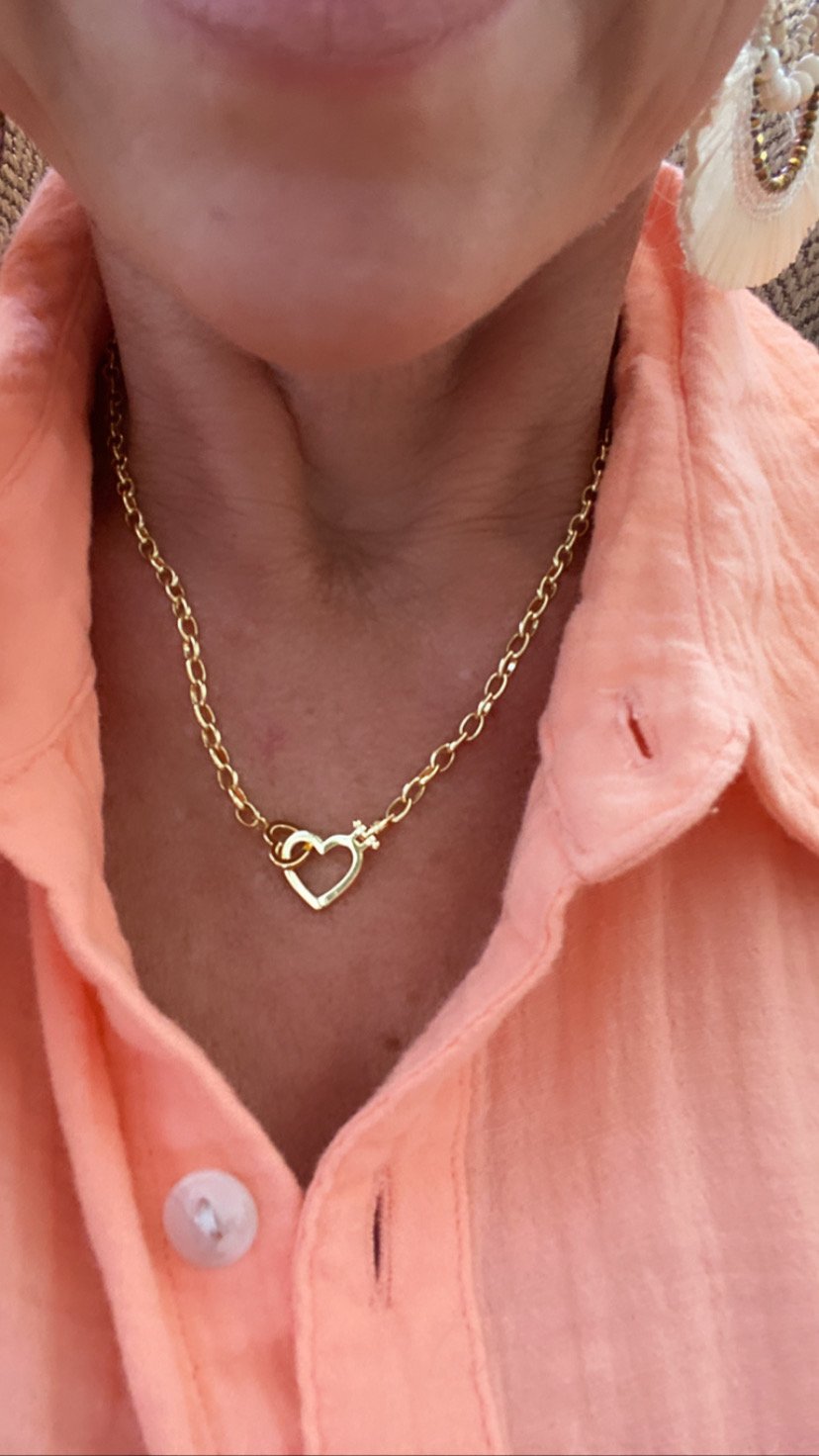 I have been a fan of Gorjana jewelry for a while now, but I've started adding more pieces to my collection, and they are the ones I reach for daily. This new heart necklace is the perfect little something extra. This jewelry holds up
AH-MAZINGLY and it comes with a great guarantee. Here are some of my favorite pieces. [show_shopthepost_widget id="4466263″]
And for number 5 of my top 5 right now, I feel kind of like I'm beating a dead horse, but I wouldn't be doing my job if I didn't keep telling you that you NEED this bra! These Soma Enbliss bralettes are absolutely the best bras I have ever worn. You know that feeling at the end of the day when you just can't wait to get that bra off? Well not with this one. That's a pretty hefty statement, and I'm ready to stand behind it. When you purchase, go by the sizing chart. It WILL be tight and you'll be scared, but it stretches out the perfect amount in a few hours. They are currently on sale BOGO (buy one, get one 50% off) All of the Enbliss bras are really good. They are the only bras I've been wearing for the last few years. I've been wearing Soma bras for about 10 years now.
So which of my top 5 right now do you think would be in yours? Any? All? Now hop on over to my Chit Chat Chic friends and see what made their top 5. D'ARCY || CAMMI || CINDY || MICHELLE