Hey friends! Happy May!!! Are you as excited as I am that we are on the cusp of summer? I know it's not for everyone, but this girl here loves her some summer. Today I'm sharing Mother's Day gift ideas she'll really want. Can I get a "whoop-whoop"?! Mom can be hard to buy for. I know I am. I never want my family to buy me anything because I know I'll be able to find a deal on it, and that means I can get even more. LOL You with me? I've got more good news. Four of my friends are also sharing their Mother's Day gift ideas, so that's a total of 5 sources for you. I guess you've noticed by now, these girls are becoming regular blogging friends. We help push, motivate and nudge each other creatively. It's a great partnership and friendship.
I've made two gift collages with ideas I think most moms would really enjoy. I won't bore you to tears with lots of commentary, because y'all are smart and can figure it out, but I will give you a little blurb on most if not all of them.
Mother's Day Gift Ideas She'll Really Want
*means I personally own
These are some general ideas for mom –
JEWELRY – Most moms love jewelry and I've included my 3 most worn necklaces in this gift guide. One is Kendra Scott, and two are Gorjana. Both of these brands hold up really well, and are reasonably priced. It's been my experience that the Gorjana wears the best. The gold necklace I've had has not turned at all and I've been wearing it nearly 2 years. *PEARL NECKLACE || *COIN PENDANT || *ADDISON CHOKER (KS)
BEAUTY – A pretty new lipstick is a fun idea. The Charlotte Tilbury Pillow Talk is a nice neutral pink that everyone loves. The LipGlow (on sale) is a moisturizing lipstick with a hint of color. Perfect for those no makeup or natural look days.
KITCHEN – So kitchen things aren't always the best idea, but this Our Place Always Pan is so popular. All the cool moms seem to have one…so you know I'm feeling the need to join in. It's on sale at Nordstrom right now, and while pricey for a pan, it's something she'd probably love but would hate to spend the money on herself.
INSULATED TUMBLER – Since I started using and insulated tumbler, my water consumption has gone up dramatically. We all need to stay hydrated for both health and beauty, so this is a great little gift for mom.
KENDRA SCOTT JEWELRY ACCESSORIES – A travel case for jewelry is a great gift. I am still using one I received for my high school graduation. I love this one from KS. The earring ladder/jewelry stand is not only pretty, but useful and I dropped a hint about this one for myself. 😉
DECORATIVE URN/VASE AND FLOWERS – I just love the look of this vase and hydrangeas are one of my favorite flowers. If mom likes to decorate, this might be for her.
ACCESSORIES – I know the last few years you won't catch me out in the sun for any extended time without a good straw hat. I love the frayed edge on this one with the wide brim. I have and love *this crossbody wallet. It's big enough to hold your phone and credit cards, and keep your hands free, and it's real leather. I LOVE IT. The braided shoe trend is comin' in hot. (I had to say it) This pair is suuuuper popular.
BAREFOOT DREAMS – This blanket and this robe are both by Barefoot Dreams, and every woman I know who owns something from this line L O V E S it. I have several of the sweaters and they are indeed the softest!
PERFUME – *Coco Mademoiselle is one of my all time favorite perfumes. I've been wearing if for years. It's a very pretty, light florally citrus scent. Feminine but not old lady.
LEGGINGS – And last but certainly not least are *Zella leggings. These are by far my favorite workout leggings. They are super comfortable and very well made at a good price point. The 7/8 length is my favorite and they come in several colors, but I think these cropped hot pink ones are so fun for spring and summer. (I do have a cropped pair and I really love them this time of year.)
MOTHER'S DAY GIFT IDEAS FOR THE ENTERTAINING MOM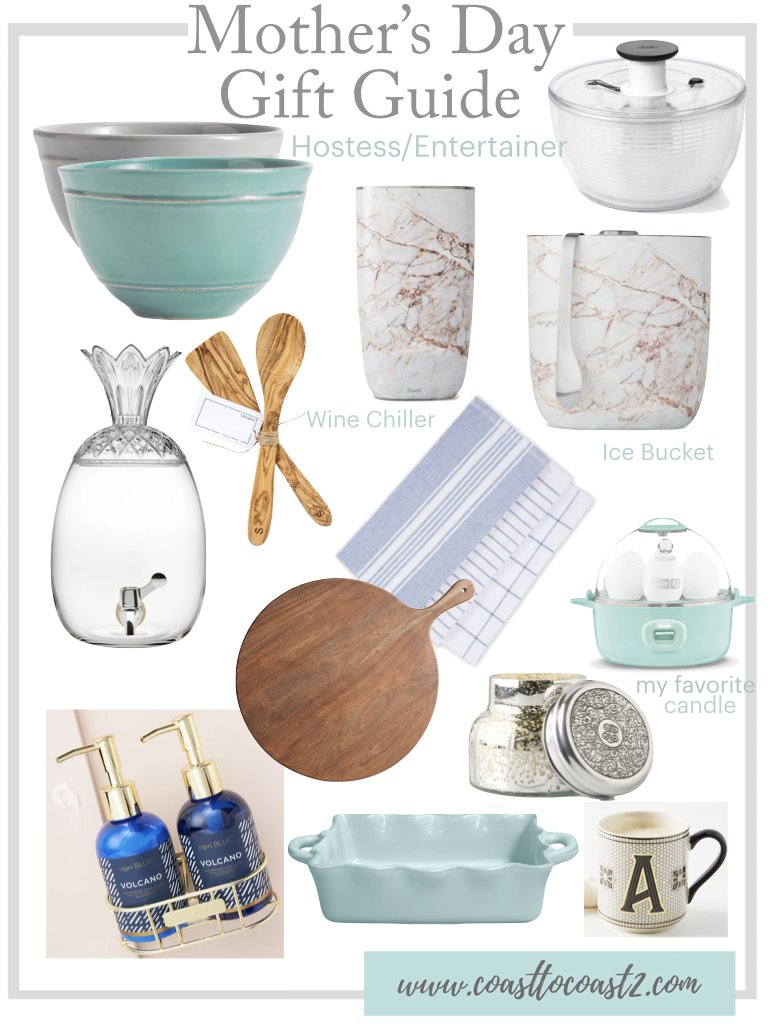 STONEWEAR CEREAL BOWLS – Ooops, when I made this I thought these were serving bowls, but now I see they are cereal bowls. No matter, they are beautiful and would be nice for also serving things like guacamole on a taco bar.
INSULATED WINE CHILLER/ICE BUCKET – This ice bucket and wine chiller are both really pretty and would be so great to have on a bar cart for parties.
SALAD SPINNER – This one might seem a little weird, but trust me. I L O V E my *salad spinner and I don't know how I made salads without it. I also store my lettuce once it's washed and ready in it until I'm ready to assemble.
BEVERAGE DISPENSER – A beverage dispenser makes it so easy for guests to serve themselves. You can put water with fruit/cucumber/mint in it for a pretty and refreshing drink, or iced tea, fruit tea, lemonade…just for a few ideas.
KITCHEN – I think round wood boards are so pretty, especially for a smaller charcuterie board, pretty dish towels or wooden serving pieces are nice to have for entertaining as well.
VOLCANO – The Volcano scented line of *candles and soaps are some of my all time favorites. You may have heard me talking about them last week on IG. These are always a great gift idea for mom or and hostess.
MISC KITCHEN – This egg cooker is great for the mom who likes to make boiled eggs. Every single time I make them, I have to look up how to do it, because I can never remember the times. A pretty casserole dish for serving is fun to have, and of course pretty personalized mugs are always a great gift idea. I like how these have a bit of a retro feel. Maybe throw in a Starbucks gift card. 😉
SHOP ALL THESE GIFT IDEAS…JUST CLICK THE PICTURE[show_boutique_widget id="1058799″]
Make sure you pop over to these girls blogs to see what kind of Mother's Day Gift Ideas they have.