Hi friends! Happy Monday! I have had the pictures and videos I'll share on Instagram today for these jeans for a few months, and just finally I am getting around to writing the post. I ordered a bunch of jeans starting back in late winter to try on and compare for you. So today I've got a review of six pairs of jeans for women over 40. This is definitely a labor of love. LOL I had this post planned way back in January and just finally got around to it.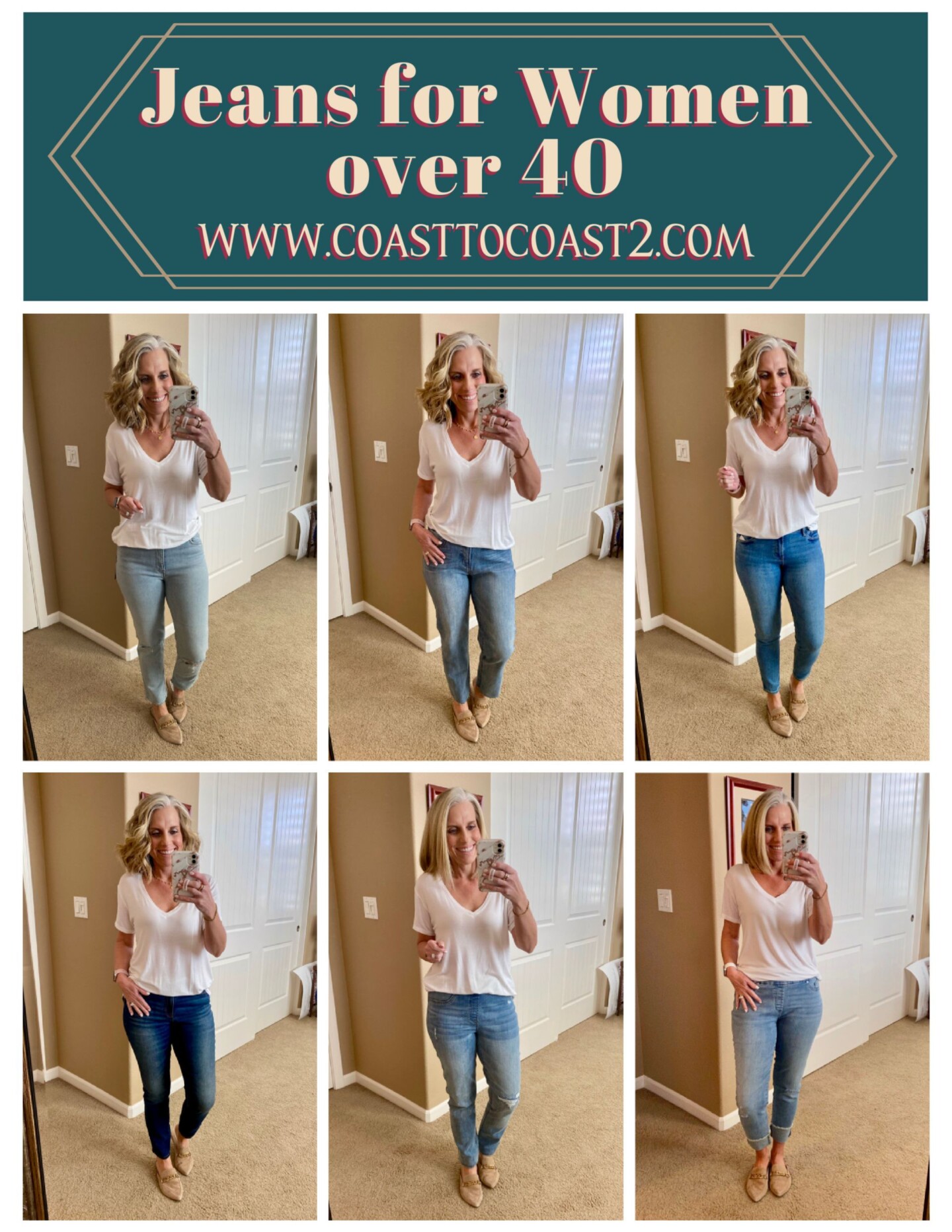 I don't know if you've noticed, but the descriptions of jeans these days are about as complicated as ordering a drink at Starbucks. ? Unless otherwise noted, I'm wearing a size 6/28.
FABRIC TIP:
There are a few things I check for when I'm purchasing denim. I like a certain amount of stretch, and over time I've learned a makeup of cotton, polyester and spandex make for the most comfort. I don't like a pair of jeans that are 100% cotton, and even adding 2% elastane/spandex can sometimes be enough for comfort, but not always. A combination similar to this is usually makes a really comfortable pair. 74% cotton, 22% rayon, 2% polyester, 2% spandex
FIT TIP:
When you order or purchases a new pair of jeans, wear them around your house for a few hours to a day to see how much they are going to stretch out. There's nothing worse than putting on a new pair of jeans thinking they will or won't stretch, and they do just the opposite.
MY FAVORITE BRAND:
One of my favorite brands is KUT from the Kloth. I have several pairs, and they are one of my go to brands. I'm sorry I didn't order any for this post. #epicfail Let's get to the jeans I did order
Hudson Barbara High Rise Straight Crop – I like Hudson jeans. I think they have a really great amount of stretch and the denim usually feels soft. These are a crop, which almost makes them the right length on me. The light wash is perfect for spring and summer and there is a small amount of distressing, making them trendy but not inappropriate for my age.
Wit and Wisdom Crop Slim Straight leg – Wit and Wisdom is such a good mid price brand for denim. The straight leg is really trending, and since these are raw hem, I could easily cut them to make them an actual crop. Wit and Wisdom usually suggests sizing down in their jeans, but I never do…however, this might be a time when you want to. I'd suggest whenever ordering W&W to order your normal size and a size down.
Old Navy Rockstar Super Skinny Midrise – Old Navy jeans have been a great choice for a long time. For a few years, the Rockstar jeans were all I was wearing. They are super affordable, but the quality is good. They have a good amount of stretch, but tend to hold their shape. I have on a 6P, and they would definitely need to stretch out.
Old Navy Mid-Rise Dark-Wash Pop Icon Skinny – I really liked the wash of this pair of jeans. One thing about Old Navy jeans in particular is the sizing. I'll try on several pairs of the same size and style and they will all fit differently. This isn't uncommon among all jeans, but I think you'll find it more at ON. I ordered these, and took them back…then in true Lisa fashion decided I should have kept them. I ordered them again, and the second time they fit much tighter than the first…so they went back too. ??‍♀️ Had I really "needed" a pair of jeans, I'd have tried again, because they are pretty flattering (at least I think so).
Chico's Destructed Pull On Jeggings – I've recently become a big fan of Chico's jeans. Let me rephrase that, Chico's pull on jeans. Their jeans with zippers seem to be too long in the stride for me. This pull on style though, I really like. They are a great wash for year round, have a small amount of distressing with a backing so no skin shows, and they are super (duper) soft. I had to hem these, and there's a highlight saved on my Instagram to show you a hack for saving the original hem.
Chico's Petite Frayed-Cuff Pull-On Ankle Jeggings – This is one of my favorite pairs at the moment. Again, the pull of style from Chico's, and again super (duper) soft. I'm wearing a 0P, but they also come in regular. I think if I was much taller, I'd prefer the regular, but the petites are a really good length for me. These Chico's jeans (both pairs) stretch out slightly, but not too much. Just enough to be really comfy.
SHOP THESE JEANS HERE [show_shopthepost_widget id="4444341″]
I hope this review of jeans for women over 40 was helpful in someway. Let me know in the comments what your favorite brands of denim are.