Today is not only Friday Favorites, but I'm teaming up with some of my blogging buddies to share our favs in beauty, so I'm going to share my 5 current favorite beauty products.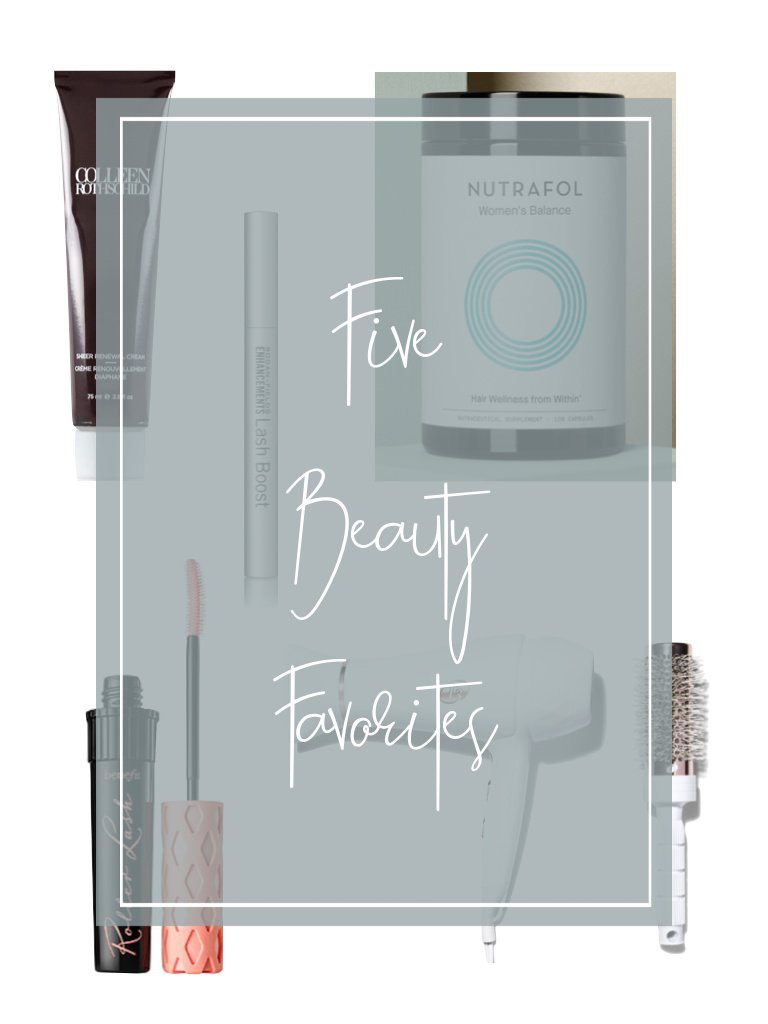 I'm going to start at the top, with hair. I took Nutrafol back in the summer for 3 months and could definitely see new growth on the sides of my head where my hair seems to be receding as I age. What the heck? My hair has always been soooo thick, that every hairdresser I've ever gone to comments on it. I never in my wildest dreams thought it would thin, but these areas right in front above my temple seem to be failing me. So why did I stop? I didn't want to purchase it because it's a little pricey, but I've decided it's worth it, so I'm just finishing a bottle, and I have 2 more waiting in the wings.
Next up is the Colleen Rothschild Sheer Renewal Cream. I have never been able to use a moisturizer during the day due to partly oily skin? Well since trying the CR product, I am happy to report I can now use a moisturizer. I know "mature" skin needs a lot of moisture to combat wrinkles, but the shine was too much to handle. Well shine no more…or at least less. Annnd, I guess I'm not the only person who has fallen for it. As of last night when I was writing this it was sold out. Keep checking! I also highly recommend the Discovery Kit for trying a good cross section of the most popular CR products, and it has a small tube of the Sheer Renewal that will last several months.
This is by far my most prized, favorite, effective, and any other positive adjective you can think of, beauty product. Lash Boost!!!! I think if I was going to be trapped on a desert island and I could only take two things, it would be my Lash Boost and mascara. You know the phrase "game changer"? Well I think it's way over used, but here it just fits. Lash Boost is a GAME CHANGER. I hardly had any lashes before using this. I mean A N Y . Here's the proof.
(If you have questions about Lash Boost, email me richardson4.lisa@gmail.com)
Well, I already mentioned I want my mascara along, so let's talk mascara. I started trying a new one on Monday, and so far I'm really liking it. I've been using Tarte Surfer Curl for about 6+ months, but I saw someone talking about this Roller Lash and decided to give it a go. I like what I see so far. It lengthens and thickens. I haven't decided if I like one or two coats better, but I think I'll end up going with two. Isn't two always better than one? HA! Unless we're talking zits or something. ?
My T3 hairdryer. I love this hair dryer. Here's my testimonial for you. Whenever you travel, there's almost always access to a hair dryer. Well that's not gonna' cut it for me. I have to bring my own. This dryer seriously dries my hair faster. This one is now in the T3 Outlet for $79.99 (previously $225)
And there you have it, my 5 current favorite beauty products. I hope you'll stop by my friends blogs and see what kind of beauty things they're sharing. I feel quite sure when I read them I'll find some new things I need to try, and some things that will leave me asking why I didn't think to share that.
Cammi from My Happy Place
Cindy from Lulu Loves
D'Arcy from Dear D'Arcy
Michelle from Poised Petite
SHOP MY 5 CURRENT FAVORITE BEAUTY PRODUCTS [show_shopthepost_widget id="4401055″]