Hey friends! Happy Friday! Today I'm sharing a round up of sorts. What you may have missed this week. It's hard to keep up with everything, and as I've said a bazillion times before, some things that I put on Instagram don't necessarily make it here. Before we get into all that good stuff, I want to say W E L C O M E if you are new here. I'm so excited to have new friends joining this community. Without you, there's no point in me doing what I do. Thank you!!!! Make sure you enter your address to the right, and you'll receive notification whenever I publish a new post.
Saturday I had an event at Macy's that was fun. We hosted a giveaway with Clinique and Wacoal and I got to meet women in store. It's so nice to get out and have some semblance of normalcy. And while this may sound weird, my outfit was almost 100% from Chico's. Go figure. I wore my black coated skinny jeans that are oddly comfortable and one of my favorite sweaters. Again, so comfy that I have it in two colors.
[show_shopthepost_widget id="4379234″]
Sometimes I think to share our dinners on Instagram and I shared this one, one night this week. It's seriously restaurant quality and stupid easy to get on the table in under 20 minutes. If you missed that, I use the frozen salmon from Costco (currently on sale, so stock up), season it with S, P, TJ's Everything Seasoning and a generous amount of Dill. Cook it in my air fryer on 400° for 10 minutes. This particular night I threw extra asparagus in with it using the same seasoning, minus the Dill. I served it over Trader Joe's Asparagus Risotto and it is absolutely delicious. I swear I think you could serve this to company and they'd think you slaved all day. #winning
And as long as we're talking about my air fryer, here it is and it's ON SALE for a GREAT price. I wish I'd gotten mine this cheap. I have the 5 qt, which is perfect for the two of us or even 3, but if you're cooking for more than that, I'd go with the 7 qt.
This sweater is a part of my "collection" at Macy's, so naturally I wore it on Valentine's Day. It doesn't just have to be considered Valentine's though. Luckily graphic sweaters/tees are in style all.the.time. This is on sale for over 50% off. It looks cute alone or layered over a white shirt or wrapped around your waist. So versatile. PS…these are my favorite joggers, and every time I put them on I'm so thankful I didn't return them…because I seriously considered it. What was I thinking????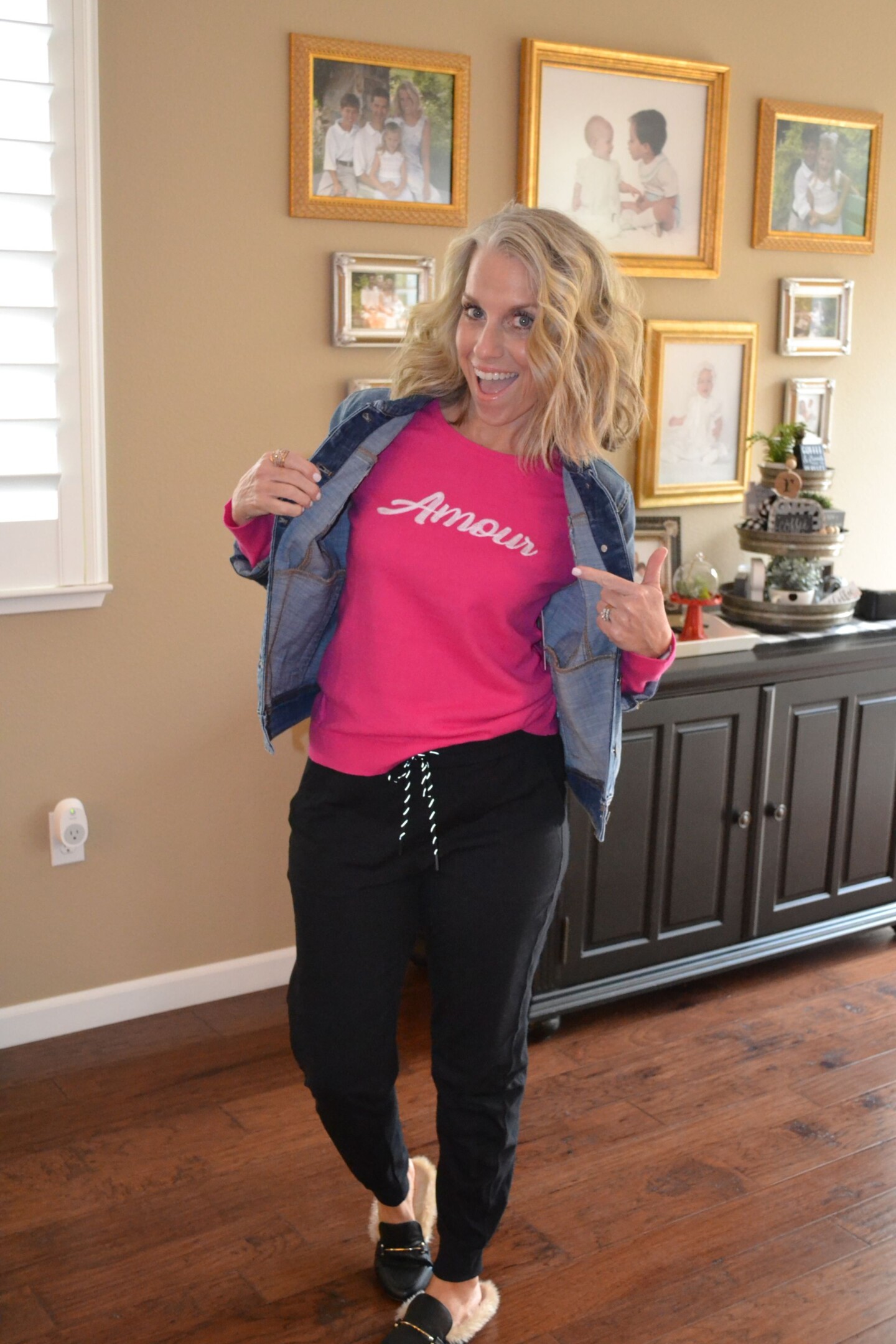 [show_shopthepost_widget id="4379244″]
A few weeks ago these Barefoot Dreamsish blankets were on sale and still are. I have looked at this blanket so many times and just wasn't sure, but I finally decided to take a chance. I have quite a few Barefoot Dreams sweaters and blankets already, I wanted the adorable animal print, but man are they expensive. I'm happy to report that this one is a nice alternative. The fabric is pretty much identical, and I think the size is actually bigger. It's reversible so you can have the tan background or white. I really wanted it to use for flat-lays, but it's currently making the foot of my bed look pretty.
I love this tunic length plaid shirt, so much so that I have it in two colors. This one could easily be dressed up with black pants for the office or classroom.
[show_shopthepost_widget id="4379262″]
Whew! That was a pretty good round up of what you may have missed this week. Don't you think? Be sure to check out Monday's post on organizing and Wednesday's post about the Pantone colors if you missed them. I hope you have a wonderful weekend, and if you live in one of the areas being so badly affected by the cold, I want you to know that I am praying for you every single day. Hopefully you will turn the corner soon, and things will get back to normal. I will take being hot over being cold any day of the week, and living with no power, is no joke. Hang in there!!!