Hey y'all and Happy Friday to you. I'm so excited to be doing an all things Valentine's Day collab with friends today. These posts where I team up with friends are not only fun, but motivating. I hope y'all take time to go visit them when you are done here. They have so much to share and are such good girls. We decided an all things Valentine's Day post would be perfect way to end this week. I have no idea what they are sharing, but I can't wait to see. I always find something new and exciting when I got to their spaces.
Today I've got some fashion, some treats, some eats, and some decor. So basically, something for everyone.
I seem to have fallen head over heals for hot pink here of late, which works perfectly for Valentine's and can then be worn anytime you are looking for a happy color. If you want something that reads Valentine's Day a little more obviously, this heart sweater is a great choice. Again, it's still a subtle nod to Valentine's Day. I'm a little more subtle and less overt in my holiday style than some.
[show_shopthepost_widget id="4364522″]
This is the pink version of the tunic I shared last week. It's so comfy and cozy. I wore the oatmeal colored one yesterday with my Spanx jeans, and was about as comfortable as if I was wearing lounge wear. That's a major coup.
[show_shopthepost_widget id="4364535″]
When it comes to decor, again I tend to go with more of an understated nod to the smaller holidays. Sure, for Christmas, it's obvious when you come into the house, but for Valentine's Day, I just have some touches here and there. My favorite addition this year is some pillows. When we got a new sofa 5 years ago I wanted a neutral one just so I could switch out pillows and change the feel whenever the notion strikes me. I added this heart pillow first, and then when the Studio McGee line released at Target, I added a couple of dusty rose colored pillows. Back in the 80's we called this color mauve, and it was ALL. THE. RAGE. My bedroom was mauve from top to bottom, and these pillows bring that back to mind. The solid pink pillow comes in some neutral colors as well, if you are looking for a neutral pillow.
[show_shopthepost_widget id="4364542″]
The heart garland was from the Dollar Spot at Target last year, and the felt balls are from World Market. I absolutely adore felt ball garlands for decorating.
[show_shopthepost_widget id="4364610″]
I love a bunting for any holiday, and this is one I made a few years ago. I wrote a post on it here.
This wreath is on my wish list. I have one very similar on my front door that I made a couple of years ago, but this one is just beautiful. I think it's perfect to hang for Valentine's Day and then leave all spring. So it's basically a two-fer.
If I asked you what one thing…besides hearts you associate with Valentine's Day, I bet you'd say C H O C O L A T E . I started a tradition when the kids were pretty young of making Oreo Truffles for them every Valentine's Day. They look forward to them every year. I'll probably make them when I go to Nashville right after Valentine's Day this year. These things are crazy good, and easy to make. I did an entire post on them here.
Are you team cookie or team cookie dough?
Last year I tried a new recipe for Valentine's Day, and they were soooo good. I mean like dangerous good. Chocolate Chip Cookie Dough Balls. I haven't made them since, because I couldn't stop eating them. There are only a handful of things that I can have in the house and not eat, and these definitely are on that list. They look just like the Oreo Truffles, but are a yummy bite of no bake cookie dough inside. You NEED to try these.
I love a good charcuterie board. Don't you? Well these have busted on the scene and I'm dying to try one of these Valentine's charcuterie boards. If the kids were still at home, I'd definitely be doing it. Cammi shared one in her story this week, and shared it on her blog as well, so make sure you check out her blog today.
C O O K I E S!!! Y'all know I love to make decorated sugar cookies. You can find one of the recipes I use here. This is a list of all the best cookie making supplies. These are all things I have and use to make mine. The meringue powder was recommended by a cookie baker I took a class from. The Clear Vanilla was also recommended by her to keep your white icing from getting dingy. I mean when you're making a snowflake or a snowman, you don't want it to look like it got caught in the rain and dirt. Valentine sugar cookies are always a fun treat.
[show_shopthepost_widget id="4364657″]
And last but not least, how about some gifts for the Valentine that likes to cook. I know I'd love any of these. The pie plates are by the same maker as the ones I have. They bake the best pies, and I've tried a lot of different pie dishes.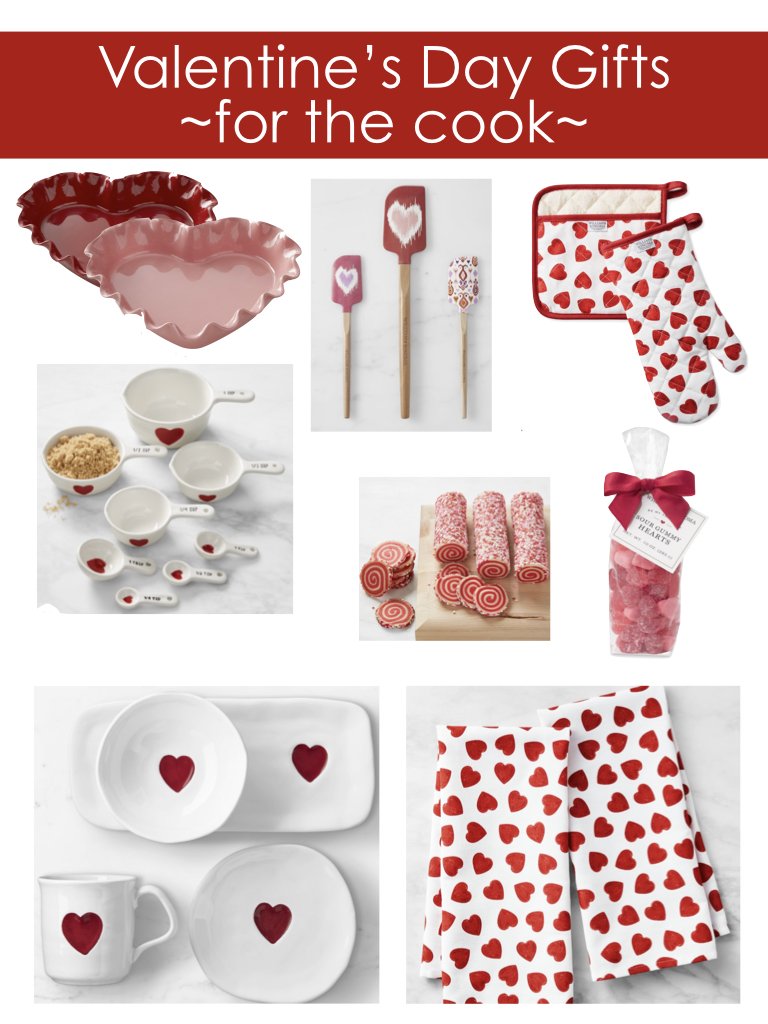 [show_shopthepost_widget id="4364662″]
I also have an entire Pinterest board dedicated to Valentine's Day. You can find that here, and follow me on Pinterest here.
So there you have it. I told you at the beginning this post was all things Valentine's Day. I hope you found some inspiration for your Valentines.
Don't forget to check out my friends today and see what they have to share for Valentine's Day.