Hi friends! Happy Wednesday! Okey doke, let me just start right off by saying today is my big day at Macy's, and our Style Six linkup. I went in Monday to "curate" my area and fell in love with every single piece I tried on, and we included in the collection. Today I thought I'd give you a peak at what I chose. This is such a fun opportunity for me, and I'm super excited to see how it goes. After we'd gathered all the pieces, we realized I'd somewhat pulled together a capsule wardrobe of sorts. A lot of the pieces can be worn together, and they all have a lot of versatility.
All of the pieces that are available online will be linked at the bottom of the post.
Okay, let's start with a H U G E trend. R U F F L E S!!! Ruffles are everywhere and I am a fan, so I had to include some in this collection. This sweater is cashmere, so it's just as soft as a kitten, and the ruffles are positively darling. It looks precious with jeans, but will also pair beautifully with colored denim, pants for work, or skirts.
Another trend that's still going strong is camo, and specifically camo in neutrals. I saw this sweater and immediately knew I wanted it included. It meets all of my criteria from soft, too comfy, too cute.
I found two plaid shirts, and love both of them. They both have so many ways to be worn including alone, layered under jackets or sweaters, or they can easily be tied around your waist. These jeans are 7 for all Mankind, and it's the first time I've tried them. They have a great amount of stretch. They're long on me and I have them turned up under a couple of inches. I actually ended up going with this pair with a frayed hem
Is this next sweater cute or what? I believe this is a new line at Macy's, and it has a lot of cute pieces. This "MOI" sweater is super cute on it's own, but it's also a fantastic layering piece, and the "MOI" graphic really brings it some personality.
This pair of jeans I absolutely love the chewed hem on. They're super cute. The only thing I don't love is that they are really high waist, which the majority of jeans are right now. These are nice and stretchy, and so they're comfy. If you like a jean with a high rise, I'd recommend these.
This sweater was one I tried on during my last in store visit, and Monday I tried on the cream version. I think the cream would be absolutely perfect for the holidays and it will also look stunning on brunettes. I ultimately ended up putting the camel colored one in though.
There wasn't a single thing I didn't love about this sweater…except that it was little too big, and there wasn't an x-small in store. I can't find it online, but I'll verify the brand tomorrow and try to find it. It's super duper soft, and I love the detail on it. Oh, and you know how I feel about a v-neck. 🙂
Everyone needs good basics, and this sweater falls right into that category. It comes in several colors, if you are more of a colorful person. It looks really cute with a front tuck, and I unfortunately didn't get a picture of that. I did however bring this one home with me. It's a really nice, soft knit, and it will go with so many things.
Y'all know I love any and everything fleece. When I found this soft pink vest, I grabbed it right up. It's crazy soft, and I can't find it online either. I think quite a few of these pieces are really new, and haven't made their way online yet.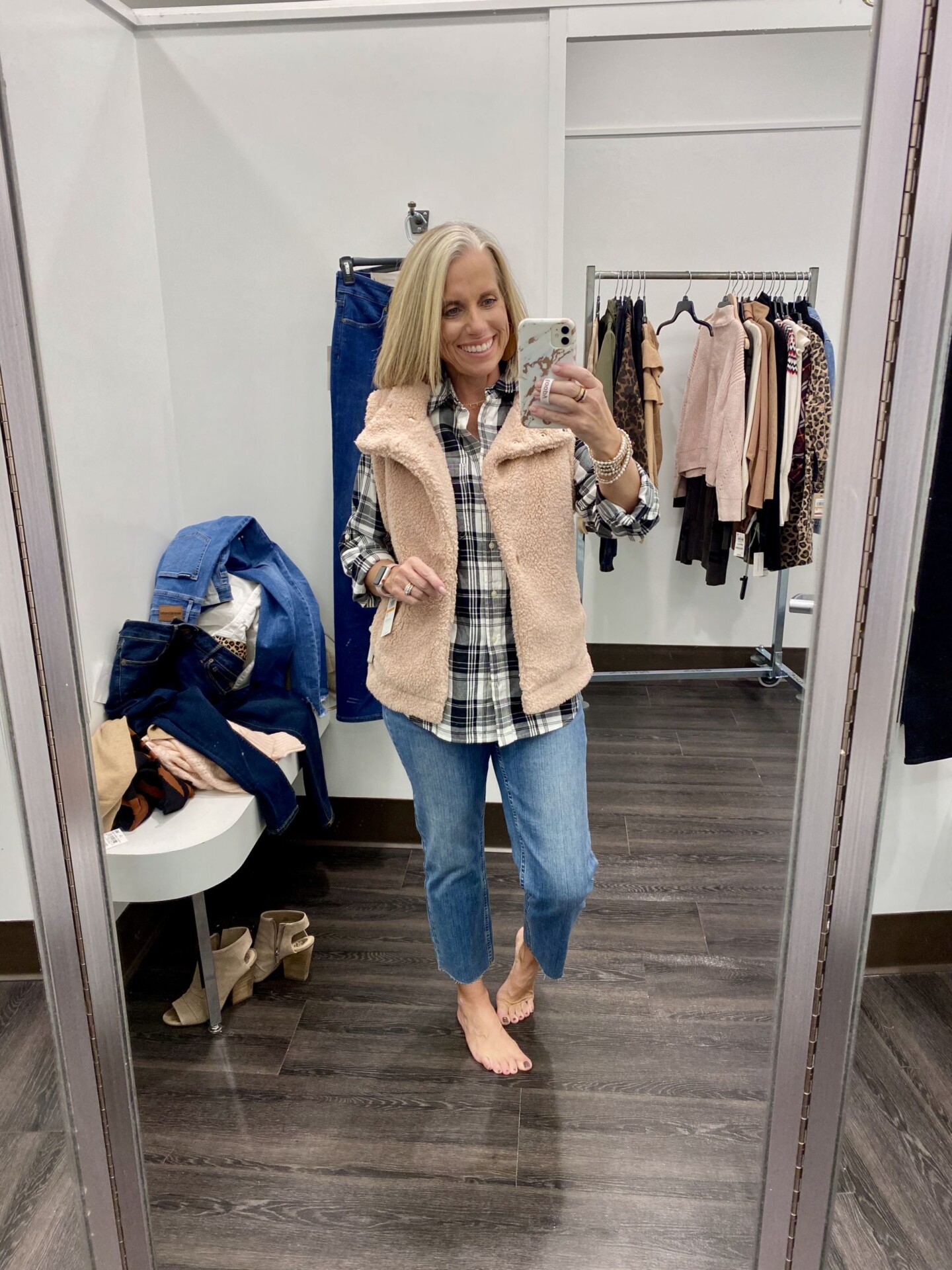 These jeans are also a fun straight leg with a raw hem. They'll work well with pretty much any and every kind of shoes.
We all need a good lightweight jacket in our closet, and this is the perfect answer. The material is a water resistant fabric that will also work well for a windbreaker too. You can see it looks cute styled with several of these pieces.
I have been thinking about this sweater ever since I was in the store. It's cashmere, and yummy. It's light, but warm, and I think the ways to wear it are endless. Look how cute it is with jeans, and then it's equally is fun with some black Spanx moto leggings. The long tee under it is also a really great layering piece with a nice detail along the v-neck.
This is the same sweater as the cashmere leopard, but a solid. These are a little pricey, but they are such a great pieces to have, and one of these would also make a great gift for mom, a sister, or tell the hubs you want one. ? I love this all black look, and think it's perfect for date night, girls night, or if you are lucky enough to have a holiday party to go to this year.
THIS JACKET! If you don't have a good utility jacket yet, this is it. The picture doesn't do it justice, it's even cuter in person. This is a piece I would have probably purchased if I didn't already have several of this style.
Here's another ruffle sweater that made it to the final cut. I do love this one, and was soooo close to buying it Monday to wear today, but it's just too darn warm here. I can't promise it won't come home with me though. This is a small, and Monday I tried on the x-small, which fit much better.
SHOP THESE PIECES [show_boutique_widget id="1002784″]
You can see my two previous posts with Macy's here and here. Now let's get to today's Style Six linkup.