Happy Black Friday!!!! Are you shopping? Is that a stupid question? All these sales make my heart race, and I can't decide if it's excitement or anxiety. HA! If you want to check out ALL. THE. SALES. read yesterdays post. For today, I'm sharing some of my favorites and lots of discount codes.
I was recently introduced to a new fragrance company. Dossier. These are designer fragrances at a fair price, without the retail markup. They have fragrances that are the counterpart to some of the most popular fragrances in department stores at a fraction of the price. I did a side by side comparison with one of my favorites and had Kent "test" it by smelling each arm. He said they smelled very similar. I really like the minimalist design, and the lids are magnetic. So cool. I've got a discount code for you, so you can try them for yourself. Use LISAR10 for 10% off your purchase.
If you're looking for a good hair band, look no more. These GIMME BANDS are the only ones I wear now. They've also just launched a line of hair brushes specifically designed for different hair types. Mine should be there when I get home. Use my code LISA25 for 25% off your order.
Again with the sweatshirt? YES! I will not rest until all my friends (YOU) have at least one of these sweatshirts. They are the best and they're 50% off!!! They have a slit on the side that lets them hang perfectly, and the material is thick and soft. Really y'all, I can't tell you enough how much I love these. They will make the best gifts, and at that price, they're right for everyone.
Zella leggings are also some of my favorites. I buy a new pair at least every year, and usually I get them for the girls too. The 7/8 length are perfect for me, and they have the side pockets. I love having a pocket to slip my credit card and phone in. They are currently on sale. The capri length are 50% off and I love this length in the spring and summer.
[show_shopthepost_widget id="4277481″]
This flannel and sweater are two pieces I find myself reaching for time after time. The flannel is from Target and I'd say they are on par with American Eagle flannels. This particular colorway is extremely soft, and so is the sweater. I wore it for our travel day Monday.
I'm wearing my denim Spanx leggings here. They are so good for wearing with tunic length shirts and sweaters. There's no bulk or bump from a zipper or button. They're no pricier than any other premium denim, so I didn't feel guilty purchasing them
I am currently totally infatuated with puff sleeves. This adorable sweater is soft, sweet and on sale for under $30.
Have you met my new favorite fleece? Oh my heavens, it is so soft and cozy, and I never want to take it off. Don't tell the girls, but we're getting the
off-white ones for part of our Christmas Eve jammies. #soexcited I ordered these adorable joggers to got with them.
These are my camo Spanx leggings, and I don't have to tell you how much I love all of my Spanx items.
Here's a quirky little product that comes in handy and will make a great stocking stuffer. I have baby hairs (I think they're all gray, but I'm not going to complain) and they stand straight up. This little tube is like a mascara applicator with hairspray or something on it. It's called Style Wand and works like a charm. I have a discount code for that also. Use code LISAR for 15% off your purchase.
I finally broke down and joined the Patagonia 1/4 zip club. My kids have these and love them, so I broke down and got one for myself. Guess what? I love it! Yes sirre Bob, it is in fact the bees knees. I've been wearing it when I walk, but it's also cute enough to wear out and about, or when I'm just hanging around the house. These never go out of style, and right now you can get one for yourself on sale.
Speaking of Patagonia. In the last two years, I've gotten quite a few pieces, that I love. Great news! They are all on sale.
My latest obsession is Kitsch. They have my favorite masks, and now my favorite, shower cap and hair towel. The towel really does help get a lot of water out of my hair, making the drying process faster. Now that I'm only washing my hair twice a week, I use a shower cap. I had one I'd purchased at TJMaxx and it was okay, but didn't work great. I finally ordered this one from Kitsch and it works so well. Holds all my hair and keeps it dry.
Their entire site is 30% off right now, and I think any of these would make fantastic gifts or stocking stuffers.
Tarte has been having killer sales here of late, but right now Macy's is having a waaaay better one. These are all products that would make great stocking stuffers. Some of them can broken into 3 individual gifts.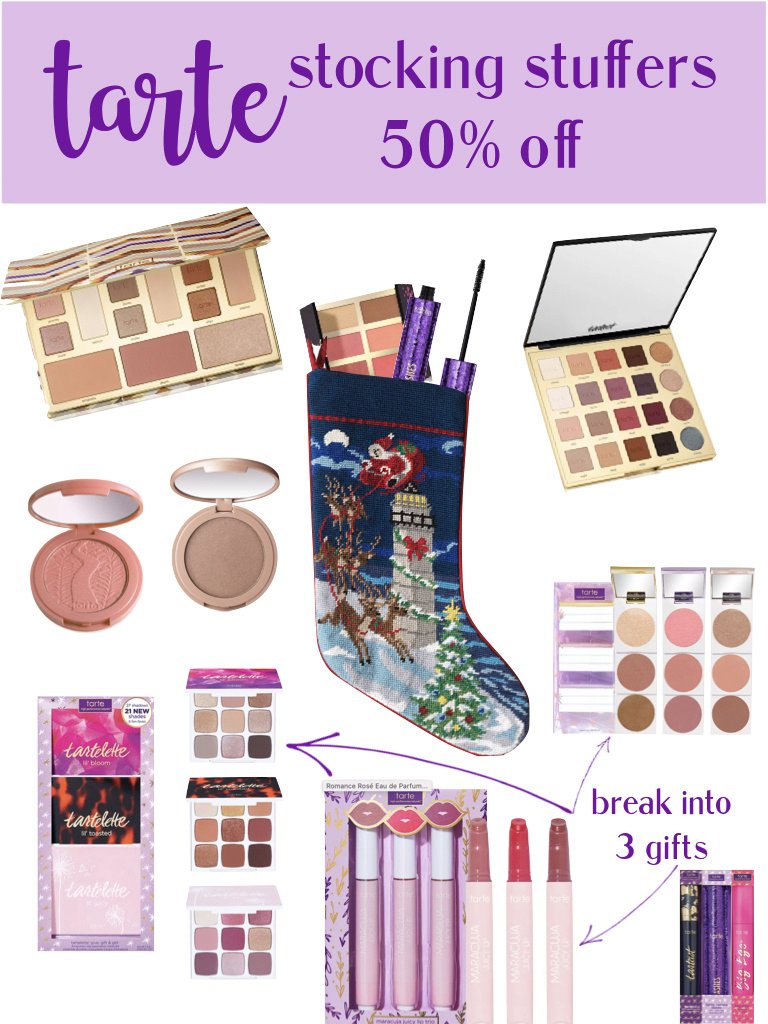 SHOP ALL OF THESE TARTE GOODIES [show_shopthepost_widget id="4278617″]
Have you tried these? They are so yummy, and I have one a day…occasionally two. #winkwink
I've never been a huge fan of peppermint, but this year I'm finding a new love for it. For example, the chocolates above. I bought this Sugar Free Peppermint Mocha coffee cream, and I'm loving having it in my coffee every morning. I also bought a can of Peppermint whipped cream, and some peppermint candy sprinkles to put on top. Let's just say YUMMMM, and it feels like a decadent treat that's really not that bad for you.
Whew! That's a lot of favorites and discount codes. I love it when I start a post and it takes on a life of its own.