Hey, hey, hey y'all! Happy Wednesday! Today is your lucky day. Do you remember on Monday I shared that I was participating in a Target share with 6 other influencers on Instagram? Well tomorrow is my day, but you are getting a sneak peek today for our Style Six link up. Why? Well how does 20% off sound? Most of the clothes and shoes at Target are 20% off this week, so I don't want you to miss out. We are so excited! We couldn't have timed this better if we'd tried. I do have a few additional things I'll be sharing in stories tomorrow, so make sure you pop on Instagram and check those out too.
Let's start with a few of my favorites. This Ciao tee and the flannel look like they were made for each other. I've really surprised myself this year the way I've embraced graphic tees. I'm kinda becoming low key obsessed.
The flannel is really a nicely made shirt. The material itself is soft and the perfect thickness. It comes in a pretty wide variety of colors and with the sale you can grab one [or more] for only $16.
The snakeskin sneakers make appearances in quite a few of the outfits which shows their wearability and versatility. They have a nice cushiony insole and they're a great alternative to some of the pricier versions out there.
[show_shopthepost_widget id="4189868″]
The cardigan obsession lives on. Here's how the cycle goes. Girl sees pretty cardigan. Girl finds out it's available in lots of colors. Girl has to have at least two of them. These are cotton and they feel great. Perfect for seasonal changes because they aren't the fuzzy kind. I'm wearing a small in both of these, but I reordered them in XS.
[show_shopthepost_widget id="4189875″]
I also apparently have somewhat of a thing for poncho/ruanas. This one would be so perfect for just hanging around the house and/or travel. It's super cozy and soft, and it's sewn a little on the sides so it doesn't fall off.
The other two tops are the same, just different colors. They're also really soft and border on being a fancy sweatshirt. The sleeves run really long on these, so you might need to cuff them. The bottom isn't banded, but the hem gives the same kind of effect.
[show_shopthepost_widget id="4189881″]
I think I must have seen this blazer as soon as it hit the store. Ladies, if you've been feeling like you want to get in on the blazer trend, this is it. Such a good price, fully lined, nice fabric and did I mention the crazy good price? It looks like you paid a lot more for it than you did. For size reference, I have on the XS.
[show_shopthepost_widget id="4189888″]
How about a "fancy" sweatshirt. It's cropped with a mock turtleneck, so not too slouchy. Comes in several colors and the inside is oh so soft. The snakeskin sneakers are absolutely perfect with it.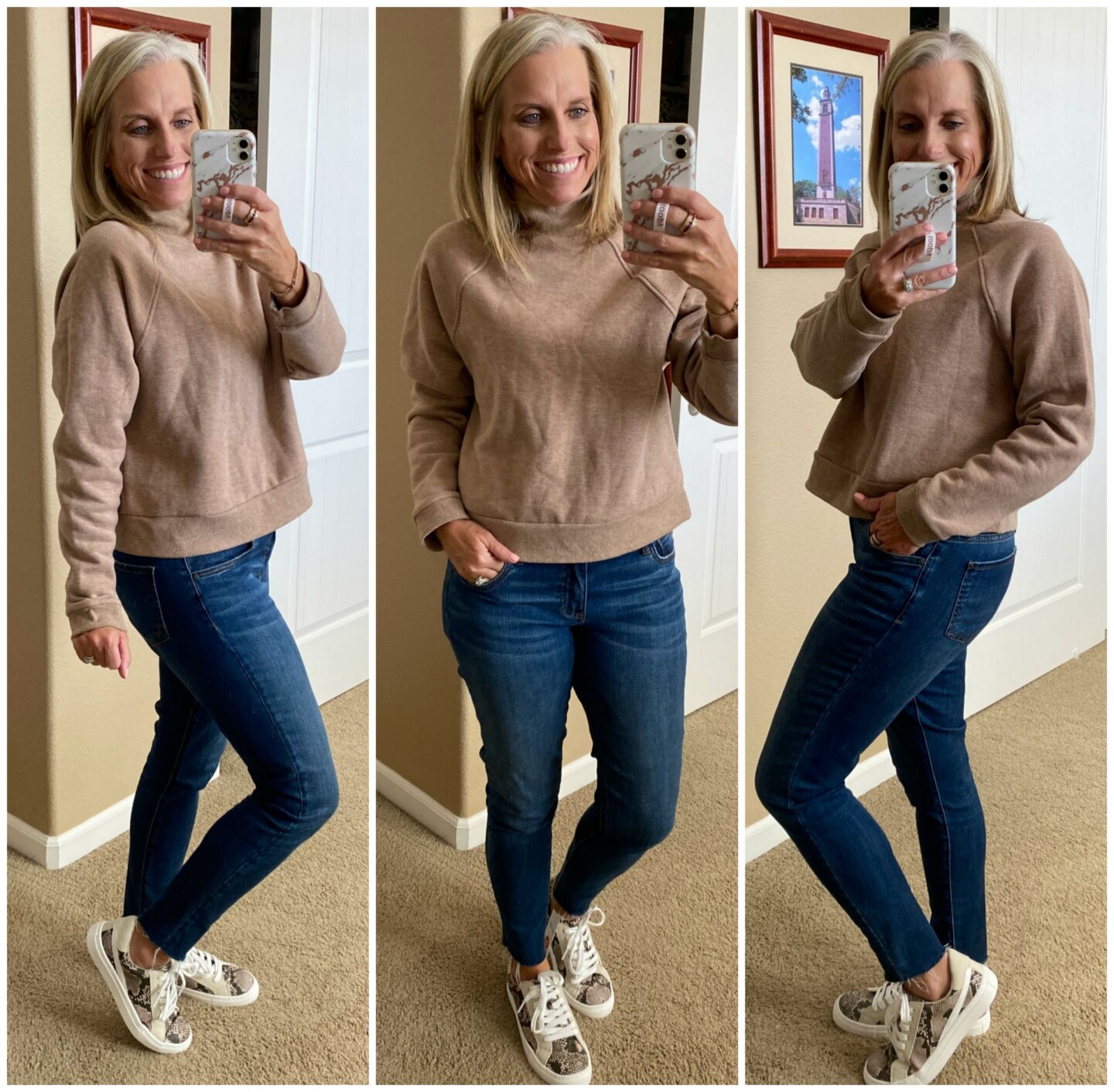 [show_shopthepost_widget id="4189892″]
Now for some good ol' everyday tops. The print blouse looks cute with jeans (and I forgot to take a pic) but it's also very office friendly with black pants or a skirt. The white shirt, is just a great basic to have. It's long enough to wear with leggings, can be thrown on over a swim suit, or probably a hundred other ways.
[show_shopthepost_widget id="4189922″]
Are you ready for some cute dresses? I sent the one on the left to Katie and she loves it. I love it too. I actually adore both of these, but let's be honest…they're a tad too young for me. ? However, if I was about 10 years younger, I'd for sure be keeping them, especially the plaid one. It's just darling, and if you're going to have a holiday party to go to, this would make for a great option.
[show_shopthepost_widget id="4189904″]
And I saved my favorite for last. This dress is just too cute for words…but when have you ever know me to let that stop me. HA! It's a wrap, but it's sewn together and there's even a snap at the chest. There's a little smocked band on the bottom of the sleeves, and the colors scream fall. It has an elastic waist with a removable tie belt. It's cute by itself, with a denim jacket, and I love it with a hat. I think it's absolutely darling with my new booties from the Nordstrom sale, but I'm linking several pairs from Target that would work well too.
[show_shopthepost_widget id="4189909″]