Hey gang!!! Here we are again, another Friday. This week zoomed by and now we have a 3 day weekend. Yahoo! I can barely wrap my brain around it already being Labor Day. Have you noticed the days are getting shorter? #notafan I do love the longer days. I've got some good stuff to share this week for Friday Favorites and lots of sales. We all know how much I love to share a sale.
Victoria Emerson is having a BOGO sale. Can I tell you how much I love that…and how much I love my wraps? The new Apple watch bands are crazy cute too, and I'm going to have to order one (or two?) I wear one of these bracelets every single day. You can wear them one at a time or layer them.
I've been feeling like I needed a new white shirt for quite a while, so I finally got on the Target website and ordered this one. It's only $20. Awesome deal! It's long enough to wear with leggings, but can also be tucked or tied like I wore it this week. This was a new look for me. I have really embraced my legs this summer and shorts. These snakeskin booties are so pretty. I honestly think it's the prettiest snakeskin I've seen on a pair of booties/shoes. They are very comfy, and have a bit of a cushioned insole. #forthewin
[show_shopthepost_widget id="4166686″]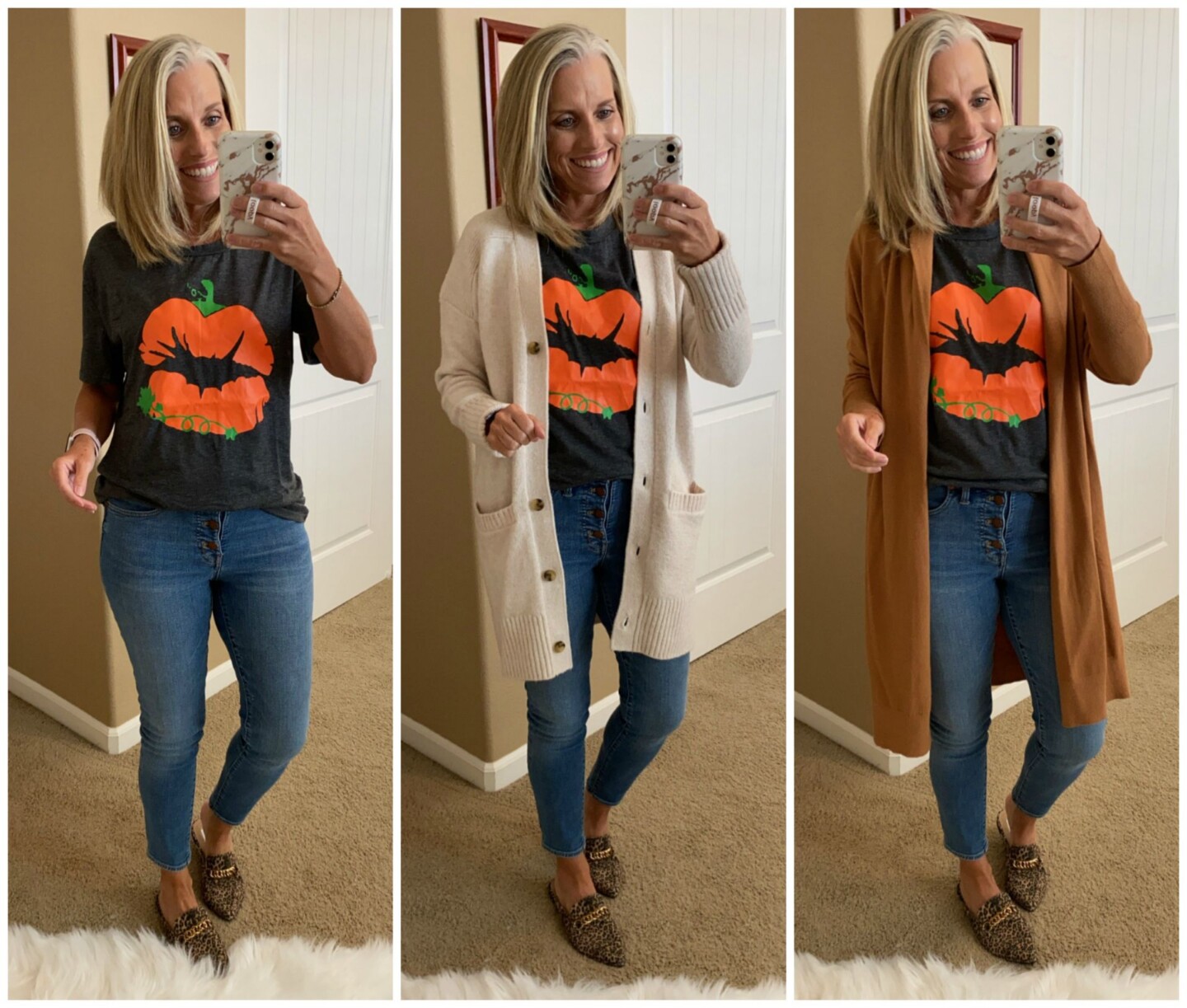 How crazy cute is this pumpkin "lips" tee?! I thought it was darling when I saw it, but when I got it, I fell head over heels. From past experience, I feel pretty confident this will sell out. I typically wait too long and miss out on the really cute one. Well not this time. I also shared a cardigan from Target on stories yesterday, but forgot to take a pic. It's great quality and comes in a really good selection of colors.
[show_shopthepost_widget id="4166683″]
Our temps have been a little lower this week, so when I was trying to decide what to wear, I saw this cute shirt. Last year it made the rounds on blogs and Instagram, and with good reason. It's the perfect shirt for transitioning from winter to spring and summer to fall. It's super cute, comfy and comes in a ton of colors.
[show_shopthepost_widget id="4166695″]
No secret I love, love, love my Barrington totes. Well good news. They're having a sale. Use code FUNINTHESUN for 15% order up to $250, and 20% off over $250. Seriously friends, these bags are the absolute best. I can carry my Macbook, iPad, electronics chargers/cords, snacks, wipes, and more in mine when I travel, and it fits perfectly under the seat. They're also great for shopping. Especially out here in CA where we have to pay for shopping bags. I can buy a few things and just throw them in the bag. They are always adding new designs seasonally and they've recently added a HUGE monogram, that's super fun.
Nordstrom has a bunch of stuff marked up to 60% off on clearance. Here are a couple of things that caught my eye.
[show_shopthepost_widget id="4166700″]
Nordstrom Rack is also having their big end of the month Clear the Rack sale. Wedge sneakers are still trending and these are a great price.
Have you started putting out fall decor? Do you even put out fall decor? Last year I made the switch to mostly neutrals and loved it. Again, these things tend to sell out fast. I always have a hard time switching gears and buying early, but I'm getting better.
[show_shopthepost_widget id="4166717″]
These ah-dorabe jammies are showing up everywhere. I saw them in Target the other day and the fabric is great. Super soft. The sizes are already getting limited online, and I can totally see why.
[show_shopthepost_widget id="4166719″]
It's Ulta's 21 Days of Beauty where every day they have a different set of products for 50% off. Here are the ones for this weekend. I'm sharing the deals of the day on my story daily, so you can shop through the swipe up, LiketoKnowit, or click here and go right to the page with the specials.
Both of Saturdays products are a great deal. Shape tape is the concealer I use [along with half the bloggers in the free world]. I use two shades, Light Sand and Light Medium Sand. The light medium matches my skin beautifully, and the light sand I use to lighten up under my eyes.
If you missed Wednesday's post, I shared this darling jumpsuit and several ways to style it.
Alright y'all. I honestly feel like I could keep going, but you're probably tired of reading, and I'm most definitely tired of typing. HA!
I hope you found some useful info in this weeks Friday Favorites and lots of sales. Have a great weekend!