Okay y'all, here we go. It's Friday! That means Friday Favorites, and I'm going to finally share my favorite Nordstrom sale picks. I actually really love that the sale got moved to August, and I'm hoping it will stay that way. I have a really hard time thinking "fall" in July.
If you've never shopped this sale (that was me up until about 4 years ago), it's their biggest sale of the year. Fall merchandise is reduced 30%-40%, and sometimes more. This is not last seasons stuff, it's new inventory. When the sale is over, the prices go back up. So it's the perfect time to grab staples, and a trendy piece or two. It's also a great time to think about grabbing some gifts. I like to have things on hand so when a friend has a birthday or I just need a little happy for someone, I don't have to rush out and get something.
I've done things in categories, so let's get to it.
TALL BOOTS || TAN BOOTIES || TAN PEEP TOE || LEOPARD BOOTIES
TAN MULES || SNAKE SKIN || LEOPARD || CHEETAH MULES
SNAKE SNEAKS || PINK NIKE || SLIP ON LEOPARD-CAMO (SO CUTE)
P448 ||CAMO SLIDE
I usually buy a couple pairs of shoes during the sale. This year I want these booties and these mules. It's also a great time to pick up some sneakers. If P448's are on your radar there are several of those included in the sale.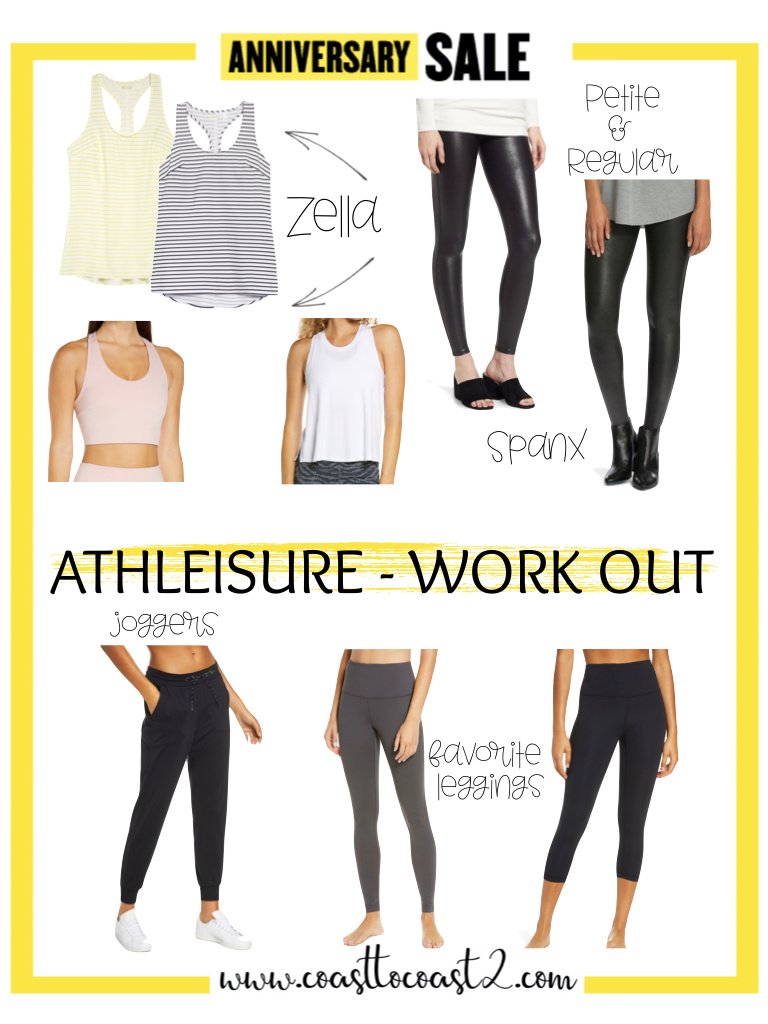 ZELLA STRIPED TANKS (oops, not in the sale)|| ZELLA BRA ||
WHITE ZELLA TANK
SPANX || PETITE SPANX
ZELLA JOGGERS || ZELLA LEGGINGS || ZELLA CROP LEGGINGS
I like to add at least one new workout tank from Zella, and had planned to pick up one of the striped ones, but they aren't really on sale #psych I'll at least get a solid. They are my favorite workout tops. The fabric is the best and the fit is great. I like mine loose, so I size up to a medium.
If you've EVER considered Spanx Faux Leather Leggings…THIS is the time to purchase them. I promise, you will not see them this cheap again until next year. I'd also say if you're a little scared to wear them, I get it. I was too. But once you get them and wear them a few times, you'll forget they are even faux leather. They are perfect for dressing up or wearing with sneakers or booties.
The petite version came out after I purchased mine. #ofcourse I do have to roll mine up under, and I have a method for it. I'll happily share on IG again in the fall. I'm 5'3″ for reference.
SUNGLASSES 1,2,3 || FELT HAT W/LEOPARD || FELT HAT || STRAW HAT
CASHMERE RUANA || RIBBED KNIT RUANA || MADEWELL CAPE || REBECCA MINKOFF COLOR BLOCK RUANA
TORY BURCH CROSSBODY || TB CROSSBODY || LONGCHAMP LEATHER
TORY BURCH LEATHER TOTE
APPLE WATCH BAND || KENDRA SCOTT HOOPS
KENDRA SCOTT LAYERED NECKLACE || GORJANA LINK NECKLACE
LAGOS BRACELET
This sale is the perfect time to splurge on a designer bag or other accessory. I plan to get the KS hoop earrings and the cashmere ruana. I'll likely order the ribbed one too, just in case. ?
LEITH CARDIGAN || MADEWELL CARDIGAN || MADEWELL CARDIGAN CASLON CARDIGAN
BAREFOOT DREAMS || BF DREAMS || BF DREAM ||BF DREAMS
FREE PEOPLE || CHELSEA 28 V-NECK || CASLON SWEATER
DREAMERS SWEATER

Leith comes out with a cardigan every year that is super popular. I had one a couple of years ago in the blush. I'm going to grab this years in oatmeal.
This hot pink sweater is the Chelsea 28 sweater. There is the same version in the sale this year in different colors. These sweaters are a really nice, soft, quality knit.
The Madewell Kent cardigan appears every year too. The colorblock designs always sell out super fast. Super cute. These sweaters are very warm and very soft.
Let's talk Barefoot Dreams! Everyone's all time favorite brand of sweaters. Again, these are in the sale every year, and by far the best price until next year. (just like the Spanx) These are absolutely the coziest sweaters, and I usually wear one in the winter with my pj's in the evening and morning.
PATAGONIA 1/4 ZIP ||| PATAGONIA VEST || PATAGONIA
NORTH FACE || PATAGONIA
SUEDE MOTO || LEOPARD BOMBER
SUEDE MOTO || FAUX LEATHER MOTO || PLAID || PLAID || WOOL COAT
Coats, coats, and more coats. Not to beat a dead horse, but I'm not kidding about some of these makers things being on sale the best you'll find them until next year. PATAGONIA is a brand that is great to grab during this. Katie and Erin both love the 1/4 zips, and we all three have the vests. Moto jackets are always a hit, and of course a new coat is never a bad idea in a cold climate.
T-SHIRT || FREE PEOPLE ||LEOPARD TOP || PUFF SLEEVE
PLAID TOP || YELLOW || FREE PEOPLE TEE || GIBSON || RAILS PLAID
WIT & WISDOM || W&W ABSOLUTION || WIT & WISDOM BOOT
AG JEANS ||KUT JEANS
Jeans are a B I G seller in this sale. Designer jeans in particular. If you've been thinking about a pair of AG or some other premium denim, this is the time to get them. Wit & Wisdom has several styles in the sale, and this brand is really good. I have several pairs, and they are all very comfortable. I particularly love the one with "absolution stretch".
This v-neck leopard shell is a great closet staple. It can be worn casually or for work or dress. This is also a good time to get a Free People piece. I absolutely love their tunic style tops. Plaid shirts are always popular, and the Rails brand has at least one in the sale. These are yet another brand that are higher end, and don't frequently go on sale.
PLUSH THROW (perfect gift)|| BAREFOOT DREAMS || BAREFOOT DREAMS
CANDLE || CANDLE || FAVORITE VOLCANO CANDLE || REED DIFFUSER
SHOWER CURTAIN || ULTRASONIC AROMATHERAPY || PICTURE
CHILD BED FOR FLYING || BATHMAT
Some of these are the perfect gifts I was mentioning before. The candles and the plush throw are both great to have on hand. I've give the plush throw to both of our kids as gifts, and I see them using them all the time. I have 2 of them as well, and love them. The price is crazy good. Think about getting one to go on the end of a bed or sofa to add warmth and color.
PRIMER || FACIAL CLEANSING DEVICE || CHARLOTTE TILBURY LIP
LAURA MERCIER PRIMER & POWDER ||SUPERGOOP SUNSCREEN
T3 CURLING IRON || TULA || LIVING PROOF
The Too Faced Primer is my new favorite. I honestly believe it makes my makeup last better. The Charlotte Tilbury Pillow Talk lip set will sell out. These are some TULA's most popular products. (great way to try them) I've been using a sample of the Laura Mercier powder and I really like it for setting my makeup.
FLEECE || MADEWELL SWEATER || MOTO
These ⬆️ are all things I ordered last year. I didn't keep the moto jacket…I just don't think I'm a moto kinda gal, but I sure love them on everyone else.
WHEW! That was A LOT!!! Let's all cross our fingers and hope there are still things left when our turn rolls around. I get to shop Monday. I'll try to place a pick up order, and share what I get with you.
Did you know when you click on my links and then make a purchase I make a small commission? I so appreciate your support in this way. It lets me bring more items to you to share. So…..When it's your turn, come back here and shop through my post?. Thank you!