Welcome friends! How are you doing during this unprecedented time? We're doing our part and staying in. I'm S U P E R excited to be working with PEACH as an ambassador. Peach is athleisure at its finest. So what makes Peach so special? I'm glad you asked.?"Peach designs and sells elevated, contemporary women's apparel, versatile enough to transition between gym, work & play." What does this really mean? It means you will really love these clothes.
P.S. Before we get into this too far, I am not a yoga girl. I'd like to be, but have yet to really embrace it, so when you see my "yoga poses", cut me some slack. HA!
I l ?ve leggings. I mean like really love them. If you'd asked me a few years ago, could I see myself wearing them daily for anything other than working out, you'd have gotten a big fat no way. Fast forward, and here we are. I now have lots of leggings that I love, and the latest pair is this ah-dorable blue tie-dye pair. Y'all know it's no secret that I'm a huge fan of tie-dye. #childoftheseventies
Not only do I love that they are tie-dye, I love that they are reversible. It's like getting two for the price of one. They reverse to this gorgeous steely blue.
I like a high waisted legging, that holds me in, and stays put. These check both of these boxes. They are a silky smooth material, and feel like a second skin.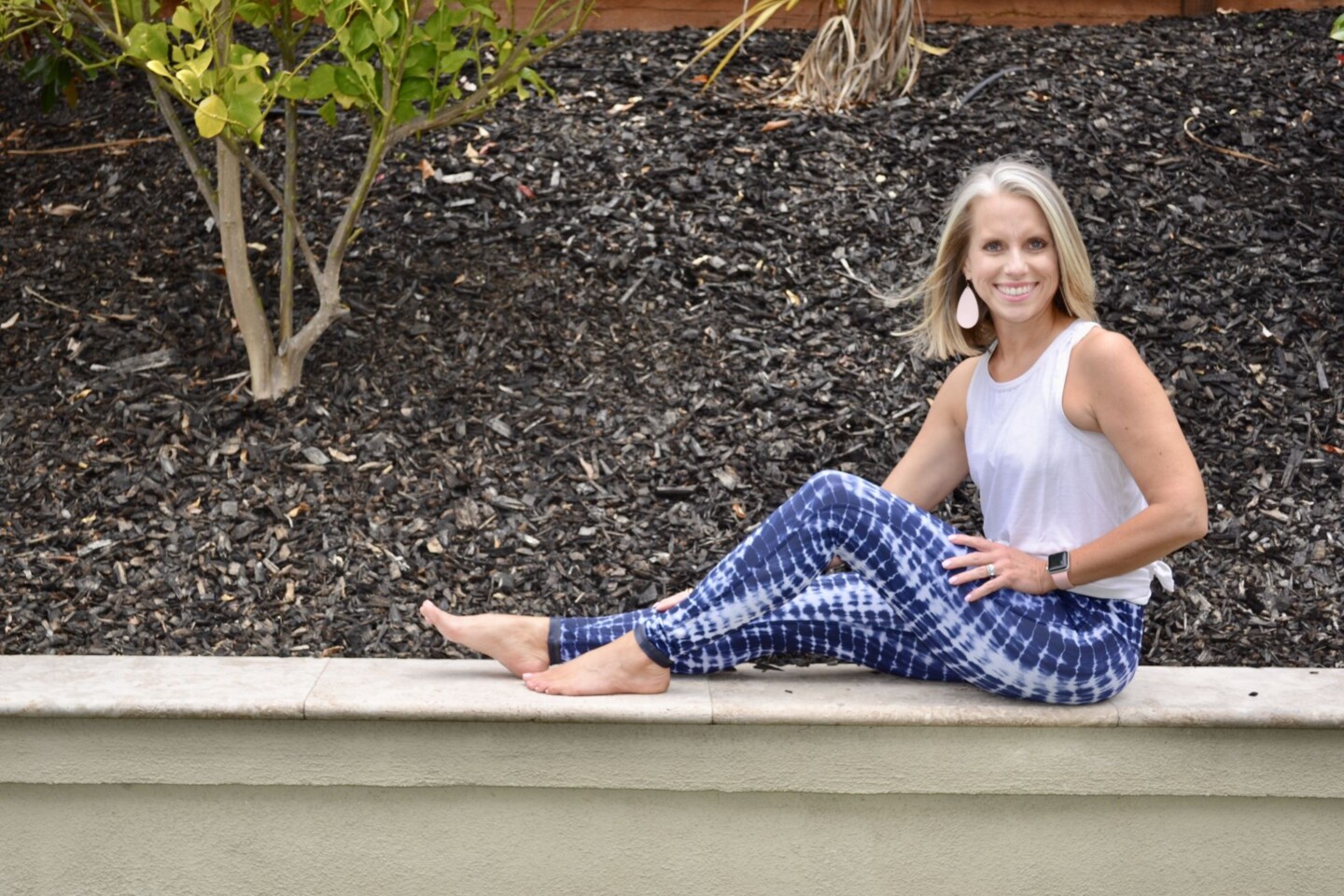 I received these leggings at the absolute perfect time. While we're all staying home, these are exactly the kind of things I want to wear.
I just got this lightweight sweatshirt too. It is the perfect compliment to these leggings. It's a nice light weight for spring and summer evenings. I love the sweatshirts that are styled like this from Aerie. They are my favorite because of the longer length and slits at the sides. The slits make it hang really well, especially if you are a little on the hippy side.
Were you familiar with PEACH clothing before today? If you try it, I think you'll agree Peach is athleisure at its finest. Use my referral link here or any of the words in blue above to try it for yourself.
Today is Style Six and my pick from last weeks link up is Katherine in her peacock pretty blouse. Seriously, the colors in this blouse are so pretty and I love the way she styled it.
You are invited to the Inlinkz link party!