Happy Coronovirus Friday! GUYS! Can you believe how crazy this thing is??? I'm happy to report we were in Target for something and the stock guy was putting one…ONE…big pack of TP back on the shelf, so being the good consumer I am, I bought it. #actuallyneededitanyway #notjustbeingahoarder
Okay, enough about that. I thought today I'd do Friday Favorites skin care for you. I've had several people asking about my personal routine, so now's a good time to share. #whynot
If you've been around here for very long, you know I'm a Rodan + Fields consultant, and I do really and truly believe in these products. As I told you on Wednesday, I'll never share something with you that I don't truly love.
Here's a true story for you. My mom was an esthetician for many years, and periodically she'd tell me I needed to be using x, y, z. Well I wasn't a very good listener, and apparently she was really troubled by it. After I started using R+F she told me she could see a real difference in my skin, so I took that as a major coup. She even told me recently that she'd told my dad she was really worried about my skin ?before I started this. I must have looked frightful.
I've shared some before and afters before, but if you missed those…here ya' go. The proof is in the picture.
I really feel like I could stop right here, after looking at these. I mean really, what more truth do you need? HA!
The first product I used was the Multi-function eye cream, and I'm still using it. I started using it in May of 2015. I'm a firm (Get it? Firm) believer all women should be using an eye cream.
After falling in love with the eye cream, I was ready for more. I used the Solution Tool to find out what regimen would best suit my skin concerns. I had/have some sun damage and overall dullness, so the REVERSE Brightening Regimen was the first one I used. This is kind of like taking a magic eraser to your face. It revives your skin, and literally brightens your tired complexion. And just let me add that the last step in every single regimen is SPF. I cannot express how important this is for preserving your skin. I wear this particular sunscreen anytime I'm going to be out in the sun for an extended amount of time. It's SPF 50.
NOTE: I'm going to share my most favorite products for times sake, but I could go on and on about these.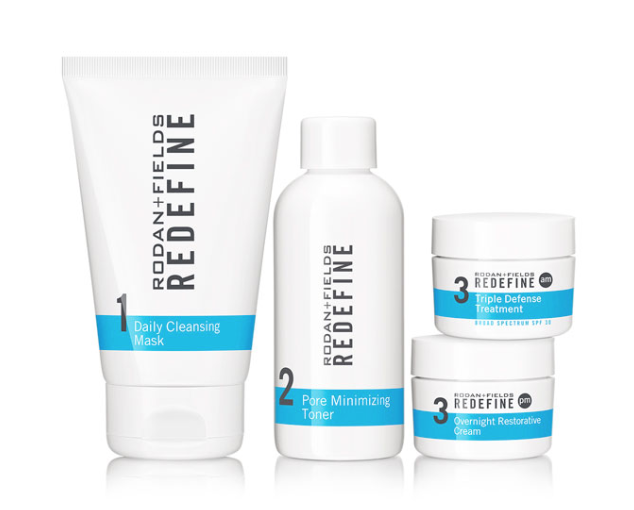 After a few rounds of REVERSE, I switched to REDEFINE for a while. This regimen is for fine lines, wrinkles and enlarged pores. Basically, aging skin. The first step in this is a cleansing mask that I put on, let dry for a few minutes and then wash off. Sometimes I do morning, sometimes I do night. Frequently, I'm using two regimens at the same time. One AM and one PM…but not everyone wants to or needs to do that.
While I am a huge fan of our regimens, I have 3 products that I am gah-gah over. One of my absolute favorite products is the Micro-Dermabrasion paste. This is the best exfoliator I have ever used. I'm not exaggerating when I say it leaves your skin feeling like a baby's skin. Soooo crazy soft. I use this 2-3 times a week.
Another must is the Intensive Renewing Serum. I prefer serums to creams anyway. They just absorb better, and especially if you lean towards oily skin. This makes your skin feel like velvet. When I first started using it, I was constantly telling my family to feel my face. LOL
"Formulated with Retinal-MD Technology, a form of Vitamin A that's more potent than Retinol but gentle enough for daily use, this nighttime serum empowers skin's natural renewing process to smooth the appearance of fine lines and wrinkles while revealing vibrant, younger-looking skin. In just four weeks, you'll have more refined, firmer-looking, smoother-feeling skin with less visible lines and wrinkles."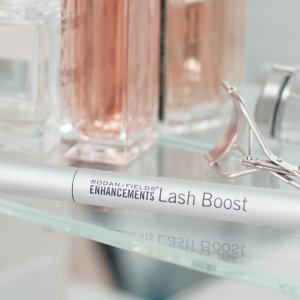 Two words. LASH BOOST! This has been an absolute game changer for myself and so many of my customers. Everyone L O V E S it. I often say if I was going to be on a deserted island, this is one of the things I want with me. Y'all, I never (never ever) had decent lashes until this rolled out. Now, I am in lash love. I can not say enough good things about this product, and I wish every woman would try it. It.Is.So.Great!
Seeing is believing. ⬆️These are my personal results. ⬆️In-sane!!!!
The last product I'm going to share is Radian Defense. This is considered the final step in your skincare.
What it is: "4-in-1 tinted skincare that looks like makeup but acts like skincare. Radiant Defense Perfecting Liquid SPF 30 delivers instant coverage and promotes naturally smoother + more radiant skin over time."
I use this daily. I'll be 100% honest and say I wasn't sure if I'd like it, but I really do. I haven't really used a "foundation" in the past, but I love the finish I get with this product and that it has sunscreen built in.
I do have a few non R+F products I use from time to time. At night I like to remove my makeup with this, and if I'm really lazy, I'll even use this.
If you are interested in finding out which R+F regimen would be recommended for your skin, use my Solution Tool. It's super easy. Just a couple of questions. Email yourself the results at the end.
Through the 20th we have a special offer. Bundle any regimen with Lash Boost and receive a 20% discount. That's on top of the Preferred Customer discount. We also have a deal going on where if you are referred, you can enroll for free and the friend that refers you will receive and additional 10% off a future purchase. Just let me know if you are interested, and I can get you a referral. ?
Want to try a mini-facial? Send me an email with your address and I'll happily send you one. Please feel free to ask any questions you might have. I am in no way a hard sell consultant. I never want anyone to feel pressured to purchase. I share because I care. #irhymeeverytime
Now let's recap this weeks posts. Monday I shared a Target dress try-on.
Wednesday was all about Fashion you can live in.
And this weeks looks…
And to lighten the Corona craze…not to offend anyone.