Hi friends! How was your weekend? Ours? We just stayed home. LOL So I thought y'all might want to see the easy weeknight meals we've been having during our house arrest, a.k.a shelter in place, a.k.a quarantine, a.k.a time out, and a.k.a being grounded. Whatever you want to call it, it means a whole lot of cooking. These are all pretty easy to make and also fairly healthy. Some of these are under the recipes tab and I won't go into detail on those. The others, I give you some "loose" instructions. Nothing is set in stone, and that's part of the easy peasiness of these.
This one is a favorite of ours and is under the recipes tab. The noodles are the key. They are so yummy. They're thicker than a normal egg noodle, with a good "chew" to them.
I purchased lobster ravioli at Costco, but any ravioli or tortellini will work for this. This is a meal that literally comes together in minutes. I use Kirkland pesto, but again any pesto will work. I toasted pine nuts in the toaster oven (and let them get a little too brown?), added some shredded parmesan, and BOOM! Dinner is served. We had some fruit with it as a side, but you could also add a salad.
We love pancakes. All the pancakes! Lately we've been loving blueberry pancakes. To add some protein we often have Aidells Chicken Apple Sausage. For our family pancake recipe, click here.
Safeway sells a line of jarred sauces for all kinds of things. The one I love is a Sesame Ginger sauce. It's very easy, and very flavorful. I use cod with this sauce and serve it over either cauliflower rice, regular rice, or a combination of both. This particular night I had a bag of cauliflower fried rice from Trader Joe's that I added some regular rice to, and the sauteed some asparagus. This is the sauce I like. ??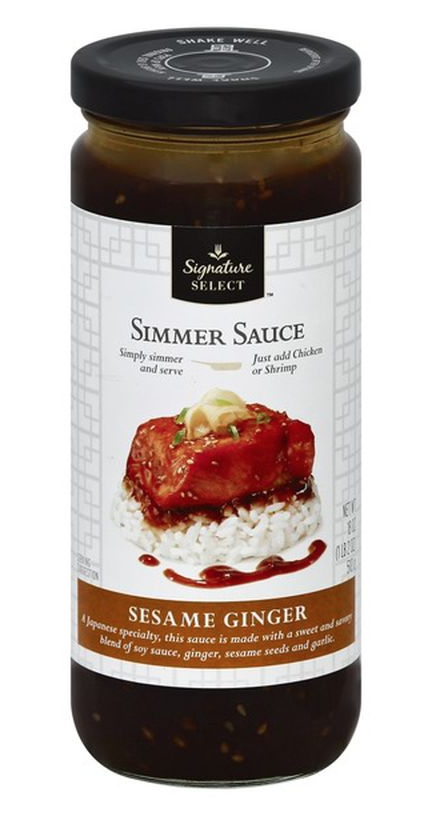 This is sooooo easy, and soooooo yummy. I use Old Fashioned Oats and follow the microwave instructions. I add a little cinnamon and brown sugar (or Truvia Brown Sugar) before cooking. For the apples I chop up 2 apples (I like Fuji) and cook in a skillet with more cinnamon, a little brown sugar (or the Truvia Brown Sugar) and sometimes some water. I cook them long enough to warm and barely soften. Top with toasted chopped walnuts and a glaze made with confectioners sugar and enough milk or half and half to make it the right consistency.
I've shared this Orange Roughy recipe here with different sides. This time I just served baked potatoes, and some shaved brussel sprouts. I sauteed the brussel sprouts in a little olive oil, until slightly wilted, added a little Balsamic and some craisins.
Quesadillas are super easy. I used Rotisserie Chicken that I added a little taco seasoning and salsa to, and then some black beans with shredded Monterey Jack cheese and Mexican Cheese Blend.
Taylor Farms bagged salads from Costco are a huge time saver, and delicious. This is the Sweet Kale salad. I use them a lot and just serve with different proteins. This night I used frozen shrimp (thawed) and cooked in a Key Lime Shrimp Taco Sauce. Again, super easy and we loved it.
If you'd like a few easy weeknight meals, check out this is post. Is this something you'd be interested in seeing more of? I know I'm always looking for new dinner ideas, and with everyone staying home and likely doing more cooking, I hope this is something you'll find helpful.
⬇️ PIN ME ⬇️