Would you believe I had never been to Texas before? I'd flown through it, but never been outside of the airports. If you saw Andrea or Laura's posts yesterday, then you already have a good idea of what we did in Waco, but I can't not tell you my version. It was just soooo much fun. It was even better than I imagined, I think in great part to the company I was with.
Our little blogging group started last year in Nashville. We had so much fun, we decided to make it a yearly outing. This year landed on giving Austin a whirl, and with Waco so close, we could kill two birds with one stone. Chrissy wasn't with us until Saturday, so she missed our big day in Waco.
We started out at Magnolia Table. We got there pretty early, but the wait was already an hour and 45 minutes. We put our name on the list and proceeded to check out the walk up area off to the side. You could get some of the restaurants offerings, so we grabbed some biscuits and strawberry butter, coffee and sat down for a few. Y'all, these biscuits were some kind of good. I only at a few bites #becausepacingmyself, but the bites I did have were definitely worth the calories. Once we'd had the biscuits, we decided to forgo the actual restaurant. We had a time scheduled for a Waco tour and needed to move on.
So let's get this straight right off the bat. If you go to Waco, Do.The.Tour. I promise you won't regret it. It only lasts 2.5 hours, but they pack a lot in. We had the two cutest tour guides who learned our names and made each and everyone of us feel involved. It was very interactive and a total riot. The WACO Tour Co. was started by one of the homeowners from Fixer Upper. It's a Christian company and they prayed over our group before we headed out. I absolutely loved that.
We covered a lot of ground in the cute little town of Waco.
History for things in WACO…Like did you know Dr. Pepper was born there? #thedrinkthatis
Baylor University is a beautiful campus
We visited the Creamery and Common Grounds, both owned by a couple who appeared on Fixer Upper. Remember the Shotgun house? Yeah, that was there's.
We were all surprised to learn most of the Fixer Upper houses are now AirBNB's. Can you imagine if people were constantly cruising by your home and gawking?
We did what we do best…besides talk that is. LOL We ate! See the biscuit and strawberry butter? Yum. For lunch we hit the food trucks at Magnolia. I got the grilled cheese with tomato soup, and it was delicious. Here's another tip. Get the lunch combo of soup and sandwich. We assumed it would be half a sandwich and soup, because it was only $1 more than the sandwich alone. We were so surprised when we got a whole sandwich along with the soup. Now for my most important piece of advise. Listen up!!! When you go to the bakery, stick with what you know. In other words, get the chocolate cupcake with chocolate frosting and the chocolate cupcake with buttercream frosting. I got both of these, and some of the other got various other cupcakes that were just ehhh. Mine on the other hand were
D E L I C I O U S!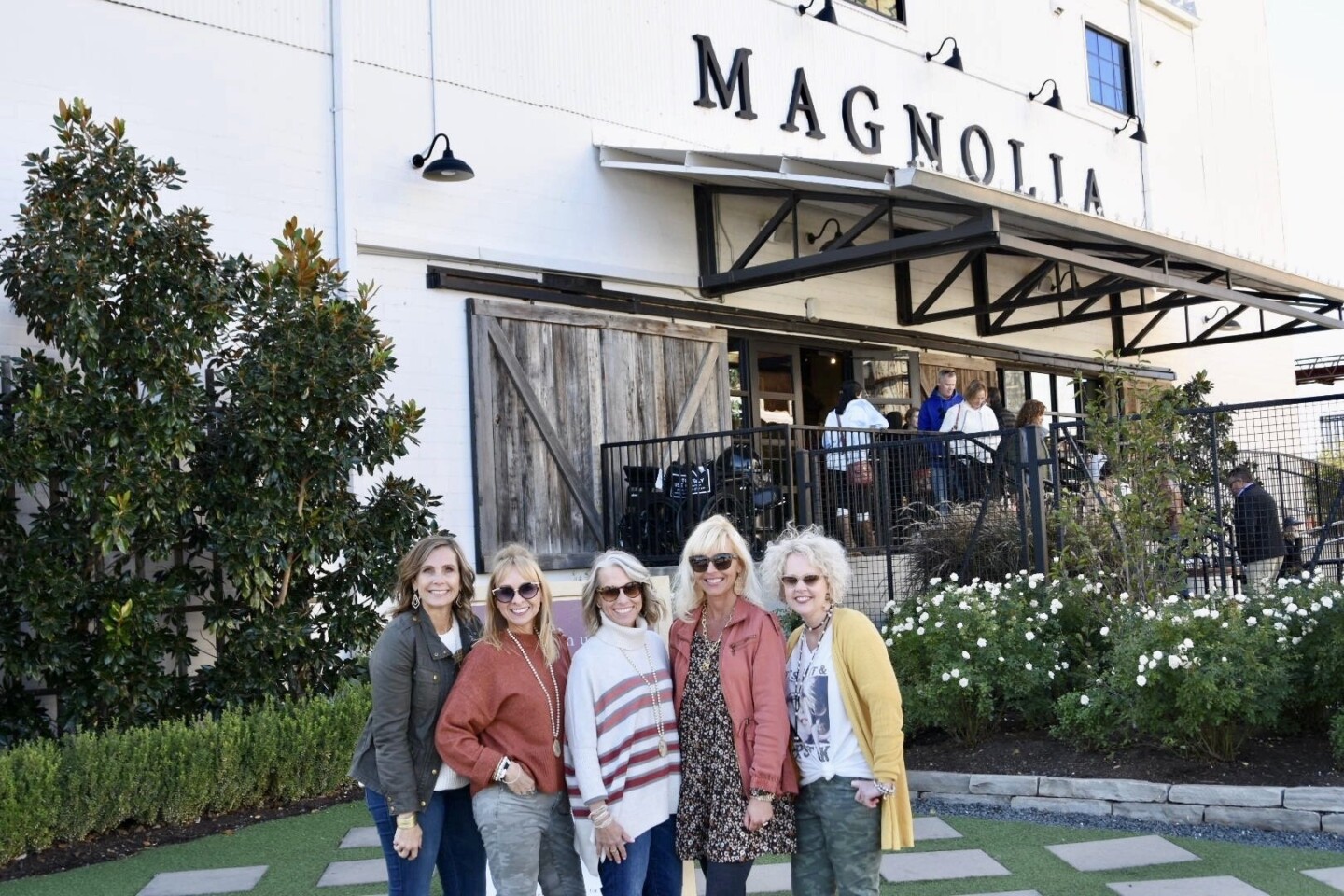 Our weather was great. Perfect for all our sweaters, but not cold.
Harp Design Company (owned by Clint Harp who makes wood pieces for Joanna). There were so many cute things in his shop and I wanted to bring most of it home, but managed to restrain myself. But that Merry Christmas sign over the hearth. I would love to have that!
We stopped by a little pop up shop that had some of Jimmy Don's metal work, and he popped in the van long enough to meet us. A very genuine and talented guy.
We're all suckers for old trucks, so we couldn't pass up the opportunity to have a picture take by this one. I brought home a glass ball ornament that has this little green truck in it, so every year when I put it on my tree, I know I have warm memories of this day.
Not gonna' lie friends, I'm really feeling we need 2 trips a year!!!! Every time I tell someone about it, my face and HEART light up!!! Maybe next week I'll share a little more of our adventures with you. I don't want to wear you out with this, especially since many of you probably follow at least several of us. Thanks for coming along via Instagram and now the blog. I wish we could all take one big trip together. How fun would that be?
I just want to say "Thank you" for stopping by and reading my little corner of the internet. I really appreciate you taking time to do so and leaving comments. Getting to know so many friends through this here blog is just an amazing blessing. If you're like me and can't remember to always read, just scroll back up and fill in your email on the left hand side to recieved posts by email whenever they're published. You can also follow along on Instagram to keep up with all my daily looks and life updates.