T-7 days and counting friends. I know I probably don't need to tell you that, but maybe I'm still trying to believe it myself. This whole Thanksgiving being only 3 days before December is ku-razy. I can't like it. HA! What I can like is this sweater! Make that love. I love this sweater! The Aerie sweater every girl needs. Yes, that's YOU. You need this sweater.
There are several brands that bring a version of a sweater, sweatshirt, etc…back year after year, and I for one am happy about that. Last year I had this sweater and loved it so much, I grabbed this one.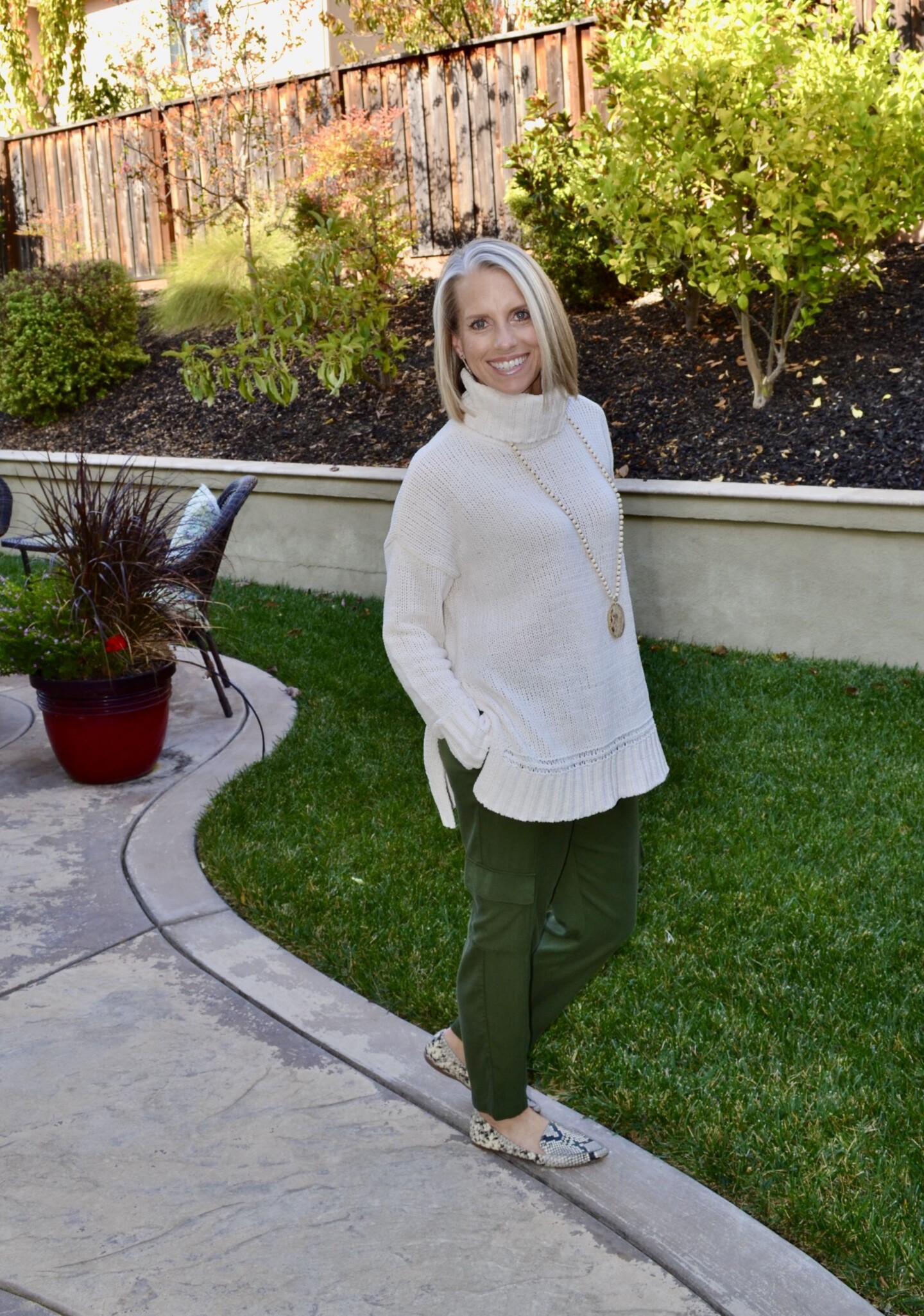 You won't believe it, but this years version is even softer. I didn't even think that was possible, but believe me, it is. It's almost like wearing a chenille blanket. The ways to wear it are pretty much limitless. Here I paired it with the twill cargo pants from Old Navy. Another piece of clothing that is uber comfortable. I wore my black pair of these to bible study last week and I couldn't have been any more comfortable. I basically felt like I had on a cozy pair of pajama pants, but looked presentable.
I changed out my black pants for jeans and my snakeskin for leopard and voila, another great combo. I could have gone one further and put on some leggings, but #tiredofchanging.
I've said it before and I'll say it again, but why did I wait for so long to order this tote? I am completely and unabashedly in love with it. The front pocket is perfect for my cell phone and car keys. The long strap is detachable, and now Madewell has a darling leopard strap that I'm planning to get. It's real calf hair, not just printed and I love that. The textures are so fun vs. printed prints.
So I have a question for you…did I convince you this is the Aerie sweater every girl needs? Including YOU? Yesterday it was on sale for $30, and I'm hoping that will continue through at least today. I've also got the mustard color that I will share with you soon.
SHOP THIS POST[show_shopthepost_widget id="3808033″]
My favorite from last weeks linkup was Laura from I doDeclaire. Isn't she adorable in her hat, fair isle sweater, skirt and boots? She really knows how to bring the western vibe.
WELCOME TO OUR WEEKLY
STYLE SIX FASHION LINK-UP
Our Party Rules Are Simple
~Please Only Link Posts related to Fashion, Beauty or Shopping
~Please Link No More than 3 Posts
~ Please visit other Linkers and Show them your love
~We'd LOVE it if you followed all our Blogs and Socials
Listed Clockwise from our GRAPHIC
Chrissy from Granola & Grace
Andrea from Living in Cloud Nine
Shelly from The Queen In Between
Laura from The Horton Family
Kellyann from This Blonde's Shopping Bag