Hey and happy Friday friends. Are you ready for some Friday favorites? This week I'm sharing what I've been wearing lately and Rae Dunn holiday goodies.
This top is one of Amazon's top sellers and with good reason. It's the perfect transition top. Look at the sleeve length! See, perfect for those wacky days that start out cool and end up hot.
Wow that's a lot of animal print. LOL I'd seen this top on another blogger and thought, how cute! I tried it on and loved the cut of it. Perfect to pair with blank pants or a pencil skirt. Work or play.
Okay, this is a repeat and with good reason. I keep wearing it over and over. I have this one and the leopard print and love them equally. The prints aren't available any longer, but there's a great selection of solids. I'm wearing my Zella leggings with pockets (that are awesome), but if you're looking for a cheaper option, these are getting rave reviews.
Another Aerie sweatshirt. I love a good turtleneck and I love a good sweatshirt. Combine the two and well, I'm pretty much ecstatic.
Just look at me wearing a baseball tee. LOL. Y'all know I don't wear tee's often, but these from Mountain State Monograms are so cute, I can't help myself. Use code LISA10 for 10% off your entire order. These are some of the softest and most reasonably priced seasonal tees I've seen. Make sure you poke around the website because they also offer baseball hats, totes, insulated cups, ornaments and more.
I shared this combination here. It packed beautifully and the pieces are both so versatile on their own, but adorable paired together.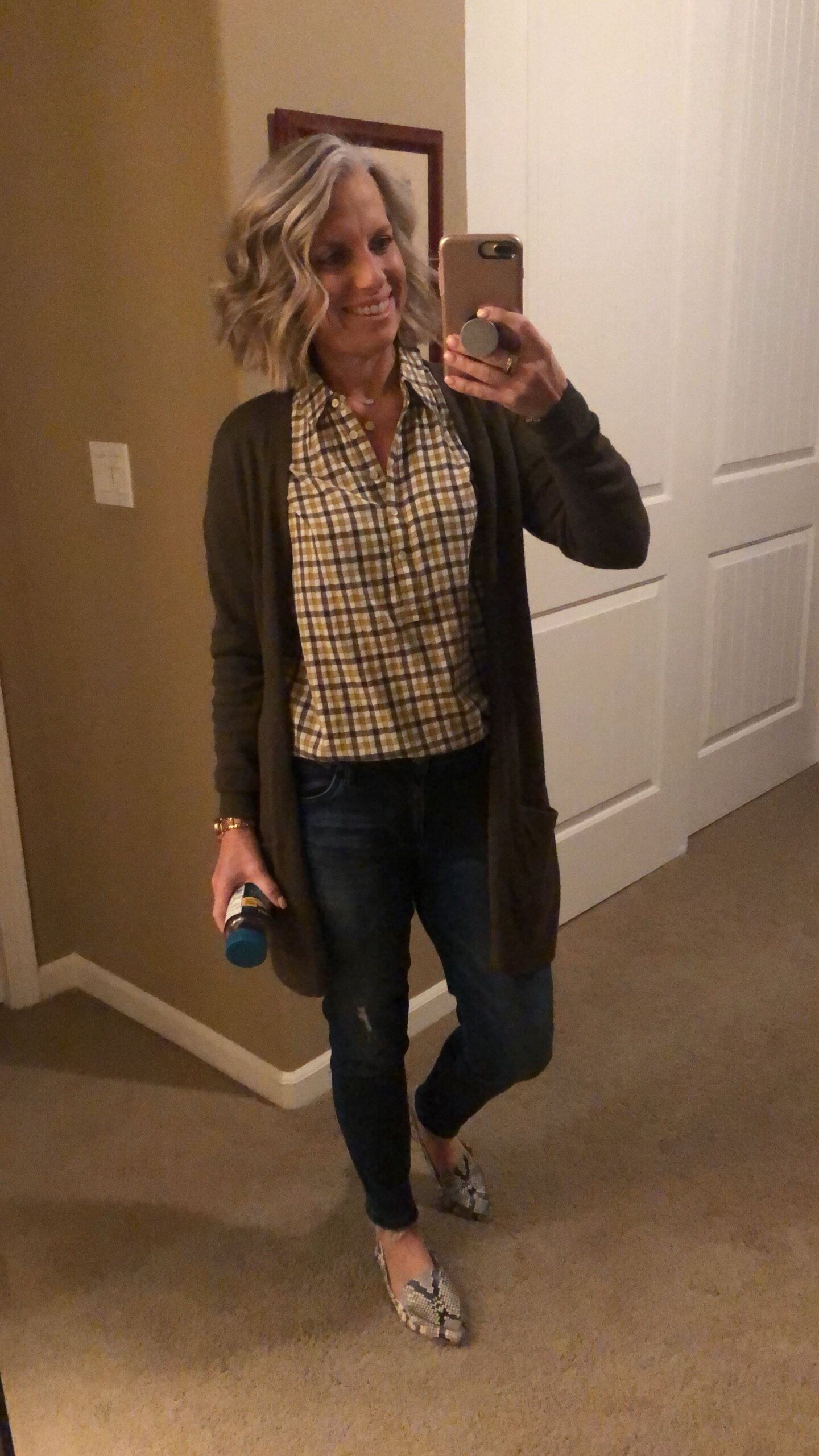 I ordered myself a little birthday present from Madewell. Do you do that? LOL I got a tote and this perfect fall plaid popover. (that's a lot of P's) You can expect to see a lot of this top in the future. (and yes, that's an empty bottle of Advil in my hand. HA!)
SHOP ALL THESE OUTFITS HERE [show_shopthepost_widget id="3772891″]
Now let's talk Rae Dunn!!
Can you even believe how much new Rae Dunn goodness is available? I am absolutely a smitten kitten with all the holiday cuteness. I know from past experience that this stuff won't last, so if you want a piece or two or three…add to cart NOW! The NAUGHTY/NICE plates work perfectly on tiered trays and you can break apart the set to share with your tray loving friends. Same goes for the mugs or bowls. Just click on the pictures below to grab your favorite pieces.
[show_boutique_widget id="879897″]
So there you have it. What I've been wearing lately and Rae Dunn holiday goodies. I hope you saw something you liked.
Never miss a post. Sign up to receive my posts by email by scrolling back up to the top and filling in the box on the left above my picture. I'd also love it if you'd follow me on Instagram. I share things on there that sometimes doesn't hit the blog and of course you don't want to miss my stories. ?