Are you a seasonal decorator? I am some what, but not full on for all seasons. I suspect once grandchildren come into play (ha, see what I did) I'll get a little more elaborate with decorating for all the holidays. In years past I've been a traditional fall hues kinda girl, but not this year. This year I'm changing up my fall decor. I decided to go with a more neutral pallet for the most part with a few pops of orange here and there. Somehow I feel like the whites and blues are a little more sophisticated. What say you?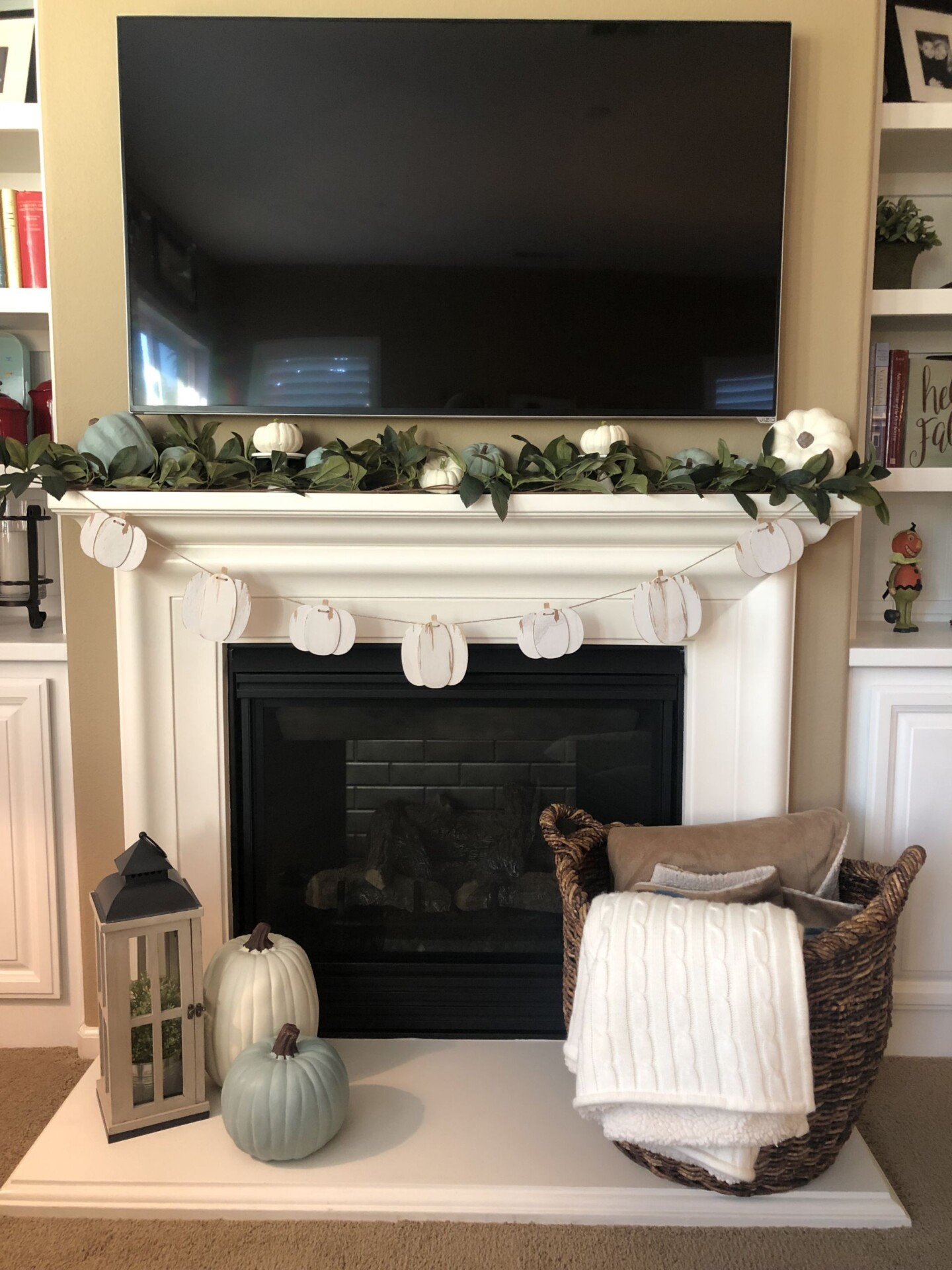 On the mantel I have this cute wooden pumpkin garland that came from the Target Dollar Spot for $3. I think it's just darling. Across the top I have some greenery with blue, blue/green and white pumpkins. The two larger pumpkins on the hearth are Funkins I got on clearance last year after Halloween.
Here's the deal. Not a single one of these pumpkins came in these colors, including the Funkins above. I painted them all. The two larger ones on the end are paper mache, and the smaller ones are a resin type material that were originally orange. I found those at Hobby Lobby. I used Annie Sloan Chalk paint in Old White and Duck Egg Blue, then threw in a few with Chateau Gray (which really comes off slightly green) You know from previous posts (here, here and here) that I am a huge fan of Annie Sloan chalk paint.
I waxed them with white wax to get the finish I wanted.
The "Hello Fall" sign is another DIY. It was a wooden sign I picked up on clearance somewhere, painted stain on it, used my Silhouette machine to cut the vinyl hello fall, put it on the block and then used [what else], Annie Sloan paints to paint over it. Then I just pulled off the vinyl and was left with the stain showing through.
Since I'm an October baby, friends would frequently gift me seasonal items as birthday gifts. My sweet friend Tracy gave me this pumpkin over 10 years ago, and every year when I bring it out, I think of her. #lovethat
This was another birthday gift from a dear friend. It's one of the few orange pieces I pulled out this year, but I love it and the memories it conjures up.
I ordered this pumpkin pillow early on from TJMaxx and adore it. I really love the way the blues and greens are so fresh looking.
An orange pumpkin that looks like it's been white washed is in the foyer. This pumpkin and a green one are from Hobby Lobby last year, but I did spy them there again this year.
I have a very fall feel wreath that yet again is a DIY from several years ago on the front door.
I've been wanting to buy some of the "fantasy" pumpkins for several years and finally did it this year. These came from Trader Joe's and I love the shapes and colors. In years past, sometimes I'll paint them after Thanksgiving to look like ornaments or a snowman. I just hate to throw them away when they're still good. #niftythrifty
I bought the buffalo plaid rug and a sisal rug for the porch, but the sizes were off, so I returned them. Womp-womp.
The other touches I did are my tiered trays that I already shared with you here, in case you missed that post.
So there you go. That's how I'm changing up my fall decor this year. Are you team traditional or team neutral?
SHOP FALL DECOR HERE
[show_shopthepost_widget id="3758874″]
[show_shopthepost_widget id="3758875″]
If you're new, please sign up to receive my posts by email. Just scroll back up to the top and fill in the box on the left above my picture. I'd also love it if you'd follow me on Instagram, Facebook, Pinterest and Twitter. Just click the little icons below or the links above and thanks a million!
Linking up with The Other Side of the Road & My Glittery Heart for Hello Monday.