Nothing makes me happier than finding pieces to add to my closet that I just know will be worn year after year. Let me introduce you to two pieces I just received and I'm already head over heals in love with. This is exactly what you can call the perfect year round outfit.
You might remember earlier this summer when I finally found the perfect jumpsuit…that wasn't really a jumpsuit. Well the pants that are a part of it are darn near perfect. The best part is that they come in various prints and solids. Even the color of the season, rust. What's better than a good pair of black pants? A good pair of black pants that are uber comfortable.
Every closet, and I do mean EVERY CLOSET should have some leopard in it. A leopard shell like this can be worn year round, and the best part is leopard seems to be absolutely timeless. It's been around for quite sometime and doesn't appear to be going anywhere, anytime soon. The cut of this top is also timeless. It's Vince Camuto and every season it's introduced in new prints and solids.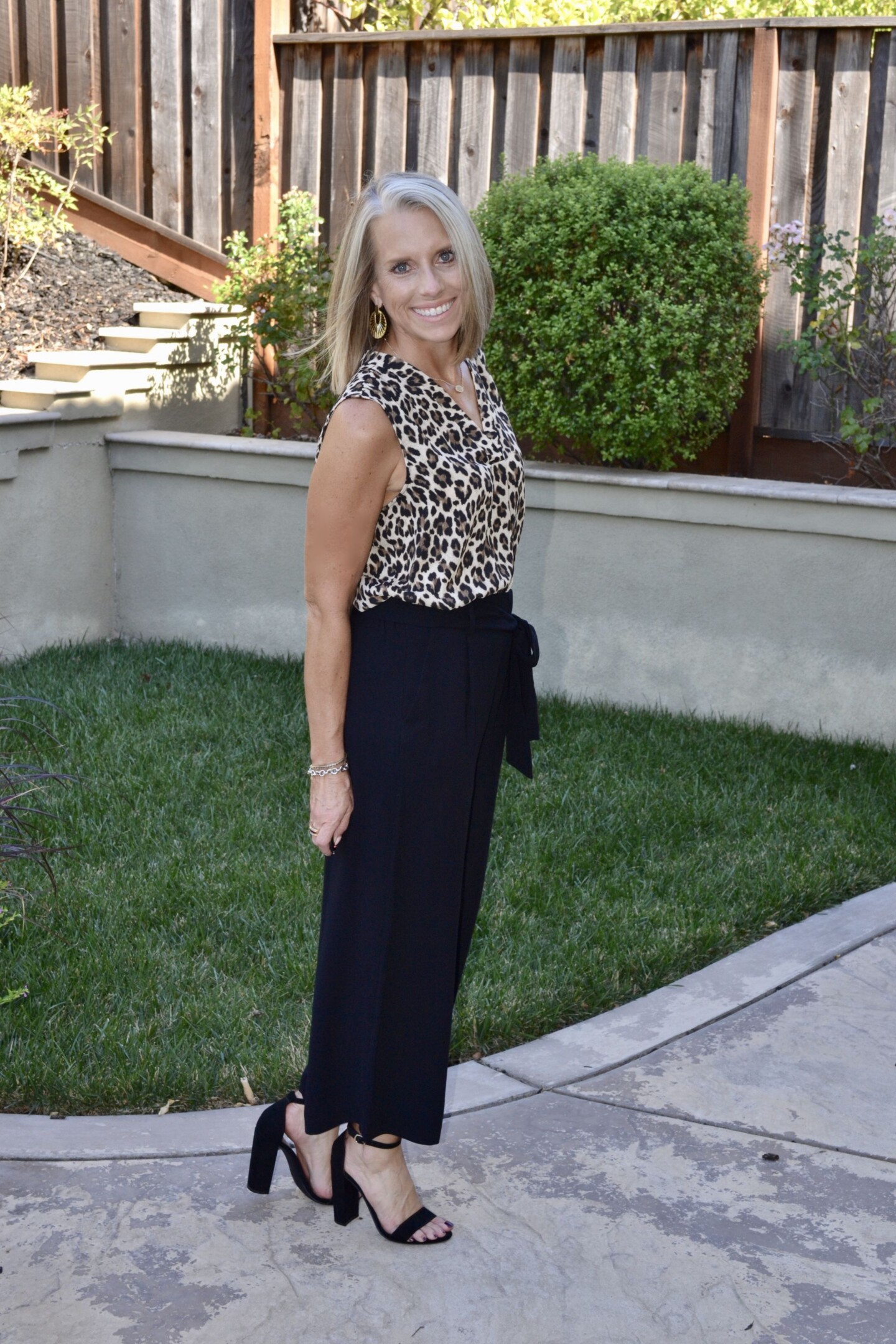 These wide leg pants, which are BTW very on trend in case you haven't picked up on that, will go with just about anything. Dress them up with something sparkly for the holidays or dress them down with a chambray shirt tied in a knot. You could even put a cute pair on snakeskin or leopard booties with them for winter.
This outfit would actually be the perfect outfit for a holiday party. That's kind of what I have in mind. Just add a blazer or pretty wrap and you're golden.
I added my newest statement earrings and a simple necklace to finish off the look. These earrings aren't nearly as heavy as you might expect. If you have issues with heavy earrings pulling on your earlobes, try an ear lobe support patch like these. Even though these aren't all that heavy, I'm going to order some just to be on the safe side for these and several other pairs of earrings I have.
Did I convince you this is the perfect year round outfit? I hope so?
SHOP THIS POST [show_shopthepost_widget id="3737356″]
My favorite from last weeks link-up was Fonda. If I looked as cute in that moto jacket as she did, I wouldn't have returned mine.
Are you ready to link up with the Style Six?
WELCOME TO OUR WEEKLY
STYLE SIX FASHION LINK-UP
Our Party Rules Are Simple
~Please Only Link Posts related to Fashion, Beauty or Shopping
~Please Link No More than 3 Posts
~ Please visit other Linkers and Show them your love
~We'd LOVE it if you followed all our Blogs and Socials
Listed Clockwise from our GRAPHIC
Chrissy from Granola & Grace
Andrea from Living in Cloud Nine
Shelly from The Queen In Between
Laura from The Horton Family
Kellyann from This Blonde's Shopping Bag