Wait! What?! It's already Wednesday? That's what happens in a four day week. HA! I'm guessing nobody will complain about a short work week. Our temps have finally started to rise a little and this girl is happy about that. I'm ready for all things summer, including cute and comfy dresses, like this great knit swing dress from Aventura that has POCKETS. What is it about us women that loves our pockets so dang much?
Before I move into the dress details, let me share a little bit about Aventura. Are you familiar with their site? They are a family owned company dating back to the 1950's. They believe in shopping sustainable, fair trade, helping our planet, and they also have a philanthropic mission to help fight hunger. What's not to love about a company that cares? More and more consumers are looking for companies who are taking an interest in bettering our world, and the world of our children. Aventura falls right in line with this.
A summer essential for most women is a good, easy to throw on, comfortable knit dress. You can dress it up with wedges or down with flat sandals or sneakers. They're great for hot days and even better for packing to take on vacations.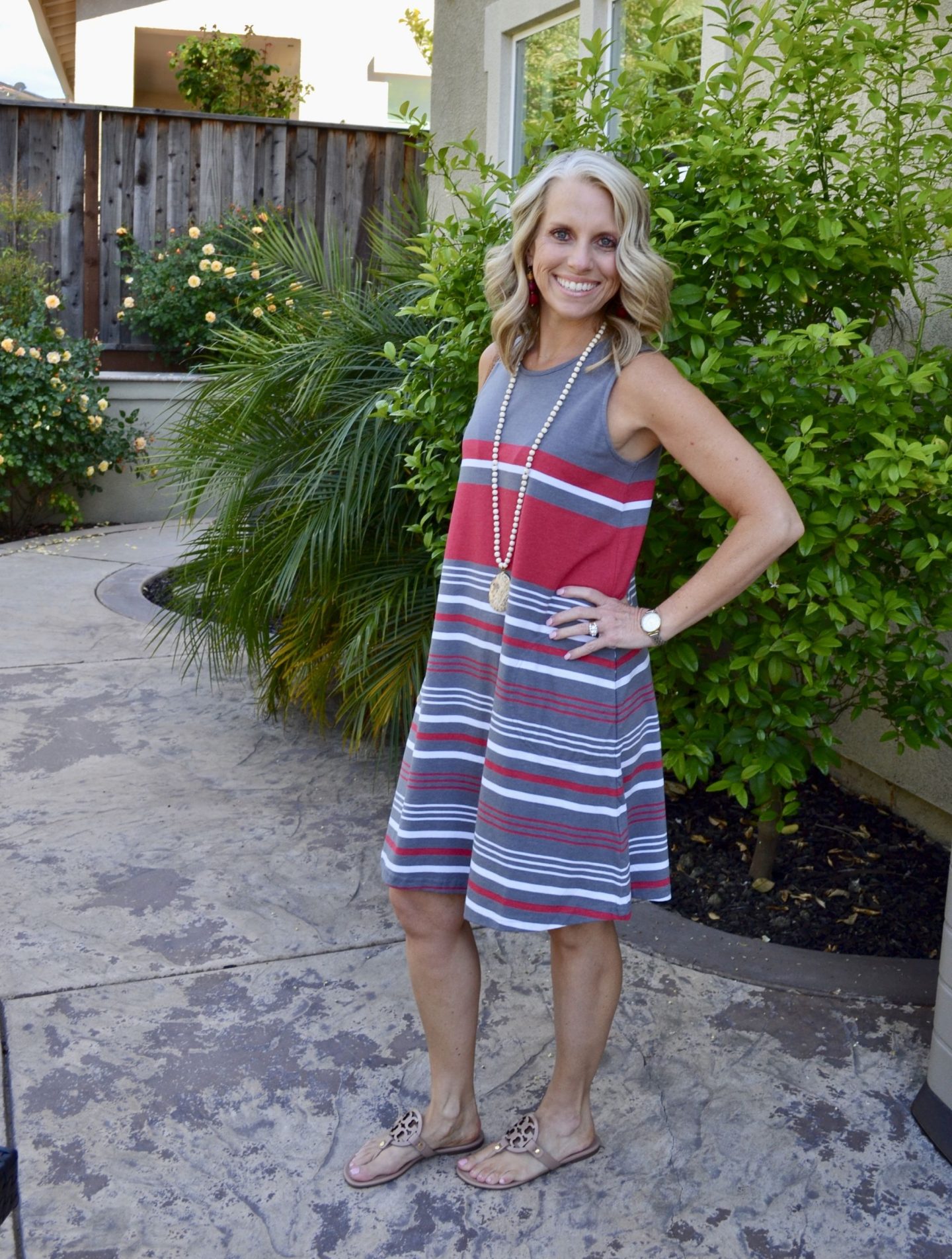 Knit dresses are pretty much a dime a dozen, and some of our favorite retailers carry a bunch that are dirt cheap. Y'all know who I'm talking about.? It's nice to have one that you won't see every time you turn around though. That's just one of things I adore about this striped tank dress. The quality is amazing and the fit is spot on. I'm in my normal small and it's perfect. One of my biggest pet peeves is stripes (or plaids) that don't match up on the sides (or even worse, front) seams. Check the sides of this dress. The stripes line up perfectly.
The hem is slightly curved which is another detail most of the dresses like this don't have and…wait for it…
How about the cute little cut out on the back! I love an extra somethin'-somethin' like that on a dress. So I have to give this knit swing dress with pockets 2 thumbs up. Don't be surprised if you see me wearing this a.lot.this.summer.