Happy Friday friends! Were you on spring break this week? The area we live in was. I liked it when spring break backed up to one side or the other of Easter, but since the people who make the school calendars didn't ask for my opinion, I guess it's just this way. HA! I am however in charge of this here blog and that means it's time for Friday Favorites.
First things first. Remember last week when I told y'all I'd ordered this tanning mist? Well I just want to report back in that I am LOVING it! Have you noticed I have a glow this week? ? I'm here to tell y'all that this is the perfect glow. Sunkissed perfection you might say. If you are ready to look like you've got some natural color, this is the product. #trustme #justorderit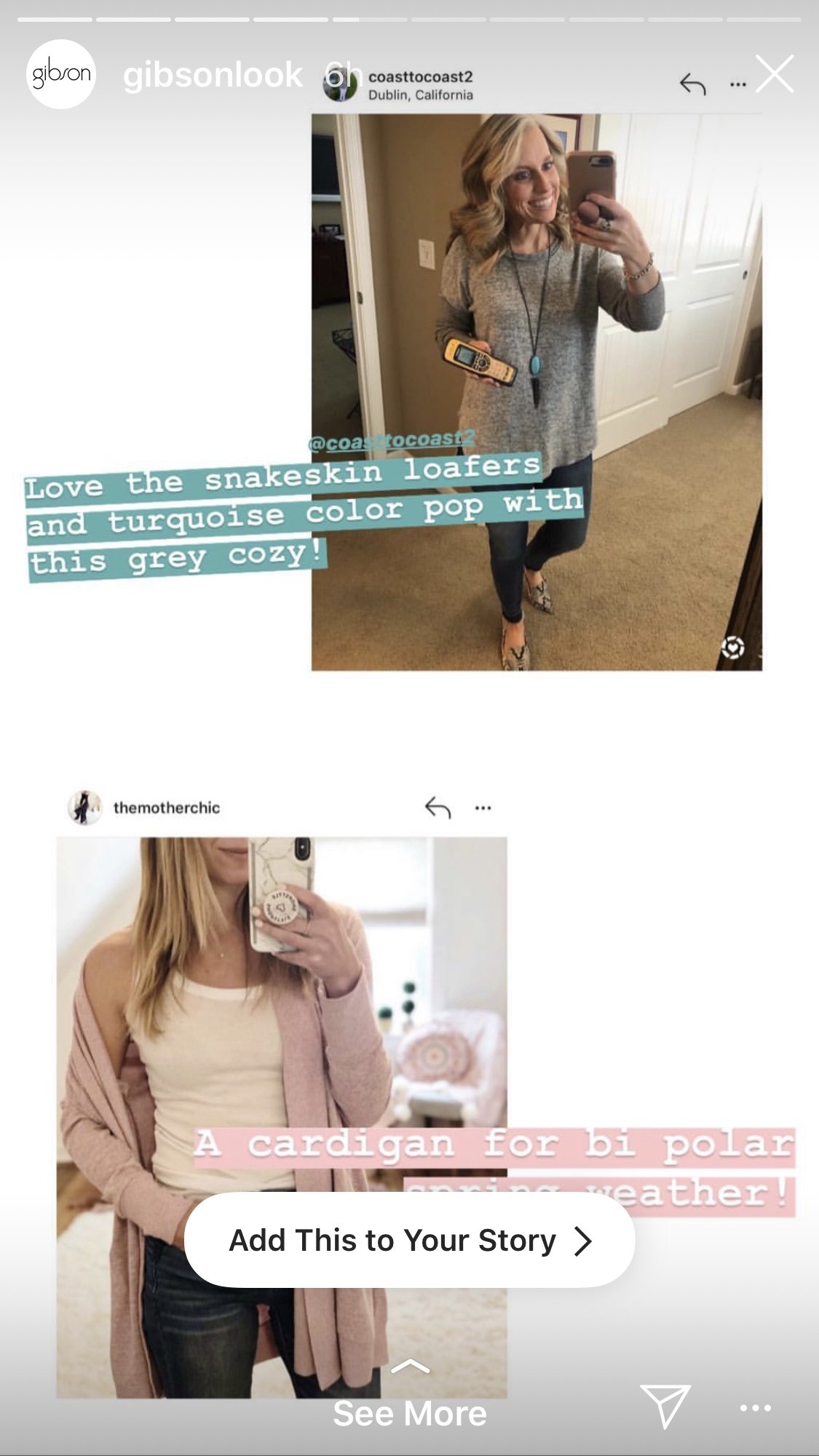 Imagine my surprise to find out I had been "tagged" by Gibson Look on their Instagram story this week. Say what? Little ol' me. I felt like a rockstar for a hot minute. LOL. #itsthelittlethings
Did you see Wednesday's post? I shared these amazing new leggings and this sweatshirt. I won't bore you with all the details again, but you can read about them here if you're curious.
I've seen this drink on Pinterest and my friend Kim shares it on her Instagram from time to time. I'd been curious, but slightly leery to try it. I figured it might be gross since this is a protein drink. You'll have to trust me when I tell you I was 100% wrong and this is now my new favorite treat. It's practically the perfect drink. It's an awesome dupe for a caramel macchiato or even a frappuccino. Loaded with protein, low(ish) calories and very few carbs. I've already had 2 this week and I feel like I'll have another one or two before the weekends done. #thankskim #yalltrythis (ask for a Doppio over ice in a venti cup. I suggest trying Ristretto shots…they're my fav)

Gingham and plaid aren't going away anytime soon. I ordered this cutie top last year and was so incredibly happy and surprised with the quality. The material is nice and thick and it it looks like it would cost a lot more than it does. It's still available and in even more colors choices. Shop for this outfit here. I've linked similar items for those no longer available. [show_shopthepost_widget id="3535346″]
I was cruising the clearance treasures at Target this week and found the cutest mugs. They always seem to have a great assortment and for really good prices. I got the Cozy Queen mug for myself and the Grumpy but gorgeous one for Katie. HAHAHA! Here are just some examples of what they have to offer. I had no idea that also carried so many team mugs. [show_shopthepost_widget id="3535356″]
Speaking of Target. I'm part of a group of bloggers on Instagram hosting a $1000 gift card giveaway. If you're not following me already…why not?? Click here and then look for the picture below and follow the instructions. Good luck!!!
Are you receiving my posts by email. Such an easy way to make sure you don't miss when a new post goes up. Just scroll back up to the top and put in your email address right above my profile picture. I also have a Facebook page where I post sale alerts and sale finds from time to time and I'm trying to be more diligent about frequency.
Have a wonderful weekend friends!!!