Happy Monday friends! How many times have you grabbed a shirt to put on only to find it has somehow developed a small hole? I can't tell you how many tee's I've ruined from holes in front right, at my waistband. I finally figured out they were coming from my shirts rubbing against the buttons on my jeans and the granite countertop in the kitchen. I found these button covers and I think I'm going to order them to #savetheshirts. UGH! So very frustrating.
Well I recently had a hole show up in a shirt I'd worn maybe twice on the shoulder. Thankfully I'd gotten a great deal on it, so I didn't feel quite as upset as I otherwise would have. I grew up in a house with a mom who was a jack of all trades, and thankfully I seemed to have picked up some of that.
Sometimes you can make a little repair and salvage the item. That's what I did this time. I thought some of you might like to know my method. It's super easy and pretty dog-on quick too.
Here's the hole on the shoulder of my shirt. How it got there, is beyond me. Maybe it was there when I got it? Who knows. All you need to fix it is some fusible we called Stitch Witchery and a small piece of black fabric. I actually used a piece of ribbon because that's what I happened to have.
This product is great just to have around in general. You can use it to fix holes, repair a hem, add trim to curtains or decorative items and probably find some other ways to use it too. A roll of it lasts forever.
Cut a piece of cloth (ribbon) a little larger than the area of the hole and a matching piece of the fusible web.
Flatten out the fabric and push (smoosh) the hole closed as much as possible. (it looks like there's a lump in mine, but I promise I flattened it out)
Put the fusible web over the hole and then lay the fabric or ribbon on top of that. Put a thin cloth (like an old t-shirt) over it and then iron on cotton setting for 15-30 seconds. Checking to see if it has fused together. Checking and continuing to iron until it's completely fused together.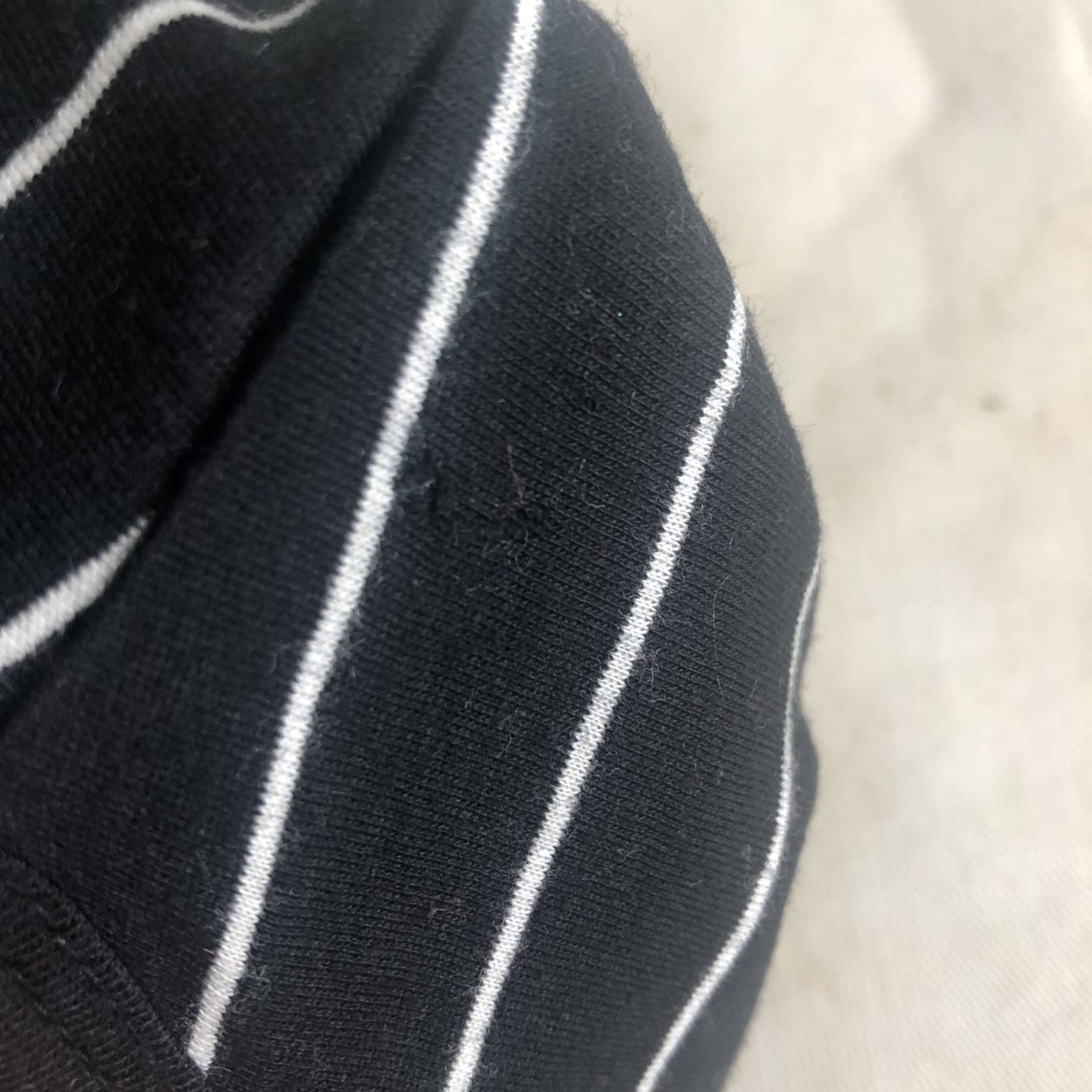 And there you go, all better. This method works best on dark fabrics, but can be used on thicker light colored fabrics. [show_shopthepost_widget id="3505244″]
I'm also joining my friend Laura for her Three Things prompt today.
1 – Luck! Well this is kind of funny. My husband has a saying, "it's better to be lucky than smart". Maybe that's true. It does seem some people are luckier than others, so I guess I do believe in luck.
2 – My favorite thing about yesterday? This may sound simple, and it is. My favorite thing about yesterday was just running around doing this and that with Kent. That was put into perspective for me last night when I was talking with a friend who goes to church with a family who will likely lose a child today. A college aged daughter who was involved in a car accident on her way home from school for spring break. She had a severe brain injury and they will probably have to make a decision to take her off of life support today. No parent should have to make that decision. We have lived through a very similar situation in our own family and it is literally the worst. Prayers for this girl, her family and the doctors taking care of her, and if you are a praying person, I'm sure they'd appreciate as many prayers as they can muster.
3 – I took this and put it on my Instagram story last night. I love it when the days are longer. I feel more productive. I'd be perfectly happy if it was daylight savings all the time.
Here's to a great week friends!!!!