Y'all want to hear something funny? Even though I'm a southern girl through and through, I never ate grits growing up. Say what? We just didn't have them, and I have no idea why. Occasionally I'd be at a function with cheese grits and they were just ehhh at best so I wasn't all that in to them.
Well call me crazy, but I saw a version of this recipe somewhere and for some reason I just had to try it. Can I just tell you we L-O-V-E it! I'm talking like it eat it almost every week love it. The best part is that if you happen to be following any kind of low carb diet, this will fit your macros. (I'm beginning to hate that work, BTW?) Are you ready?
This version of shrimp & "grits" has a secret. Can you guess what it is? Here's a little story that will clue you in. When Benny was in high school, he pretty much ate pizza, chicken (nuggets and other forms), burgers, waffles…you get the picture. Not at all diversified in the eating department. The boy did love a good twice baked potato. #whodoesnt I found a recipe on Pinterest for "twice baked cauliflower". Now do see where I'm going? I passed this off as potatoes for years, before clueing him in. LOL #momoftheyear He'd eat it, but maintained my regular twice baked potatoes were better. Insert all the laughing emojis right here.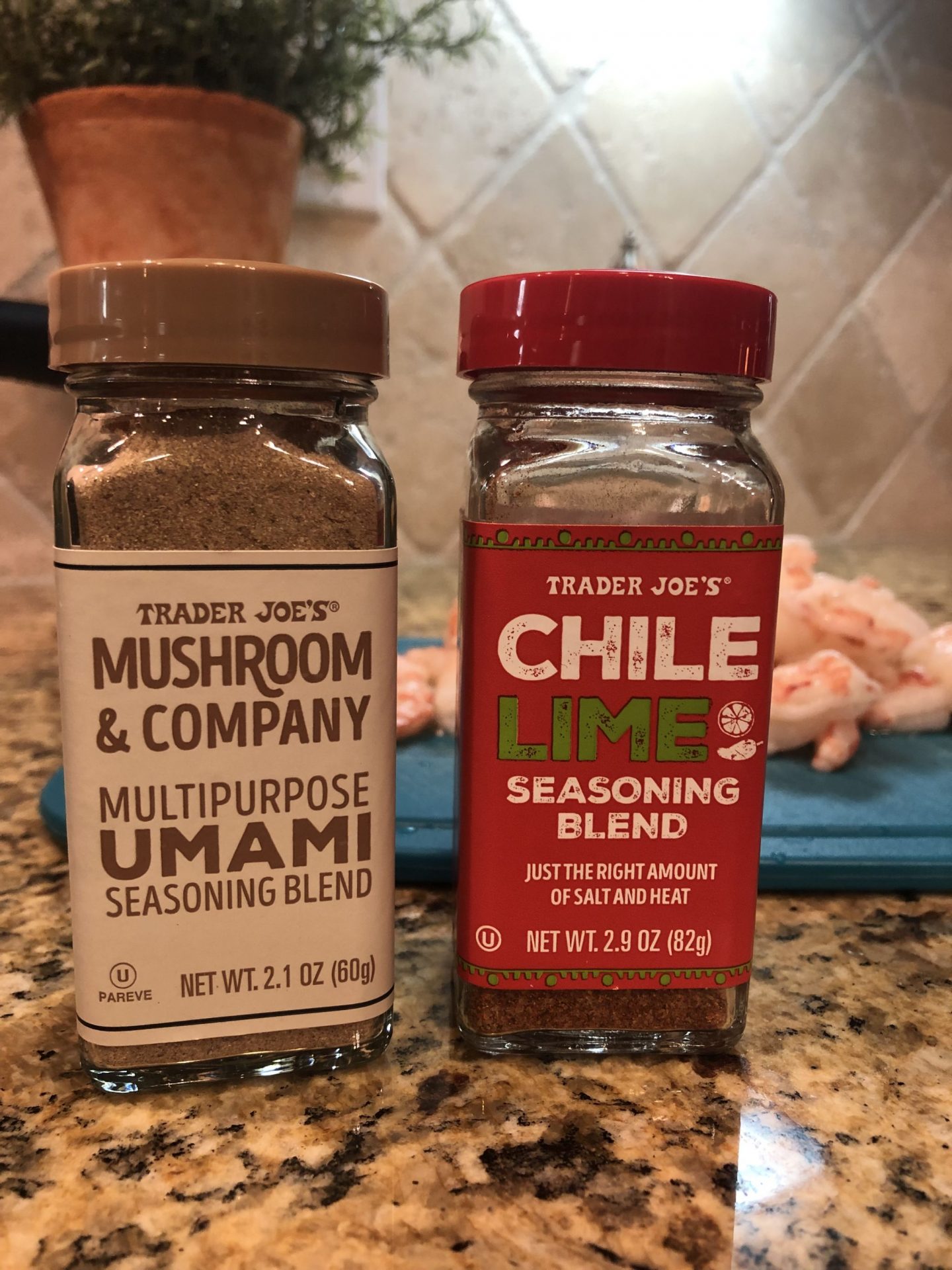 This is almost stupid easy. If you've been around here for more than a minute, you know I have a new boyfriend, his name is Trader Joe. HA! We get together about once a week and he gives me all the feels. ?
If you aren't already on the bandwagon, join me. If you aren't buying this chile lime sesasoning, GET IT! It is so good for so many things. I'll share another recipe soon I use it for.
So for our not so secret ingredient…cauliflower! Who knew??? Well let me just tell you I'm a 100% convert and we eat it all the time. I never make real rice anymore, we use cauliflower rice, and I've been singing the praises of this cauliflower soup that is the best dupe for potato soup. #rhymemaster Enter mashed cauliflower. The best dupe for grits.
The mashed cauliflower comes in "nuggets". You just throw them in a pan with 1- 2 tablespoons of water and let them "melt" down into a creamy consistency. You could leave them alone and eat them just like that, but that's not how I roll. I add 1/4 – 1/2 container of Boursin cheese. Y'all! Sooo good.
Now for the shrimp. You can use whatever your favorite happens to be, but I'd heard several people on Instagram talking about the Agrentinian Shrimp at TJ's and that they are better than your run of the mill shrimp. Some people equate them lobster and I'd have to say they do remind me of it. I thaw them in some water (I know…that's probably not the correct way, but my kitchen, my rules?) Cut them in half and cook them in a cast iron skillet with a very small amount of coconut oil, and add plenty of chile lime seasoning. The seasoning makes a little bit of a sauce as the shrimp cooks. (Note: if you want a little more sauce, remove the shrimp, add a little water and more seasoning and let it cook down for a minute or so.)
You can stop here, but I like to add a vegetable to the mix. I keep these green beans from TJ's in my freezer all the time. They are the perfect, easy side. I added a small amount of coconut oil and some of the TJ's Umami seasoning this time. It's slightly salty and has an "earthy" taste. Not bad.
You can pull this together in 15 minutes, easily and it'll seem like you spent hours or at least longer than 15 minutes. wink-wink
Make sure if you haven't already entered the Smile Brilliant giveaway to do so. Today is the last day! Click HERE.