Happy Monday sweet friends! Today I have a jumpsuit and my Easter tiered trays to share with you, both of which make me happy and that's good since we are in full on let down mode. The kids left yesterday and it's back to life in a quiet house. Thankfully we'll be heading to Nashville the end of next month to celebrate Benny's birthday and watch him run his first marathon (on his birthday). That makes the sting of sending Katie and Luke back just a little less painful. Having grown kids is so fun, but I do miss the days of having them around all the time.
Before we get to the rest of the post, thank y'all for entering the Smile Brilliant giveaway. I wanted to announce who the winner is….Erin Richardson. Yes, she does have the same last name as me and yes, she does just so happen to be my daughter-in-law. I promise, the winner was picked by the people at Smile Brilliant and I'm just thrilled she won it and so is she. Crazy, but true.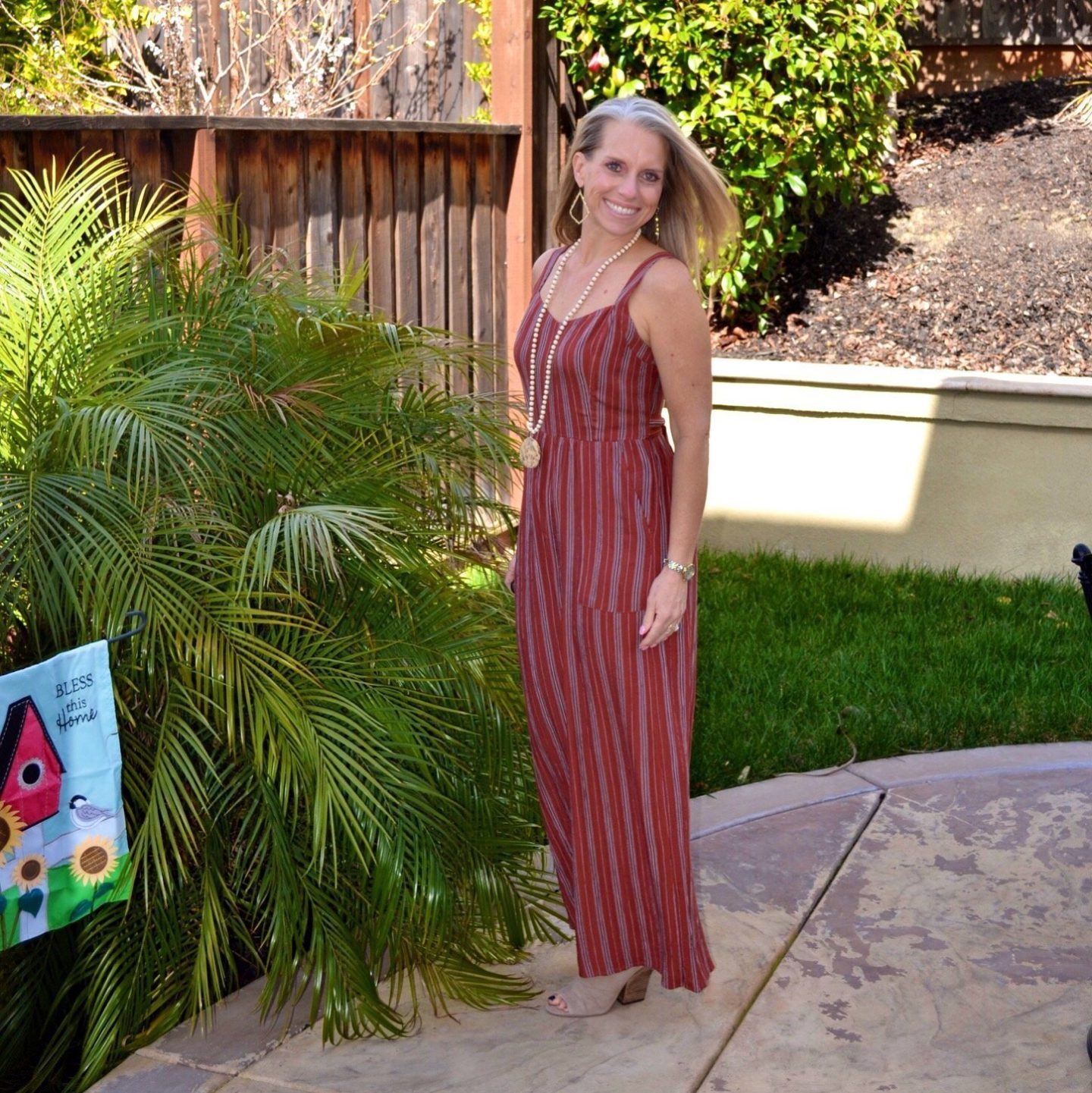 Can you say windy? We've been having a lot of that and rain making it really hard to get pictures. It was also cold the day I took these, so I should get bonus points for that. HA!
I've been on the hunt for the perfect jumpsuit for sometime now and I'm still looking. This one is cute and I do really like it, but it wasn't "the one". I did want to share it with you though, because who knows…it might be just what you're looking for and it's 50% off.
There are lots of things to love about this jumpsuit, starting with pockets. I'm not sure what it is about us girls, but we love our pockets. It also has adjustable straps which can make or break a jumpsuit. So as I'm typing this I wondering why am I not head over heels in love with this baby?
Of course I had to try it with one of my favorite transition pieces, my denim jacket. This one is made by KUT and is such a great fabric. Very soft, stretchy and lightweight. It's available in a light denim or a darker version.
Marc Fisher Sandals

AC Stone Pendant

KS Earrings
An outfit is only as good as it's accessories, am I right? These strappy block heel sandals (on sale and well stocked) would be darling, I can't tell you how much I wear my stone pendant necklace and of course my Kendra Scott earrings. Each of these pieces are totally worth investing in. I'm always hesitant when getting ready to add a piece, but I can promise you, you will wear these over and over and over.
SHOP THIS OUTFIT HERE[show_shopthepost_widget id="3520123″]
Now let's talk tiered trays. I am obsessed with mine and having the best time switching them out seasonally. The good news is that after the initial investment and a year of seasonal changes, you are good to go. These trays make such a cute statement. I actually have two and I'm considering a third. You don't have to look very far for ideas or inspiration either because they are all over blogland and Pinterest. Check my Tiered Tray Board if you need ideas.
Are those sweet little bunnies the cutest or what? I got the last set they had at our Michael's.Andrea told me about them. She has a love for tiered trays that rivals mine and our group of girls from our Nashville trip are always sharing and comparing our tiered trays all decked out. The cupcake stands are from Hobby Lobby and I had to go to two to find all 3 colors, but it was definitely worth the extra effort.
So here's my wooden tray from all sides. So much cute stuff, and the good news is that all of these little finds are rather inexpensive. For tips and tricks on getting started, check this post and I have a video saved in my highlights on Instagram.
My wood tray is now available in white and black too.
My other tray is a metal tray with three tiers. I love them both and I'm not sure which is my favorite.
Speaking of my Nashville girls…which is super misleading. I now have two groups of Nashville girls. The ones who live there and my blogging buddies I met up with there. A few of us are doing a blog hop sharing our tiered trays today, so be sure to check out Laura, Andrea, and Shelly's all dolled up for spring.
If you want to get in on the action, here are so many fun things all rounded up to make it super easy for you.[show_boutique_widget id="817034″]