Are you ready for another look from Eva Trends? I've got another sweater to share with you today. You may be wondering if sweaters are the only things they carry, but the answer to that is no. They also carry dresses, pants, tops and other fashion items. I just happen to be drawn to the sweaters. Y'all have probably figured out I have some what of a thing for cute sweaters. When I was picking out my items for the collaboration I didn't know what the quality would be, but when they arrived, I was so pleasantly surprised to see that they were made of really nice, thick knits. I mean, like really nice.
This tartan knit scarf cardigan is made of the same kind of fabric as the red one I shared with you last week. It's thick, soft and has a great amount of stretch. Eva Trends has given me the code LR15 to share with y'all for 15% off your entire order and it can be used multiple times.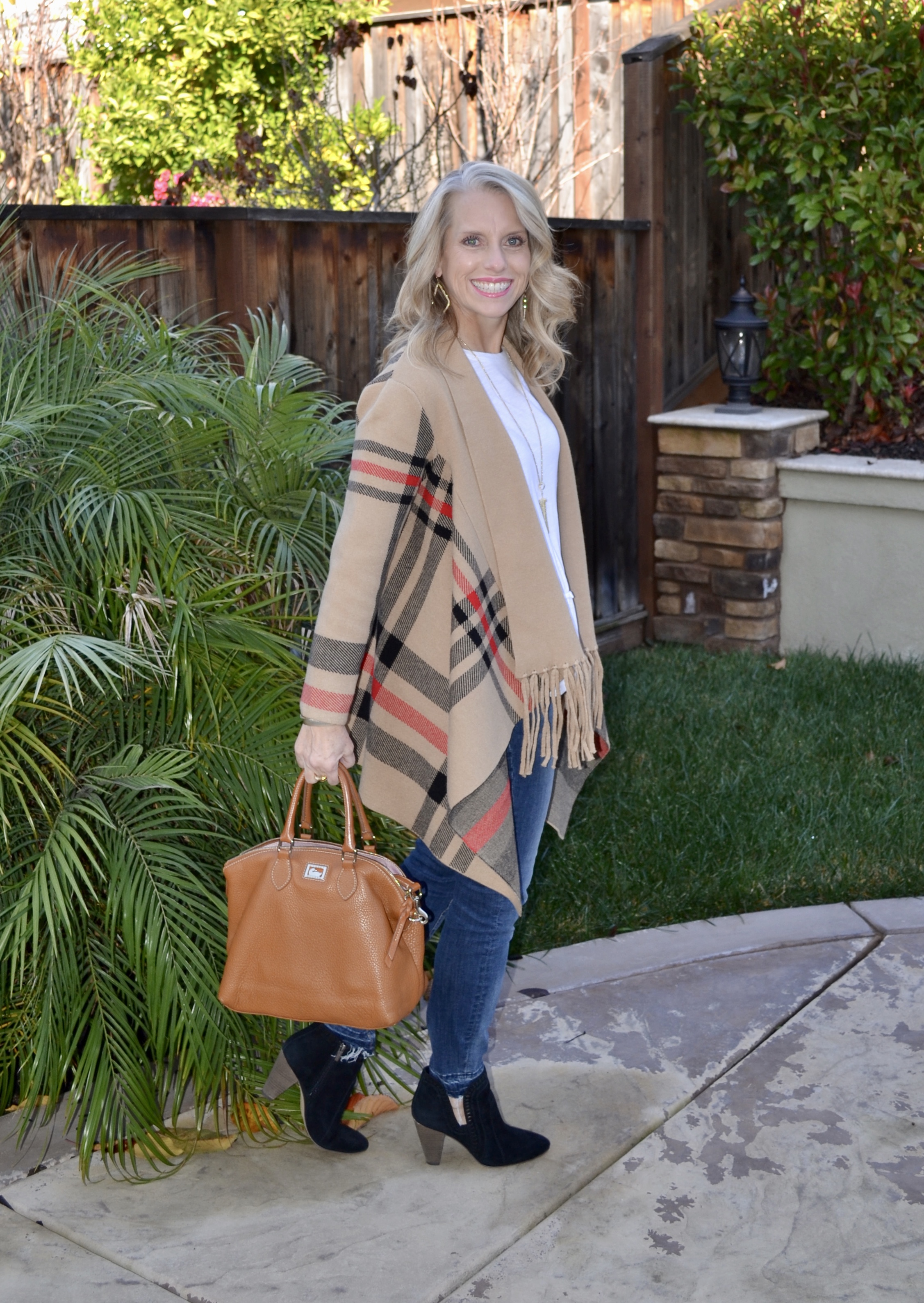 The pattern on this sweater is a great look-a-like for  a well-known, pricey brand. I am loving the camel color this winter, but add red and black and well, it just got 3 times better. I've already worn it several times and received compliments on it.
This is a sweater that is super versatile. I'm showing it with jeans and two different tops, but I've also tried it with a black dress and it looks equally as good, especially when paired with boots. I wore it over the weekend to Kent's Christmas office party over a  column of black pants and a black turtleneck, the same black turtleneck I'm wearing in this picture. Gina shared this turtleneck and I decided to give it a try, and I'm glad I did. It's a really great layering piece.
Amazingly, these booties are still in stock. I ordered them back in the summer during the big Nordstrom  sale, and finally got to start wearing them last month. The heel is a little over 3″, and for me that's the perfect height. High enough to be a heel, but not so high that you can't wear them and do quite a bit of walking. They are on sale for 45% off and that makes them a super deal. I love the way they dip down on the outside showing a little skin and lengthening the side of the leg, but you can still wear a little, low-cut sock liner without it showing. They can also be worn with or without tights and a dress or skirt for a cute look. When I'm going for a dressier look with my Spanx Faux Leather leggings, these are the shoes I grab. P.S. Spanx now has a velvet pair of leggings and honestly, it they'd had those first, I might have been tempted to try them instead of the faux leather. I guess there's no law that says I can't have both. wink, wink.
My leopard tote looks like it was made to go with this sweater. I can't begin to tell you how much I love this bag. Not only is it the perfect leopard print, the size is amazing, especially for travel. I can put my computer, planner, jewelry tote and glasses case with all my techy supplies in it. Check out this post to read about how I carry my cords and charger plugs.
Don't forget about the code for 15% off your order at Eva Trends that can be used multiple times. Their website is HUGE so take some time perusing it with good cup of coffee. You're bound to find something you like, and the prices are reasonable too.
[show_shopthepost_widget id="3400388″]