I love getting to sneak a peek in other people's houses all decorated for Christmas. Heck, who am I kidding, I like a peak inside anytime. I often wish I could walk into my own house and see it how others see it. Wouldn't that be cool?
There's something special about Christmas decorations and the way they transform a home from everyday living to Christmas cozy. Today I'm sharing our home and the Christmas touches around it.
Once upon a time the main colors associated with Christmas were red, white and green, but these days, there are themes a plenty. This year I personally have fallen hard for black and red buffalo plaid, and I've added it to my tree, garlands and touches here and there. I'm not alone either. Buffalo plaid is everywhere in home decor.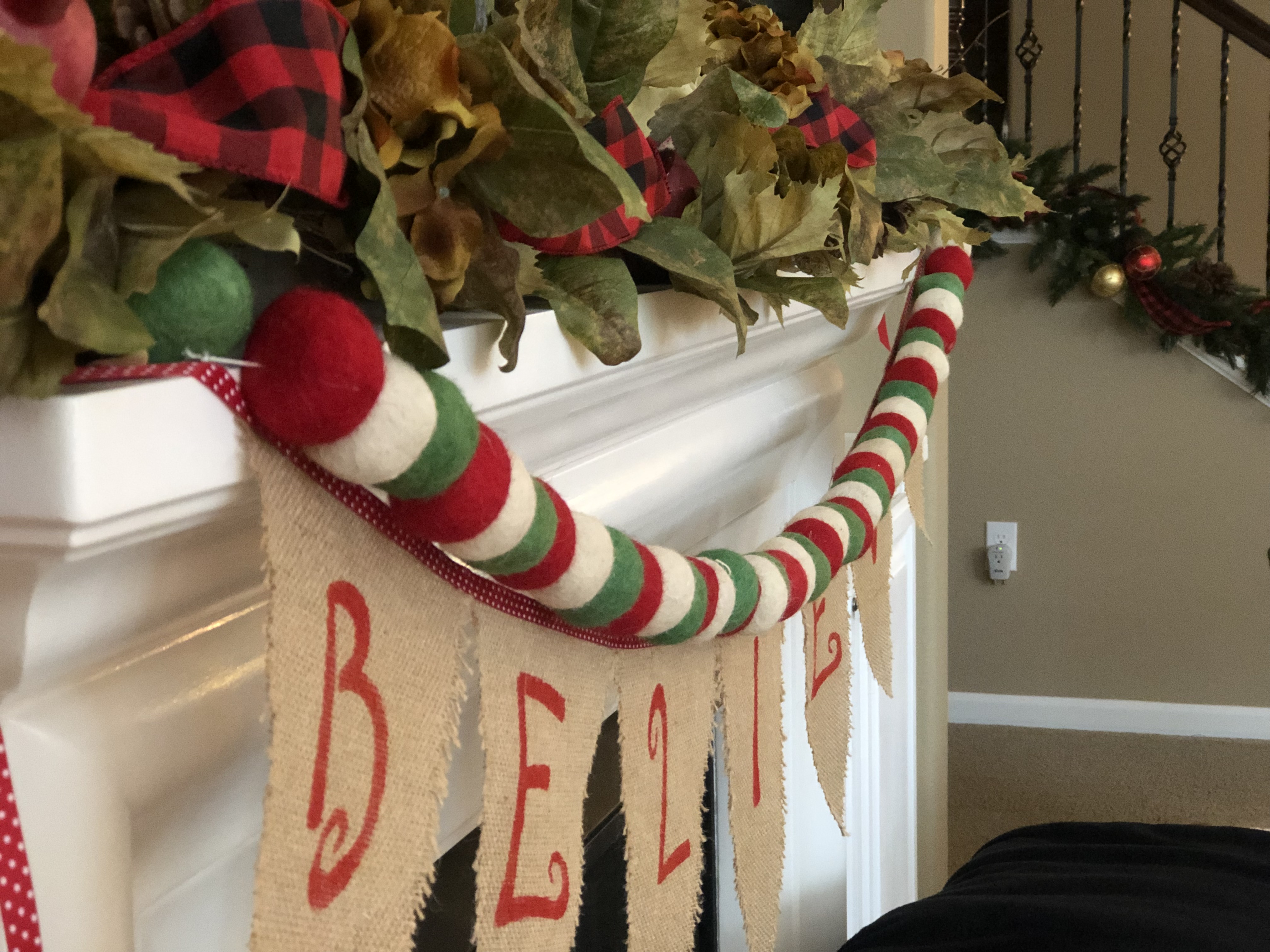 I made the BELIEVE bunting a few years ago. I love these buntings and have them for several seasons. They are super easy to make and I have a tutorial here if you are interested in making one for yourself.
The large felt ball garland is new this year. I found it when Home Goods was starting to put out the Christmas things and snatched it right up. I love it! There are a couple of different versions ON SALE at TJMaxx online right now, and Amazon has some too. You can order them here??[show_shopthepost_widget id="3404794″]
I took poster board and covered it with wrapping paper as a backdrop for our bookcases. It makes a them just that much more festive.
I have a collection of these Santa's (thanks to my mom?) and I love them for several reasons. They're cute, and they make me think of home.❤️They are displayed throughout the bookcases. [show_shopthepost_widget id="3404805″]
It took me a sweet FOR-EVER to find the Christmas dishes of my dreams, but about 10 years ago I finally did. They are made by Lenox and no longer available. Insert sad face here. There are a lot of cute Christmas dishes out there though. I just saw some at Williams Sonoma yesterday that were super cute. [show_shopthepost_widget id="3404843″]
And you know my love for my new tiered tray is serious. To say I absolutely adore it is an understatement. I have a wooden one and a metal one and they are both decked out. I will tell you, the earlier you shop the easier it is to find fun things for them. I was in Hobby Lobby yesterday and the ginormous Christmas section they've had since the 4th of July is down to just a few rows. I mean, just since last week it's been cut in half, and it was already considerably smaller then. [show_shopthepost_widget id="3404975″]
Here's the metal one (but full disclosure, I moved it so I could take a pic without all the dinner shenanigans in the picture.)
You'll notice our Elf Gretchen has made this her new home. Just like me, Gretchen loves her chocolates and her Barrington tote. She's ready to go when ever duty calls. Thanks to Carrie's inspiration, I found a few tobacco baskets left at Hobby Lobby yesterday to add to my tray. They are so cute. I had to dig for them, but persistence pays off.
I have a large collection of Department 56 village pieces from the North Pole collection. This is something else I have my mom to thank for. She would give me a piece or two every year after we got married for Christmas. When we lived in Richmond I had the perfect corner in the living room where I would put up a three-tiered table my dad had made. It was beautiful. In this home I don't have a good place for the table, so I display a very abbreviated version. [show_shopthepost_widget id="3404986″]
And can I just tell you I'm smitten with all the buffalo plaid?! Last year I only had it in wrapping paper form, but this year I added ribbon…lots of ribbon. There are so many fun ways to incorporate it into your home and without making it feel too "country". Our house has more of a traditional feel, but used the right way, anyone can likely add some touches of these fun print. I really kind of wanted the black and white, but was having a hard time finding it (for a reasonable price, remember who you're dealing with here), but I was able to score this red and black as soon as our friends at Hobby Lobby put it out. [show_shopthepost_widget id="3405373″]
We are excited that we got to add another stocking to the railing this year. I was thinking about getting all new stockings, but Benny (who is averse to change) wanted to keep the old ones. That actually kind of made my mama heart happy.❤️[show_shopthepost_widget id="3404999″]
I gave in three years ago and bought a pre-lit tree. Oh how I love a real Frasier Fur tree, but putting over 1000 lights on a tree (by myself) took for-ever. With traveling every other year for Christmas, a pre-lit is the easiest solution and I gotta' tell you, I haven't looked back for a split second. I just burn a Bath & Body Works Fresh Balsam candle frequently and ba-da-bing, ba-da-boom, the house smells like a real tree. YASSS!
I use a large punch bowl to display ornaments on our dining room table with greenery. There's a greenhouse in Minneapolis called Bachman's that has beautiful faux greenery, and I got a great deal on some after Christmas one year. Yay me!
I think I should dedicate this post to my mom. When we were growing up she had a set of Byers Carolers and I always loved them. One year for Christmas that's what I asked for, so we went together to a specialty store in Richmond that carried them, and I picked out a set to match our family. A blonde mom and little girl and dark headed dad and little boy. Yet another set of things that I love to pull out at Christmas and bring back lots of warm memories. [show_shopthepost_widget id="3405016″]
Eventually I'm going to get a post done on Christmas cards. What do you do with all those beautiful cards once Christmas is over? I think I found this idea on none other than Pinterest, about putting them on rings and making a "flip book" out of them. I've got two done and another 2 stacks that I need to do. They are so fun to go back and look at and compare how families have changed.
And last but not least is this little snow globe. Would you believe my mom gave it to us. LOL. I think it was the first Christmas we were married, and it's been on display every Christmas for 26 years. I wonder if she knew when she bought it, what it would mean and how special it would be. My house might be naked if it wasn't for my mom. THANKS MOM!!!!
I hope you enjoyed this little look into our home and the decorations. I can't believe in two weeks, Christmas will be over and the countdown will be on once again. For now, I'm going to try to make the most of the next two weeks and enjoy it as much as possible…starting today by picking my girl up from the airport before lunch. Big smiles all around!!!