Happy Hump Day friends! Can I get a big ol' hallelujah that the elections are over for a while. ?? I hope you voted and made your voice heard. I did, and even better I walked to our voting place and then took the long way home, so I exercised not only my right to vote, but I just flat-out exercised. Two for the price of one.
Remember last week when I did this post, Work to Play Outfit – Part 1? Well today is part 2.
Two of the pieces in this outfit are fashion super heroes, this black and white dotted blouse and the camel cardigan.  I'm already finding myself having to hold back on wearing them repeatedly. Sometimes you have no idea just what you've gotten a hold of until you do. HA! This outfit was perfect for work or church, but watch what happens when I change out the pants and shoes and add one of my all time favorite bags.
Ta-dah! The perfect casual outfit is born. Y'all know how I feel about print mixing, and mixing my leopard bag with the dotted blouse wasn't rocket science, it just made good sense, and I loved the outcome.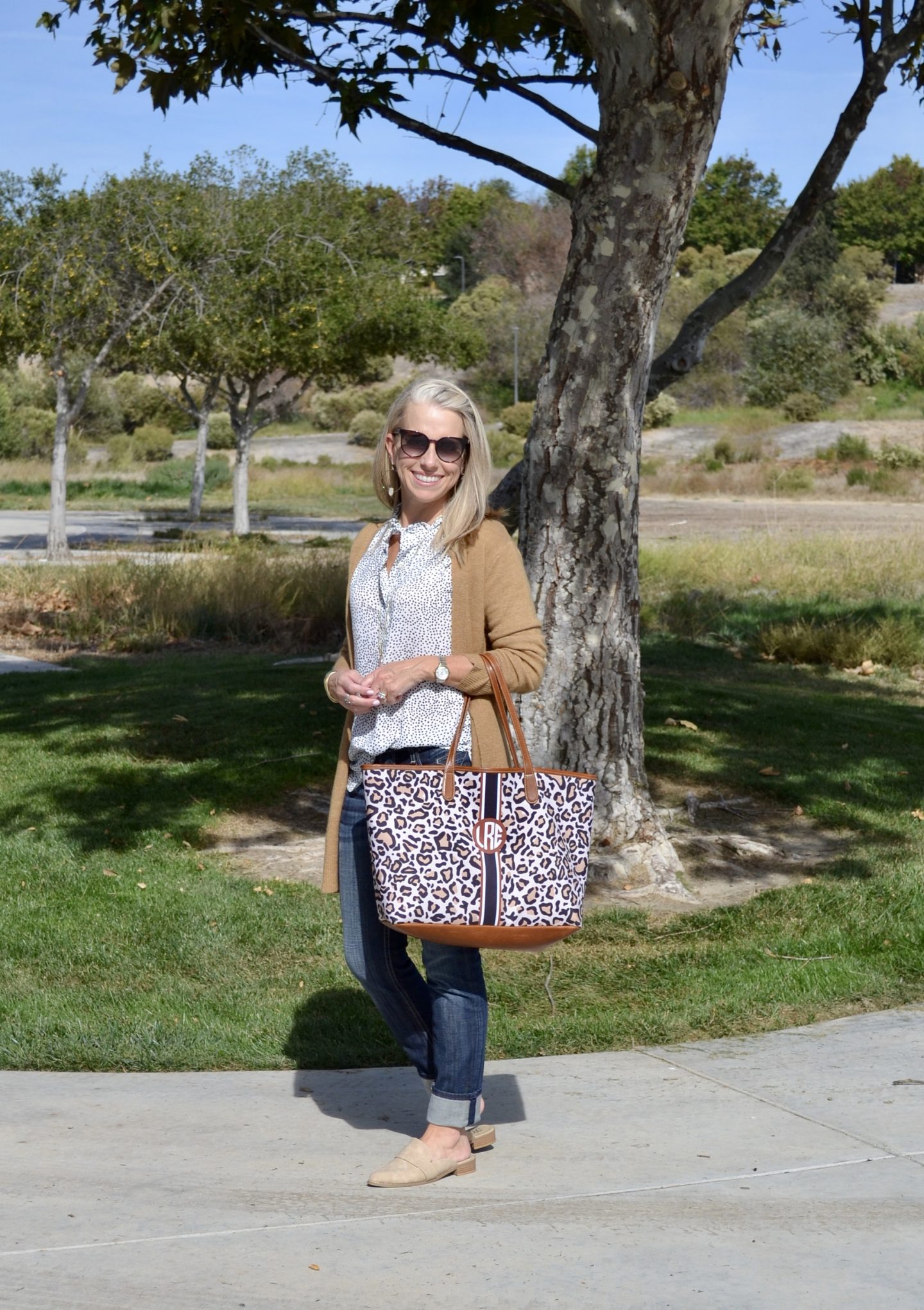 Taking a run at the straight leg jean trend, I pulled these out and gave them a substantial cuff and gotta' say I really liked it.[show_shopthepost_widget id="3337896″]
One of my favorite things about where we live is being able to pretty much wear whatever kind of shoes I want most of the time. Spending 3 winters in Minnesota was very limiting in the footwear department and now that the cuffs are off, so to speak, I love wearing a variety of shoes year round.
A good pair of mules are a closet essential and there are so many great options out there. [show_shopthepost_widget id="3337864″]
If you only buy one sweater this season, you might want to make it this camel cardigan. I am finding myself wearing it a couple times a week, and it's not even cold here yet. I like it so much I also got it in black and a pinky-purpley color. The material is soft, and the cut is perfect. The length is just right on my 5'3″ frame and it's not boxy like so many cardigans this season.
Basically, these pieces are good basics. How's that for redundant? Every closet needs them and when you find some you love, buy multiples. That may go against everything you believe in, but I'm a fan of finding what I know I like, and making it work for me.
SHOP THIS LOOK[show_shopthepost_widget id="3337892″]