Are you still wearing your white jeans? Contrary to popular belief in the past, it's really okay to wear them after Labor Day. I promise. You aren't going to get a ticket or be kicked out of the once a southern girl, always a souther girl club. In fact I think even the girls in the deep south are coming around to the newfangled (Did you know that's one word? I didn't. LOL) way of thinking.
I'm trying to remember to reset my brain, and if you are a mid-lifer then you know that's an exercise in itself. LOL I want to make use of my white jeans for more than 3 months out of the year and show them a little love year round. Let's just say I'm liberating them.
Now let's get to the real headliner here. Plaid. Plaid is the star of the show. I am crazy for plaid. I'm also crazy for stripes and if you want to really get me going, throw some leopard in for good measure. Most days if you look hard enough, you'll find me sporting leopard somewhere in my outfit.
Here's an example of wearing my white jeans well after Labor Day with two of my all time favorite prints. I mean really, plaid just comes back year after year. I love a dependable print with staying power that plays well with others. If you aren't mixing plaid with leopard, you are missing out.
PLAID SHIRT || PLUS SIZE || SWEATER || JEANS || LEOPARD FLATS || LEOPARD BELT || CROSSBODY BAG
NECKLACE || EARRINGS || BRALETTE
Another option would be to throw a striped tee on under this plaid shirt or wear the plaid tied around your waist. I remember a few years ago when I first started mixing prints I felt so weird and now it's so mainstream and I do it so often I don't give it a second thought.
Do you recognize this sweater? It's the same one as the camel one I shared here and here.
This is a look that is also sheer perfection for the approaching holidays season. The red plaid makes it festive and this would be a great option for Thanksgiving, a girls lunch, casual date night or casual Friday at work just to name a few.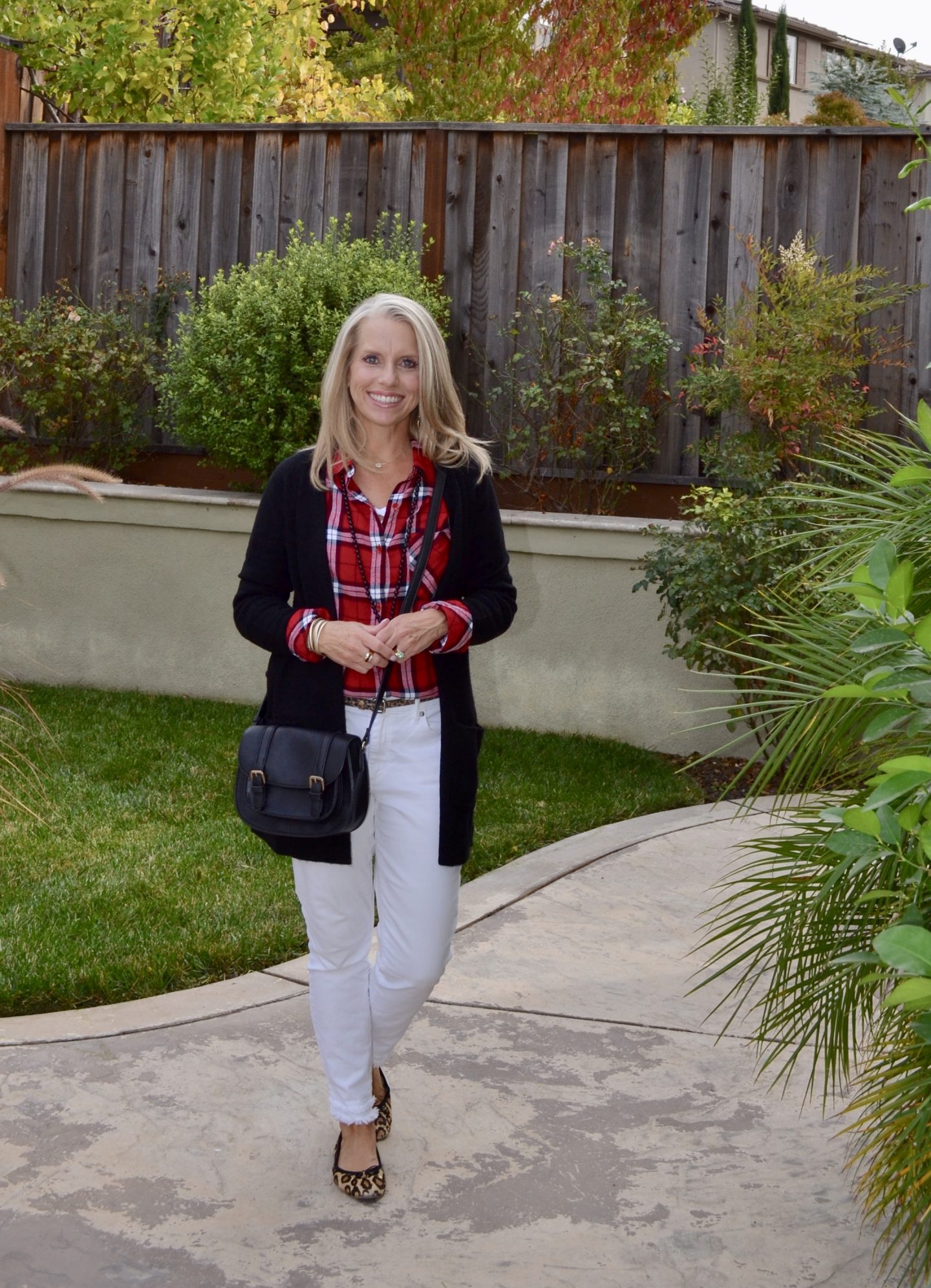 This is pretty much the outfit formula for one of my every day looks and it's so easy to recreate. I bet you've got some version of all these pieces hanging in your closet right now. Sometimes we just need a little inspiration to mix things up.
SHOP THE POST[show_shopthepost_widget id="3347947″]
PLAID SHIRT OPTIONS[show_boutique_widget id="768340″]