So you may be wondering just what is the Sephora VIB Sale? Well if you are a frequent Sephora shopper than you are most likely familiar with this sale, but if you are new to Sephora or an occasional shopper you might not know what this is all about or that it's even a "thing".
Sephora has a rewards program called Beauty Insider and the rewards are tier based according to your spending. Sephora's VIB sale is opened in phases to it's shoppers with Rouge members getting to shop first and receive the best discount, followed by the VIB level and then the Insiders. The sale runs for 3 consecutive weekends in November. This past weekend was the sale for Rouge members, next weekend Nov. 9-12 is for the VIB's and then it will be open for the Insiders, Nov.16-19.
Here are the levels and perks that come with each one.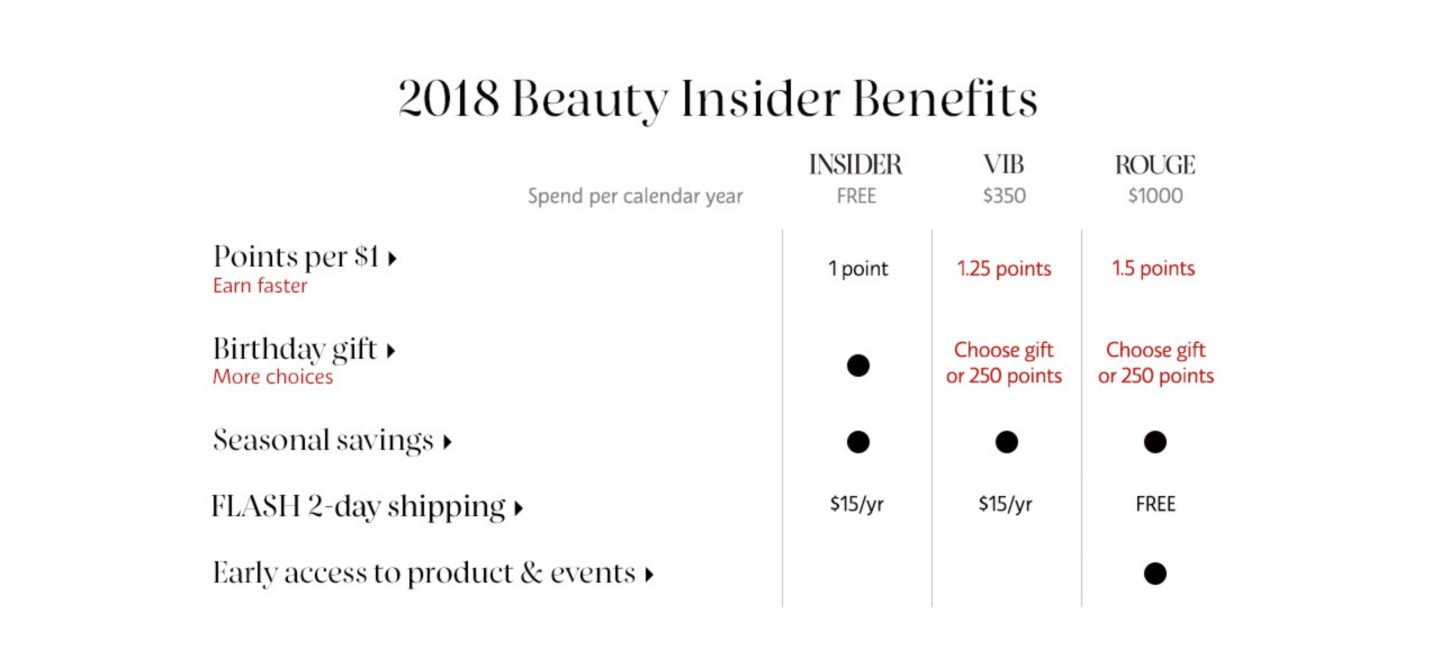 I am on the low end of the sale and won't be able to get my discount until the last weekend, but here are the things on my wish list, things that will be great stocking stuffers, and some things for everyday use.  
I'm interested in basics, products I've been curious about and mini sizes. I've always like mini-sized products. They're so cute and also such a fun way to try new colors without committing to full size.
one // two // three // The T3 curling iron and wand are on my current wish list. I have the T3 dryer that I finally invested in and I love it. It definitely cuts down on my dry time and does a better job of smoothing my hair than any other hair dryer I've ever used.
four // Amika Phantom Hydrating Dry Shampoo Foam – I received a sample of this in one of my beauty subscription boxes. I really like the foam vs. the dry shampoo sprays. It smells good, does a nice job of making my hair feel cleaner, but most of all I like that the spray doesn't get all over the surfaces when I use it.
five // Vital Proteins – I've been using these for several weeks after having multiple friends tell me they really help with their joints and their hair, skin and nails. We lose collagen as we age and this is a great way to add it back in. Each scoop contains a good amount of protein, no carbs and minimal calories. It can be mixed into coffee or other drinks and does not alter the taste and dissolves completely. You can also add it to other things like soups and sauces and no one is the wiser.
six // Kaja's Mochi Glow Bouncy Highlighter – I like highlighters for different uses. Sometimes I use one as an eyeshadow, or over a cream shadow that I want a little shimmer added to. It's also great for highlighting cheekbones and brow bones.
seven // Coco Mademoiselle is one of my all time favorite fragrances and I get a lot of compliments on it. It's not really strong-smelling, but a pretty floral scent with citrus undertones.
eight // Nouveau Nude Stay All Day Liquid Lipstick Set by Stila – Stila is my newest favorite lip product and a sample set is a great way to try new colors. This set would also be perfect for a girlfriend gift or stocking stuffer.
8 1/2 // Urban Decay Eye Shadow Primer – This is a crease free primer that will enable your shadow to stay for hours, up to 24 to be exact.
nine // Tarteist Lip Wardrobe – My other new favorite liquid lip product is by Tarte and this little duo is another great way to try colors. They are also the perfect size to drop in your evening bag without taking up much space and the little duo is perfect for stockings or girlfriend gifts too.
ten // Urban Decay All Nighter/Quick Fix Duo  – Want to give your makeup some staying power? This All Nighter spray will do just that and the Quick Fix is perfect for touch ups during the day. The small size bottles are just right for travel and the All Nighter spray is $15 on it's own, so why not get the duo for $4 more. (the Quick Fix is also $15 when bought separately)
eleven // Give Me Some Lip – Sephora Favorites – Do you think I might have an obsession with lips or with little lipsticks or both? Just another great way to try a lot of different products without committing to full sizes you may not love.
twelve // Smashbox Try It Kit – What better way to try some of the most popular products from Smashbox. This set includes travel-size primers including an eyeshadow primer, under-eye primer, face primer, and setting spray for smoothing skin, blurring pores, setting, and refreshing
thirteen // Living Proof Dry Shampoo – Living Proof Dry Shampoo is maybe the Holy Grail of dry shampoos and this duo comes with a full size and travel size. I am all about the travel sizes to keep the beauty real estate in my luggage in check. LOL in check…get it?!
fourteen // Bobbi Brown Snow Globe Mini Highlighter – A great way to try a new highlighter or throw in your evening bag with one of the mini liquid lips.
fifteen & sixteen // Urban Decay Naked Eye Shadow Palettes – If I had to guess these might be the most popular eye shadow palettes around. Each palette has 12 shades in multiple finishes to achieve whatever your desired look may be.
seventeen // Nars Hot Tryst Cheek Palette – A limited-edition palette that features four iconic blushes and two highlighting powders to contour and highlight. A great way to try new colors and play with different shades.
Are you planning to shop the Sephora sale? It's easy to sign up to become an Insider. Just go to the home page and click on register. You'll then be granted access to the sale with the other VIB Insiders.
Happy Shopping!