Well unless you've been living under a rock then you've probably heard about our blogger meet up in Nashville a few weeks ago. We covered a lot of ground while we were there and took a lot of pictures. After all, we are bloggers and that's kinda what we do. Right?
Being fall and all, let me share one of my favorite memories from when our kids were little. We loved taking them to the pumpkin patch and frequently we'd do it with friends. We'd load up and go to the Ashland Berry Farm where there was a hayride that took us out to the field to pick our own pumpkins. You could get all the pumpkins you could carry for one low price. I think it was like $15. #bargain There was the catch though, you had to be able to take 3 steps while holding all of them and not dropping any. We'd load Kent's arms, and balancing pumpkins, he'd stagger forward for 3 quick steps. Voila, we left with a bunch of pumpkins and fun memories. Now I'm totally laughing because I went to look for a picture of him (and found it) but also found one of me…the over achiever holding a couple of pretty big pumpkins and making an awful face. ?
Now for some more flattering pictures.
Speaking of fun memories, the day we were shopping on 12 South we spotted a pumpkin patch and talk about beautiful varieties of pumpkins, the Nashville Pumpkin Company had them.We  immediately knew we had to come back  for pictures with our new tees. You see, we'd all brought little gifts to share with each other, but our sweet Andrea who is by far the queen of gifts had given us matching tees. I think gift giving is definitely her love language.
As luck would have it, The Blended Blog already had a graphic tee prompt scheduled so you can probably imagine what happened next. Bloggers take over said pumpkin patch and take all the pictures. We were lucky Shelly had her good camera with her and took some awesome pictures for us.
Not only were there the most beautiful pumpkins at this patch, but there was an old truck. Old trucks make my heart go pitter patter. I don't know what there is about them, but I just love them. I think they make the best backdrop for photographs. We even got lucky and found one for some of Katie's senior pictures.
Like mother, like daughter. I didn't even realize how similar these were until I just loaded them into this post.
A lot of y'all probably have quite a collection of graphic tees, but this t-shirt snob I only had one, my weekend vibes tee. I've now doubled my collection thanks to Andrea!?
Our new tees say 'flannels, leggings & pumpkin spice'. Pretty much all things fall wrapped up in 5 little words.
Andrea ordered these from an  Etsy shop called Bash,  of course it was called Bash, we had given our getaway a hashtag. #nashbash  Etsy is the perfect place to find an abundance of graphic tee goodness. Something for everyone including you.  You're in luck because she contacted the shop owner and asked if we could get a discount code for our readers, and guess what? She did! Use the code PUMPKIN for 20% off your purchase between now and Sunday. They have a huge selection of graphic tees, so you're sure to find something that will 'fit you to a tee'.?
Just check us out in our cute tees. We asked the guy running the pumpkin stand to take our picture a few times and he was a good sport, especially since we were just using him for his pumpkins. HA! I mean it's not like we could carry them home on the plane. Although trust me, I sure wanted to. The pumpkin game where I live is weak compared to Nashville.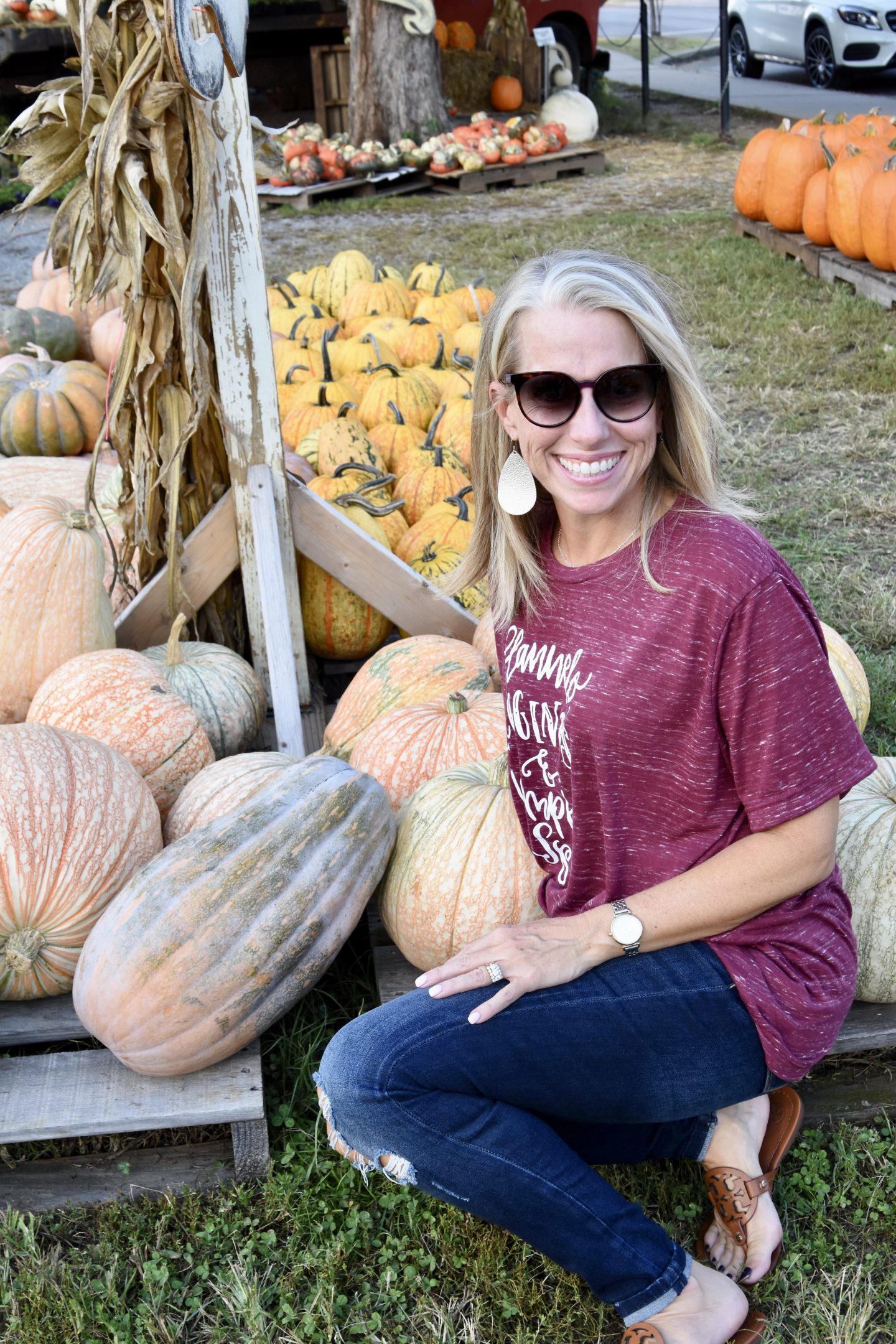 I ask you, who doesn't like a good put your head in the cut out prop? We sure did.
Laura , Andrea , Shelly, Chrissy, Kellyann 
Now y'all need to hop on over to each of these beauties blogs and see what they have to say about graphic tees and our pumpkin patch outing. Don't forget to also check out the Bash store on Etsy and use the code PUMPKIN for 20% off your purchase. With all the holidays we have coming at us, surely you need the perfect tee. Maybe I'll even up my game and add one or two.
OH and Andrea, thanks so much for thinking ahead and getting us our matching tees. You are so smart and just the sweetest!!!
If you need help finding a fun graphic tee, I've rounded up some great options to help you out…[show_boutique_widget id="758533″]